How to be Effective at Clearing the Clutter [plus 10 minute challenge]
Clearing the clutter in your home is no small task. In fact, some people think they're keeping on top of things, but instead they're just covering up the real problem. Could that be you too?
What if I said I've got the perfect solution that will help you immediately clear the clutter in your home?
Just bake a batch of chocolate chip cookies and you'll be good.
Wait, what? Will that really work?
While just out of the oven fresh baked cookies are my favorite and they do work wonders…and they smell ahhmazing.
Fresh baked cookies don't really help you in clearing the clutter in your home—they just distract you and cover up the real problem.
But honestly…that's exactly what a lot of people are offering these days as solutions to your questions:
"How do you clean up clutter?"
"What are ways that you can declutter your house quickly?"
The most popular answers are Hygge, Minimalism, and KonMari or Marie Kondo.
I've read all of these solutions and tried a few of them. And while these solutions may feel like they are working for awhile, they don't last. I've experienced more success in just doing a simple 10 minute Decluttering Challenge that actually gave me instant quick wins and set me up for success in the long run.
Less stuff for the sake of less stuff is useless to us.
Like I started out saying…those other methods that are most popular right now, just cover up the real problem. They really only promote the idea of less stuff. And less stuff for the sake of less stuff really is useless to you and to me. Meanwhile, the most important thing you need to do when clearing the clutter get's completely ignored.
If you're interested in really clearing the clutter in your home for good—then there's something you really need to know.
You need to know what is preventing you from clearing the clutter in your home in the first place.
Here are 4 things that I've found to be causes of clutter in my own home.
Don't have time to finish reading, click here to pin this for later.
4 Causes of Clutter in the Home
Your thoughts about clutter. Yes, your thoughts influence your feelings and your feelings determine what you do. I talk about how important this is in Clutter Free Living, Its Not What You Think or Is It?

You'd be amazed at how much this concept of how we think about clutter really impacts why we have clutter in our homes. And why clearing the clutter can be challenging.
The clutter doesn't have a spot. Things pile up or don't get taken care of simply because there isn't a designated spot for them. Think about it. When you get the mail and you bring it into the house—where does it go? How about receipts from purchases at the store—where do those go? Now both of these examples for us is a combination of something not having a spot and the next thing, systems.
There isn't an efficient system in place. For us, our receipts and or mail tends to pile up on the table or on the counter. Paper—it's ruthless, isn't it? Anyways, when I see these two things start to pile up then it's a signal to me. It could be that my system for finances is out of whack—or I simply don't have a good working system in place. Or I'm getting distracted from actually doing what I know works. And that leads me to the next thing.
Distractions prevent you from finishing. I easily get distracted, the same for my husband. But, I don't think it's just a personality thing these days. I think it is so easy for us to get distracted with all of the things that we are trying to do these days. There are so many demands and we are pulled in so many directions. For me I've tried to be intentional to finish a task from start to finish—and to then teach our son the same thing.
When these four things show up, I know something has to change. Most often it's me and my habits. And this doesn't mean that I'm failing. It just means that I can learn to do things better to clear the clutter for good. I'm gonna say right now that the same is probably true for you, too.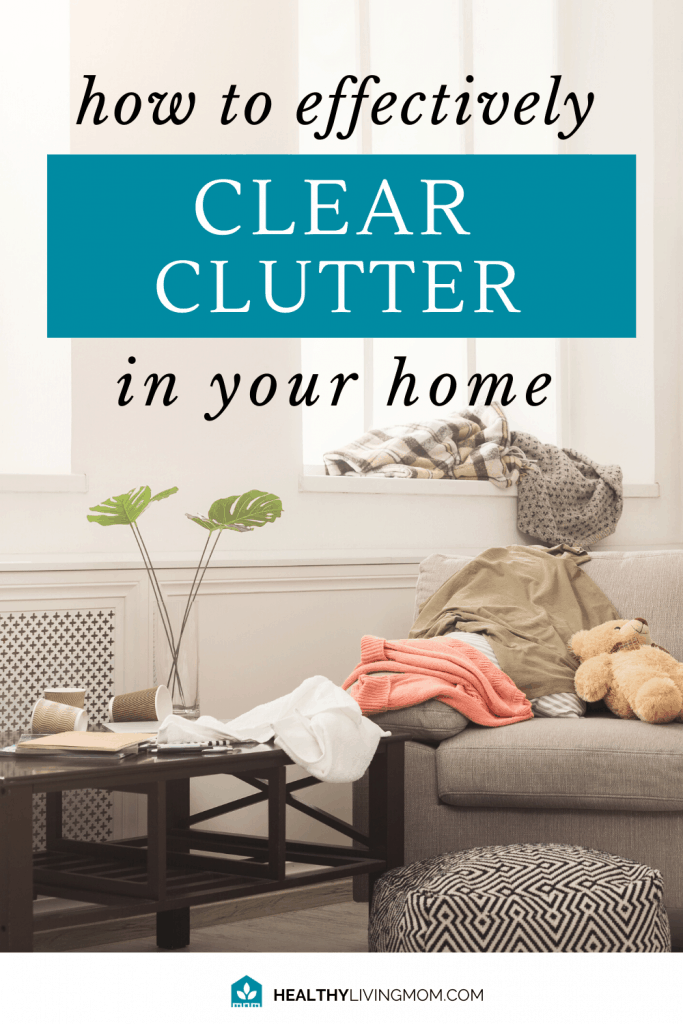 How do you become effective at clearing the clutter?
Make sure that everything has a spot and every spot has something. This is a phrase a roommate of mine lived by daily. It's something that I've never forgotten and it has helped me in tackling clutter. I'm not perfect, it has been a process of learning but this phrase has definitely simplified things for me related to clutter.
Create systems when needed. Systems could be related to financial or routines like laundry, dishes, cleaning, etc. Creating systems is something that is a little more in depth and takes time—especially when you're trying to work together with your husband.
One of the systems that constantly has nagged at my husband and I is our finances. We've made a point to work on our system more this year and we're getting better. But it takes time.
We just completed Dave Ramsey's Financial Peace University and that has helped a lot. In addition one of my favorite resources that we've been working through is The Family Budget Binder from my friends Timberley and Andre at Living Our Priorities. Being on top of finances, God's Way, has helped us to clear the clutter in several areas—finance, paper, emails, and so much more.
Finish what you start. Don't try to multi task. One of the great myths is that as moms we're great at multi–tasking. But in reality, we're just setting down one thing for a time to pick up something else. We can't do all things well, but we can do one thing well.
So, to try and do this better, I've really worked to be intentional to finish a task from start to finish. I've worked on my time management skills and this directly has impacted how I think about clearing the clutter in my home.
For instance, let's talk about laundry!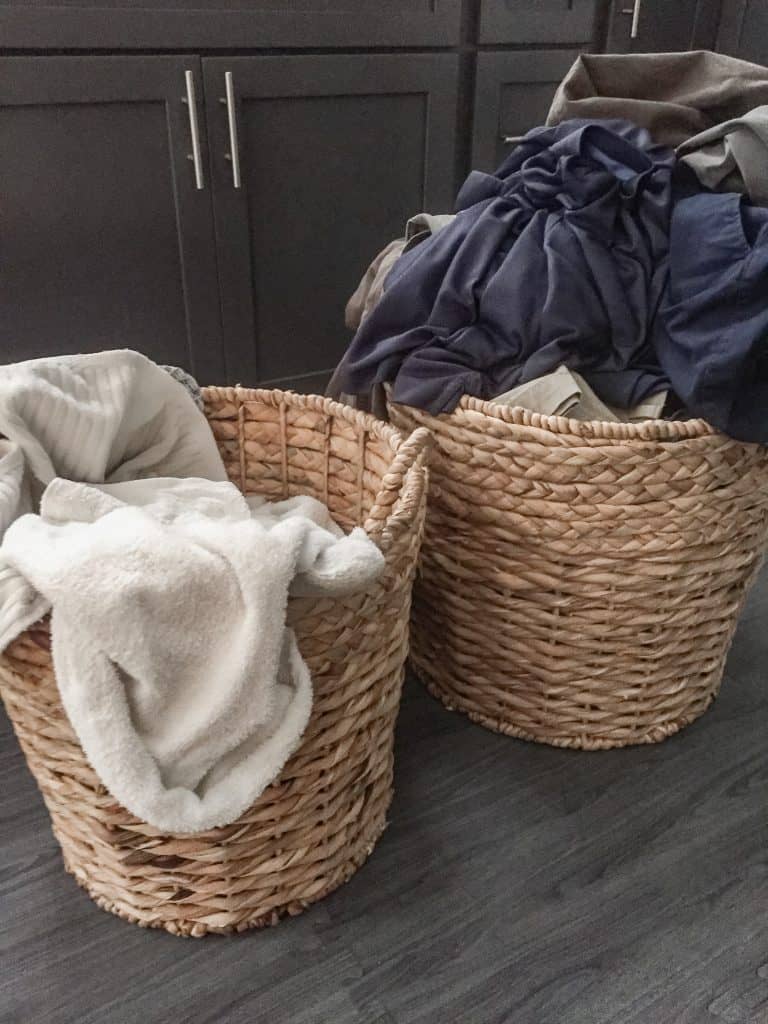 Laundry to me used to be washing, drying, folding and putting away—all as separate tasks. But now…I think of laundry as 1 task that is broken down into 4 steps. This has made a huge difference for me and I no longer have laundry that is left in the washer, piles of clean laundry on the couch left unfolded, or folded clothes that haven't been put away.
Make sense?
How do you declutter your house quickly?
Now there are a few things I do to declutter quickly—like when someone is coming over and I'd like things to look a little more inviting. Then of course there's when you realize, I need to get rid of stuff because it's consuming us!!!
Here's what I do for both of these situations:
Set a timer! 10 minutes really does make a difference. A simple way to get started doing this is by doing a 10 minute challenge in your home for clearing that clutter fast! Believe me, you can do a lot in just 10 minutes. Have your kids help! My son loves to be timed and he's a great helper for 10 minute time challenges!
If someone's coming over and you need to clean ASAP…you could just grab an empty laundry basket and fill it. Although this is an option—it doesn't help you in the long run. You're better off just cleaning as much as you can as quick as you can. Focus on common areas—bathroom, kitchen, and living room.
If you're looking at everything you own and you think—we just have way too much stuff. A quick way to clear the clutter is to use a decluttering checklist that goes through every room along with items you'd find in those rooms. Some ways to use the checklist is to go through it at your own pace—or to use a dated checklist that breaks it up into smaller amounts. Then while going through the list use my how to method for cleaning up the clutter. I'll share that next.
How do you clean up clutter?
In tackling the how I go about cleaning up clutter, I've already mentioned some ideas like the KonMari method. But some simple things I've found that help me on an on going basis are the three questions Kathi Lipp asks in her book, Clutter Free Living.
Do I love it?
Do I use it?
Would I buy it again?
These questions are so simple and they help especially as you're working to clear the clutter quickly. So what if you figure out that you need stuff—but you just really need a better system? Let's look briefly at sorting through the clutter.
How do you sort household clutter?
Sort clutter in categories of function. Put items closest to where they are used.
Think in terms of where things end up naturally. Don't try to go against that—work with it. If you find that you drop your keys on the kitchen counter—designate a spot in a drawer for your keys. Use a handy little basket like this 2 x 6 storage basket from Target.
Sort clutter by season or by amount of use. If you're like me—I use my Kitchen Aid Mixer several times a week—you might leave it on your counter. Or invest in a stand like this one from Rev a Shelf that I've had my eyes on! It stows your Kitchen Aid Mixer away in under your counter–top, in your kitchen cupboard. When we had our kitchen cabinets custom made, all of our inserts came from Rev a Shelf—they're the best.
Sort things in ways that make you feel calm. For me, I love clean counters. So open shelving is totally not my thing. But I do like to display items on shelves—just not a lot of things. For our shelves and built in that I'm currently refinishing, I will sort items on it that combine function and style. I can't wait until this project is finished!!
10 Minute Clearing the Clutter Challenge
So, I've shared a ton of different ways for clearing the clutter more effectively. And to help you take action on that clutter today and experience some quick wins—here's a clearing the clutter challenge.
Remember I said, you can do a lot in 10 minutes?
Get started today with the FREE 10 Minute Decluttering Challenge from Sarah Mueller of the Early Bird Mom. Sarah gives a TON of value in everything she does. She uses simple steps and accountability—because as moms, we all need that! To know we're not alone—and to help us get things done. And you'll definitely experience some quick wins with Sarah. I know I have.
So that wraps things up for how to be effective at clearing the clutter in your home. What is something you're looking forward to trying?