The No Fail Easy Quiche Recipe (No Crust)
Spring and Easter is the time that I love to make my no fail easy quiche recipe. What makes it an easy quiche recipe is because there's no crust and it literally is a quick dump recipe. At first I was skeptical, like, "Is this really a "no fail" recipe?" Sometimes getting a quiche so that it bakes up right, can be a little tricky. But every time I make this recipe, it comes out perfect, light, flaky, and golden brown. Yum!
Easter is one of those days that I really like to start our morning out extra special before we head off to our Easter Morning Service. And sometimes, we even get up for the sunrise service. So this is the best crustless quiche recipe for that too! I don't have to worry about making a crust—even though I have an easy homemade double crust recipe. I literally just mix everything up in less time than it takes to heat the oven. I pop it in the oven and it's ready in 45 minutes.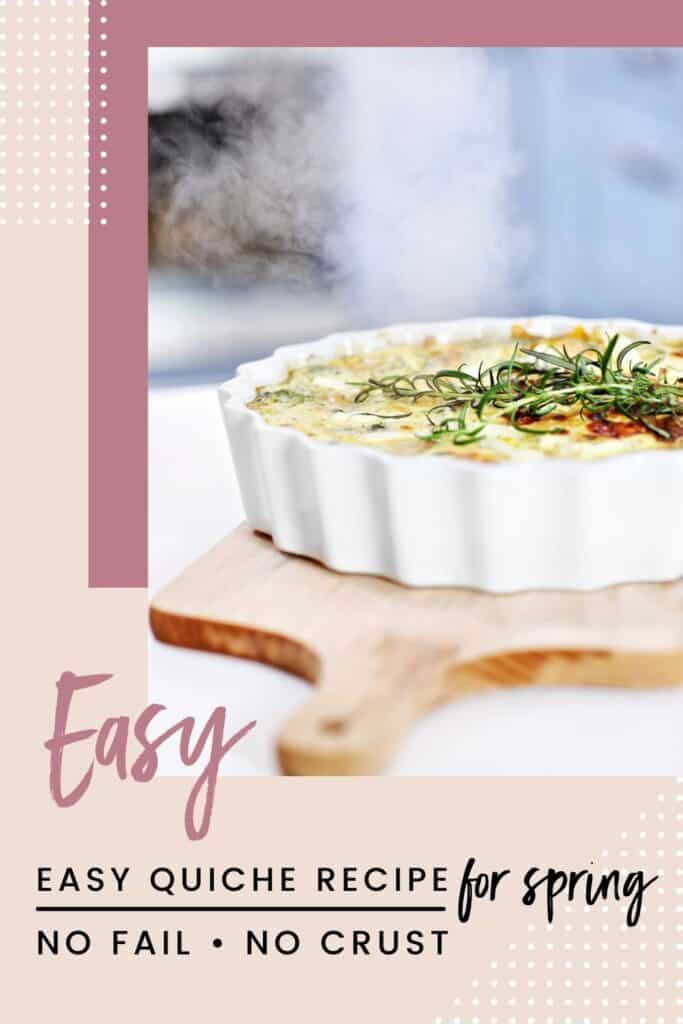 Jump to Recipe
Easy Quiche Recipe for Spring
This recipe can easily be tweaked to suit your own needs, and that's another one of the reasons that it's an easy quiche recipe. The way I typically make it, is a simple fresh spring take on a crustless vegetable quiche. I've done a combination of ham and cheese, sausage and cheese, and bacon and cheese, and those turn out great too. But, they tend to be heavier and a little too much when we usually have a big brunch together with family. This is why it's the perfect recipe for Spring and Easter morning—because I get those fresh spring vegetables—leeks and asparagus!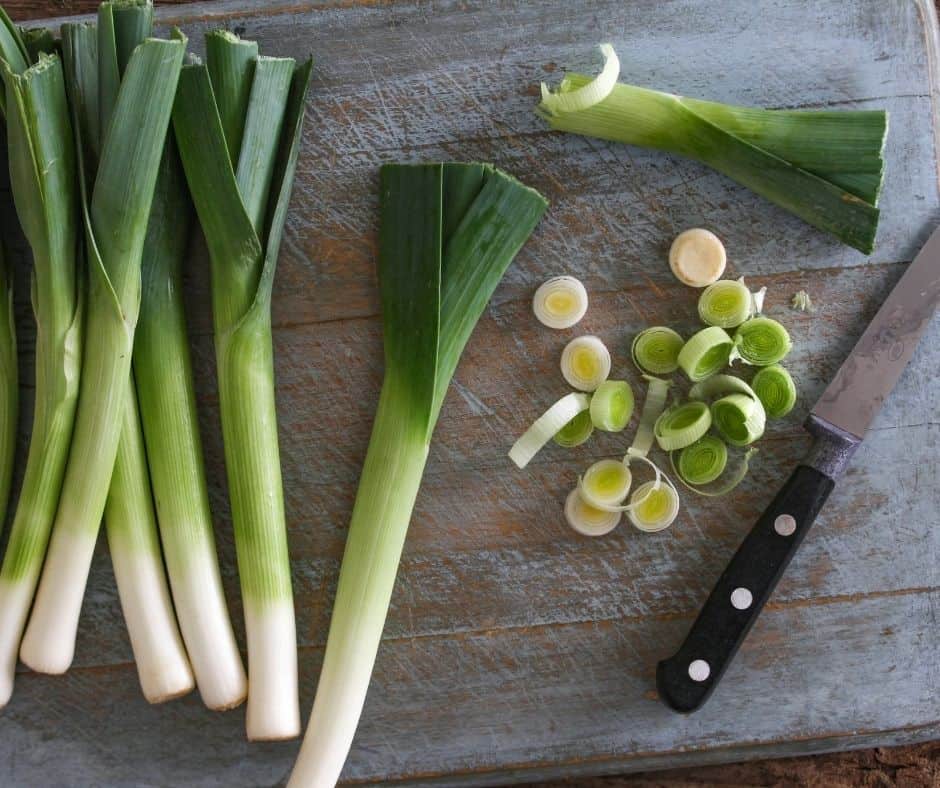 Leeks and asparagus are a typically combo for spring dishes. But, I only started to use leeks a few years ago. If you're not familiar with them, they are similar to the family of onions, garlic, and chives. But they aren't as strong as your typical onion or garlic. They're still in the savory category, as I'd say somewhere between your white onion and the slightly sweet taste of your red onion. But leeks are not overpowering, it really helps to bring out flavor. And that's why it pairs nicely with asparagus.
Now, asparagus actually isn't quite ready yet here in Michigan for me. I typically can get what I need fresh because it's starting to pop up in other places around the United States as peak months are typically April and May. But, rest assured, if you're like me and in an area where you can't get it just yet, I do go ahead and use frozen asparagus spears instead. I'll share more on that in a bit.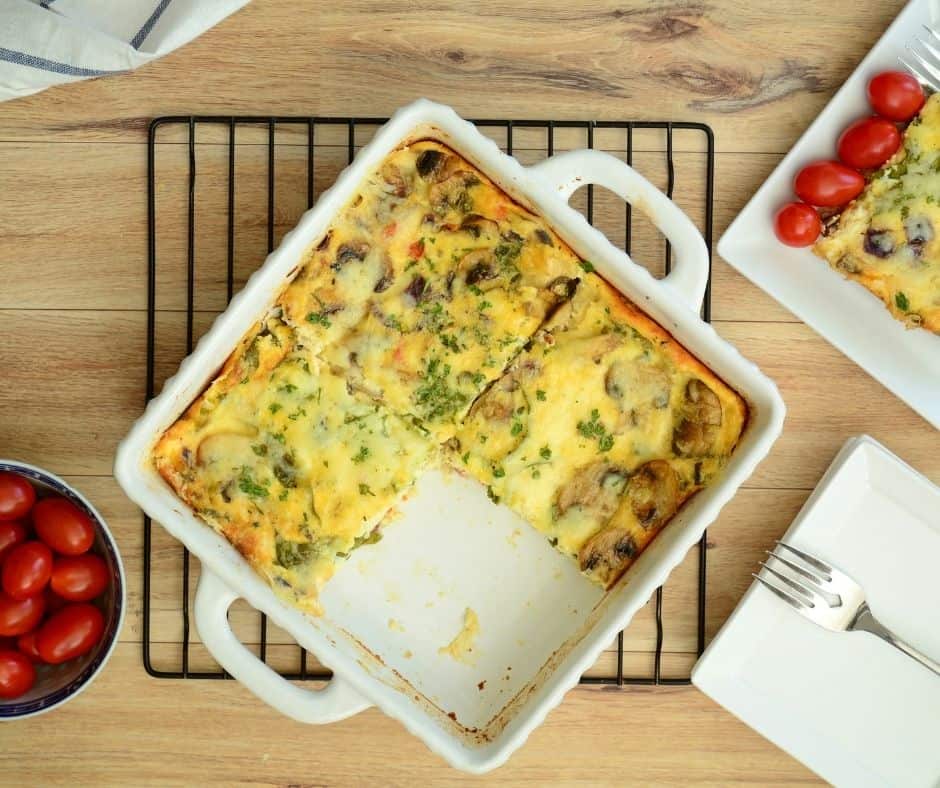 The Secret to the Best Quiche
The tricky part about creating a quiche is getting the right fluffiness and accounting for when it's done baking—because it will fall a little. And that can be so frustrating. I get it!
The second struggle with easy quiche recipes is that often, especially breakfast bakes, there's just too much for our family. We'll never get through it all before it goes bad. And this is why I love this recipe—it's the right amount for us and is perfect size crustless quiche for two. We each can have one to two pieces and feel full, then have enough for the next day too. Although, if you need to, you can also tripe this recipe for a 9 x 13 pan. (I'll share how to do that in the recipe as well.)
Did I mention that my son loves it too? He doesn't quite like onions, but he'll eat this quiche! He often will say, "Mom! This quiche is so creamy and yummy!" And…if you didn't know it…there's a reason why the best quiche's are so yummy and fluffy. What's the secret to the best quiche recipes? It's all in the cheese that you use!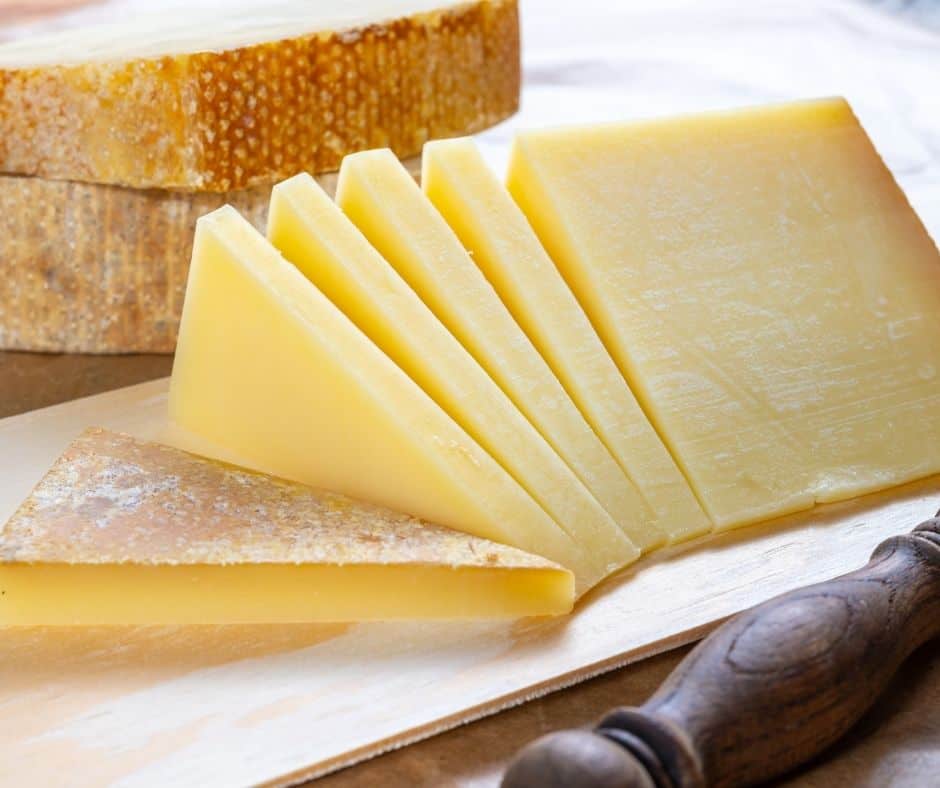 What's the Best Cheese to Use in Quiche?
So, if it's all about the cheese to making that "easy quiche recipe" easier, what is the best cheese to use in quiche? Really the bottom line is that it's better to use a white cheese. Why? Because it actually melts creamier than yellow cheese. And when you use a yellow cheese it typically is a stronger flavor and often it's greasier—at least to me, anyway.
Yellow cheese, in my opinion and experience, should only be used in like a breakfast casserole dish that calls for bread cubes as an ingredient. The bread helps to "soak" up some of that grease. And I think that's what makes this recipe lighter—the white cheese.
I got the original recipe when I attended a mom's group years ago and that recipe called for Swiss cheese. But, what started my own take on this recipe is that I didn't have Swiss cheese in my refrigerator. If you're anything like me, I tend to have the basic shredded mozzarella. And, honestly, I hardly ever have just Swiss cheese on hand, unless I'm really making this dish for something extra special—like Easter morning.
But, this is also that time that I take that extra step to plan ahead and get the best cheese and garnish. I turn that easy quiche recipe into something decadent.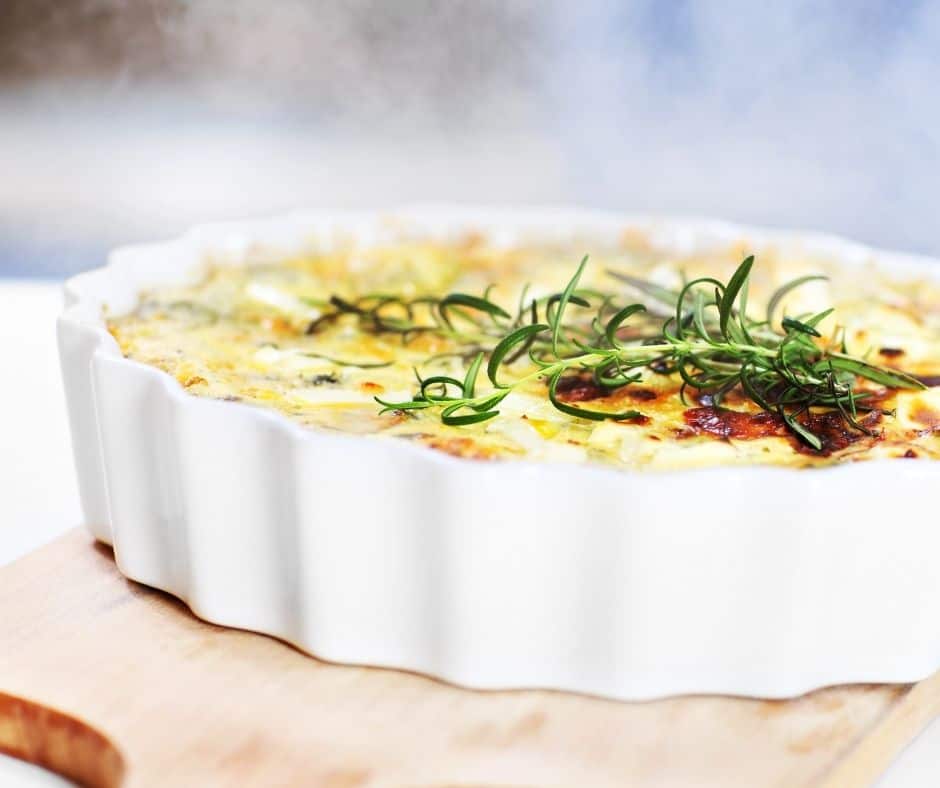 Making Your Easy Quiche Recipe Decadent
Seriously, I know it sounds like I'm really excited about this recipe, and the truth is, I am! I used to hate trying to come up with breakfast ideas that were easy for me and didn't take a lot of work. Quiches sounded like so much work and because typically, if something tastes like it came out of a French Patisserie, then it's likely that you'll have to slave all day. Even Better Homes and Gardens talks about the 50 best egg recipes that are easy for breakfast, and number 18 is a deep dish bacon and leek quiche. That just doesn't sound easy to me. Just writing that description makes me tired!
But with this easy quiche recipe, you can easily elevate it from just "easy" to the taste of decadence with a few tricks!
How?
If you want to go all die hard—be sure to use all fresh ingredients. Fresh really amps up that flavor. And instead of buying shredded cheese, buy the block cheese and shred it yourself. Now, if you do all this, they'll think you slaved all morning. And, honestly, using those fresh ingredients does take away the "easy" from easy quiche recipe. But they'll want to have your recipe, I promise!
But, if you still want it to be that easy quiche recipe, you can cheat a little on this one. You can start by using pre–cut onions, and steam fresh asparagus spears. Also, you don't need to skimp on the the cheese. Still elevate the flavor by using Aldi Brand's Swiss & Gruyere Shredded Cheese! The combination of the Gruyere with the Swiss melts so wonderfully—making it perfect for your "easy: quiche recipe—while making it seem like you did all the work! And you can't beat that that sweet but salty flavor in this blend that combines the best of both worlds.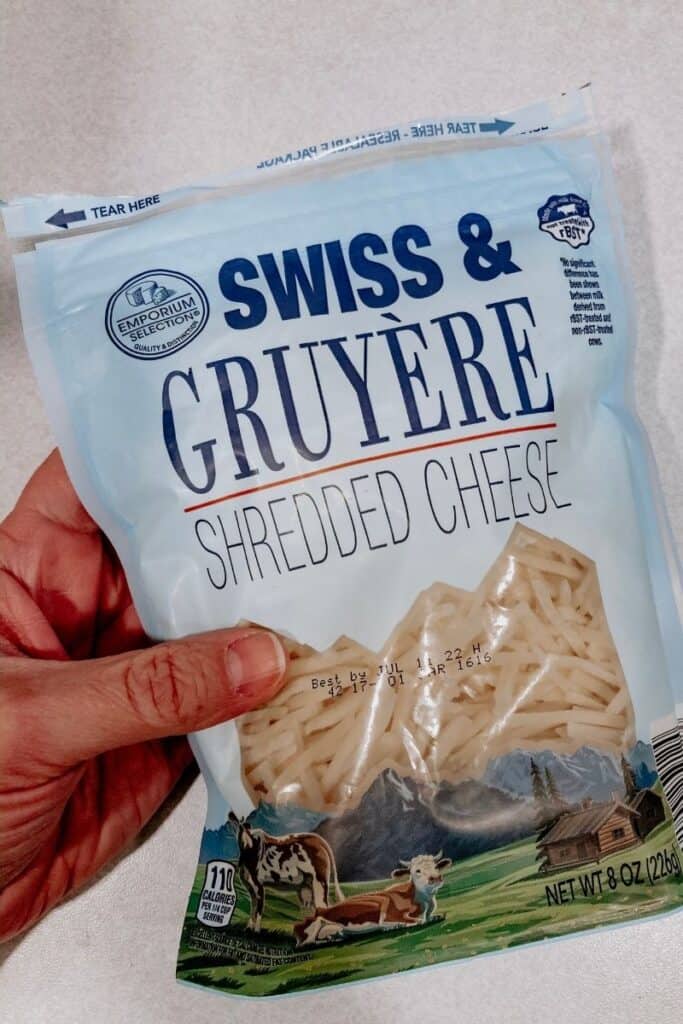 I'd like to say that I plan for and use this cheese all the time, but I don't regularly keep it in my refrigerator. I can't. Because if I did, by the time I went to make this recipe, I'd find it like I did this morning. My family gets into the cheese and they just eat it right out of the package. So there's that!
Okay, I really hope that you think that this is the best easy quiche recipe too! Let me know if you try it—or if you add your own twist on the ingredients.
So here it is!
The No Fail Easy Quiche Recipe (No Crust)
No fail easy quiche recipe for Spring and Easter—there's no crust and it literally is a quick dump recipe. Just mix up the ingredients and pop in the over for 45 minutes for a flaky, light, and golden brown crustless vegetable quiche!
Print Recipe
Equipment
1 Mixing bowl

1 Whisk

1 Rubber Spatula

1 Cutting board

1 Knife

1 Measuring Cups

(1 cup, 1/2 cup, 1/4 cup)

1 Pie Plate

9" or 10" inch

1 Pam Cooking Spray
Ingredients
1 1/2

cups

milk

3

whole

eggs (beaten)

1/4

cup

butter (melted)

1/2

cup

Bisquick

1/2

cup

White Cheese

(You can use Mozzarella, Swiss, Gruyere, etc.)

1/4

cup

Leeks (white part only, sliced)

3 to 4

whole

Asparagus (trim to size and blanched)

Stalks should be no more than 4 to 5 inches in length. If using frozen, no cut prep is needed. Steam in the microwave for just 2 minutes or until slightly steamed.

1/8

cup

Red Onion (sliced)

(optional)

1

pinch

Salt and Pepper

(to taste)

1

sprig

Fresh Parsley
Instructions
Preheat oven to 350 degrees.

Mix together all of the above in mixing bowl with a whisk.

Using rubber spatula, pour into pie plate that has been sprayed with Pam cooking spray.

Bake at 350 degrees for approximately 45 minutes.

Remove from oven and let cool for 10 minutes.

Garnish with fresh parsley, before serving.
Notes
Substitution Option: Instead of vegetables, you may opt for a meat quiche. Just eliminate the leeks and onions and instead mix in 1/2 cup of meat (either ham, bacon, turkey) that is broken into small pieces. Larger Quantity: Recipe can be tripled in a 9 x 13 pan. If making a triple recipe, increase baking time to 50 – 55 minutes.