Are You Flourishing in the Strength of a Renewed Mind?
It's the dead of winter in Michigan and its cold, and overcast. The water pipes in our bathroom nearly froze two weeks ago. Our heating system is on the fritz, and the flu bug hit our home this week. Sigh.
*Thinking* "Why do we live in Michigan? Why do we still live in our garage? If I would've let my husband buy that condo before we got married then we wouldn't be in this situation. Is it irony that the day before we got sick I told a few people "We never get sick?"
Reviewing our minds—we all do it. How often, are we held captive by reviewing our minds? I'd rather be flourishing in the strength of a renewed mind, wouldn't you?
The practice of reviewing is good and important, and natural. As a woman, we do this a lot—like instant replay on steroids! It's only good if what we gain is strengthening us and helping us to flourish. Reviewing our minds can prevent us from moving forward. We look back with eyes fixed on the negative, only. Is this flourishing? No, it accentuates our weaknesses, not our strengths. We continue to beat ourselves down with negative self talk. "I never, you should have, you're a failure, etc." The past, holds secrets to who you are, like:
1. Your strengths
2. You were successful before, you can do it again!
3. Your Passions
4. Your Longings
If we can review our mind to see our strengths, to uncover these hidden secrets, we can use it to move us forward. If we've done something before, we can do it again. How do we train our minds to see the good—to be a "good" finder? By training our minds to replace the negative with what is truth.
~Pin this to read later
God's Word is the most important book you will ever need.
"His divine power has given us everything we need for life and godliness through our knowledge of him." (2 Peter 1:3)
"For the word of God is alive and active. Sharper than any double-edged sword. It penetrates even to dividing soul and spirit, joints and marrow. It judges the thoughts and attitudes of the heart." (Hebrews 4:12)
"All Scripture is God-breathed and is useful for teaching, rebuking, correcting and training in righteousness. So that the servant of God may be thoroughly equipped for every good work." (2 Timothy 3:16-17)
We can fill our minds with positive biblical principles. By reading and memorizing God's word and also through biblical self talk. It helps us to replace and push out those negative thoughts that steal confidence and joy. We renew our minds by training ourselves to recognize what is true. The only way to know what is true is by what God has told us in His Word.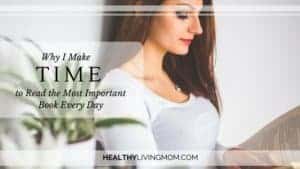 For years, by the grace of God, I have been able to read His word daily. I've meditated on His Word, and have found great comfort in scripture. You can read my story in
Why I Make Time to Read the Most Important Book Every Day
. I have strength and confidence when I have pursued Him in prayer, reading and studying the Bible. Even though I had written His Word on my heart—who He tells me I am—my self-talk did not reflect those truths. Have you ever heard of Biblical self talk? It kind of sounds like affirmations, right? Not exactly.
Affirmations are sometimes associated with new age thinking. Even in some cases hypnotism, or reprogramming your mind. According to Wikipedia, "Affirmations in New Thought and New Age terminology refer primarily to the practice of positive thinking and self-empowerment—fostering a belief that 'a positive mental attitude supported by affirmations will achieve success in anything.'"
Affirmations, are positive, and can be helpful—to a point. The problem occurs when affirmations are rooted in the wrong foundation. Self–focus. Affirmations can present the mindset that you are capable of doing whatever you set your mind to do. This is not true. Some things are not possible. To ignore this truth is foolishness and in some cases idolatry.
We often forget things that God has done for us or ways that He has provided. This is so true of our identity as well. We forget who God says we are unless we remind ourselves. Even reading scripture, we can forget what it tell us. This is why we are to hide God's word in our heart (Psalm 119:11). Biblical self talk is based on what God says in the Bible—verbatim and through biblical principles. It is looking ourselves in the eye—with a fierce intention—telling ourselves how God sees us.
We start to believe things when we repeat them—think about those memories we review over and over in our mind. If we're reviewing the negative, what will we remember? The negative.
Picture this, you are driving down a road that has several potholes in it. In Michigan this is pretty much the norm. In your mind you think, "This is the worst road."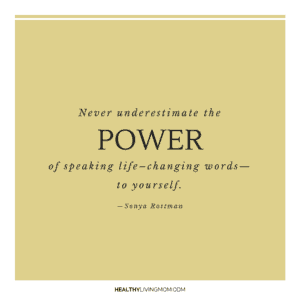 Every time you come to this road you repeat that same phrase. "This is the worst road," and the same for the next time, and the next time. Before long, you believe that this road is in fact, "The worst road."
Never underestimate the power of speaking life–changing words—to yourself.
Likewise, if we tell ourselves, "I, Sonya, am a daughter of the King. I am in the will of God, and can do all things through Christ who gives me the strength." If I keep repeating this to myself, then I am replacing a negative belief with biblical truths.
The Distinction Between You Are and I Am
As a Christian, you've heard, "You're a child of God, you can do all things through Christ. You have the Holy Spirit within you." These are all true—don't get me wrong. What I've found though, is that there is a strong distinction between saying "you are" and saying "I am".
It is easy for me to say the words you are—because it's saying something "about" me. When it came to me saying "I am" out loud facing myself in the mirror—that is when I started to address my identity. I connected who I am—my heart with what I know are His Words to me.
Years ago, God began planting seeds in my heart about this concept by renewing my mind about worship. I learned in a worship workshop led by Chris Tomlin, that our hearts respond to Him in worship by the words we say.
First, we sing about Him:
"Great is the Lord the Famous One, Great is the Lord."
Then, we sing to Him:
"You are the Lord, the Famous One, Great are you Lord."
Or think about it this way.
Would you rather have someone say something about you? Or does it touch your heart more when they say it to you—face-to-face?
In my experience, the same is true. By addressing myself with "I am's", I claim and develop these biblical qualities. As a result, I will believe and become who God created me to be. My self–talk will change. I will be more confident, peace–filled, and grateful.
Flourishing in the Strength of a Renewed Mind
What happens when I review my memories with a renewed mind? I see the positives more than the negatives. Renewed self–talk looks like this:
It's the dead of winter in Michigan and its cold, and overcast. The water pipes in our bathroom nearly froze two weeks ago. Our heating system is on the fritz, and the flu bug hit our home this week. Sigh.
*Thinking* "I'm so thankful that if our pipes freeze, we have neighbors who will help us. I've learned so much by not having a home to call my own. Thank you, God, for teaching me and drawing me closer to you. I'm not invincible. Too often I take my health for granted. I'm thankful we can make healthy choices that limit our sickness and optimize our health."
Next time you review your memories, ask yourself, "Am I flourishing in the strength of a renewed mind? Is my focus on the negative in this situation, or the positive?"