The Key to Growing a Stronger Faith
What if instead of becoming discouraged and overwhelmed by the situations of life, you could face life's challenges with a stronger faith that is bold, confident, and hopeful? You can experience this benefit of having a stronger faith even BEFORE you experience the difficult times. It's possible, if you have a proactive faith—where you are intentional to grow your faith one step at a time.
But…you might be thinking, "How can I grow a stronger faith, when it feels like it's so hard?"
Why It Feels Hard to Make Your Faith Stronger
Apart from God, growing a stronger faith is not something that is naturally easy for us to do. If you're anything like me, there have been many times in my past when it felt like it was so hard to pray—or to read my Bible. Maybe for you, it has been hard to go to church—especially when you can easily watch the streaming service online.
So, why is that?
Well, partly, I really think that it's because we're immersed in a reactive world. As a result, when life is disappointing or difficult, because we've been conditioned this way, we want to have a google sized answer to having a stronger faith, right now, right? If that's you, please don't get too discouraged. I'm glad you are reading this. In fact, lots of people feel that way because honestly, that's the culture that we live in.
Think about it this way. The cultural norm for how we tend to handle the common cold is to treat it with medicine—like cough drops, or cold and flu medicine. Meanwhile, colds and other health issues have been proven to easily be prevented with a healthy lifestyle— eating healthier, regular exercise, regular hand washing and we can also strengthen our immunity with nutritional supplements. And yet, despite knowing that a healthy lifestyle can prevent a lot of health issues, most people do not follow one because it too can feel like it's too hard. Often the results we desire don't happen quick enough for us. In general, to be healthier in every area of our life takes time.
The same is true with our faith. Sometimes we are struggling so much that we need hope and we need it now. I'm thankful that even in these moments, God never leaves us or forsakes us. He is near to the brokenhearted. (Psalm 34:18)
Secondly, it's hard to be proactive in growing a stronger faith because we have a real enemy—the devil—who is using whatever means he can to distract us and keep us from knowing and loving God on a deeper level (1 Peter 5:8). And honestly this opposition along with the world adds to why it's harder to grow stronger in faith especially when life is going well.
This is why it's even more important for us to be proactive in growing a stronger faith daily—so that when those hard times come, we're ready! With a strong faith, we're hopeful and we have practiced placing our trust in the unfailing truth of who God is and who He says we are—regardless of our circumstances. So that when life is hard—we will not be shaken.
And this is something we all want! Are you in? Okay, let's get started!
"He only is my rock and my salvation, my fortress; I shall not be shaken." - Psalm 62:6 (ESV)
The Key to a Stronger Faith
So what's the key to growing a stronger faith? Knowing why we need it, what it looks like, and then how we can be proactive in growing it! Understanding these things will encourage you and equip you in your journey.
First we'll look at the benefits, some bible verses about strong faith and what scripture has to teach about it. Plus we'll take a look at some warnings in scripture and then we'll get to the 5 Steps for how you can be proactive today. In case you want to get a head start on those 5 Steps, you can grab the FREE How to Grow a Proactive Faith Quicklist to get started.
The Benefits of a Stronger Faith in Hard Times
The Bible says that as believers in Jesus Christ, we will experience suffering. Also, because of the influence of culture, we have a tendency to cling to faith mostly when life is challenging.
And when you encounter hard times in life, with a strong faith you can experience your faith in action:
Hope to endure and persevere.
God's word giving encouragement.
The Holy Spirit giving guidance.
God's people supporting you.
I think you probably know all of this to be true. You know God promises it, you've seen others experience it, and perhaps you've experienced it before too. So when life gets hard, you tend to cling to faith.
Sometimes it's not because your faith is weak—or strong. It might just be because of cultural influence. This next statement may be hard to read, but it's important to consider. Just like culture conditions you to take medicine to handle the common cold, it has conditioned you to cling to your faith because you feel pain.
I said this in the beginning, but it's worth repeating.
What if instead of reacting to the situations of life with your faith, you could face life's challenges with a bold confidence and hope BEFORE you even experience them?
This is what it looks like to have a proactive stronger faith and scripture encourages us to build a stronger faith too.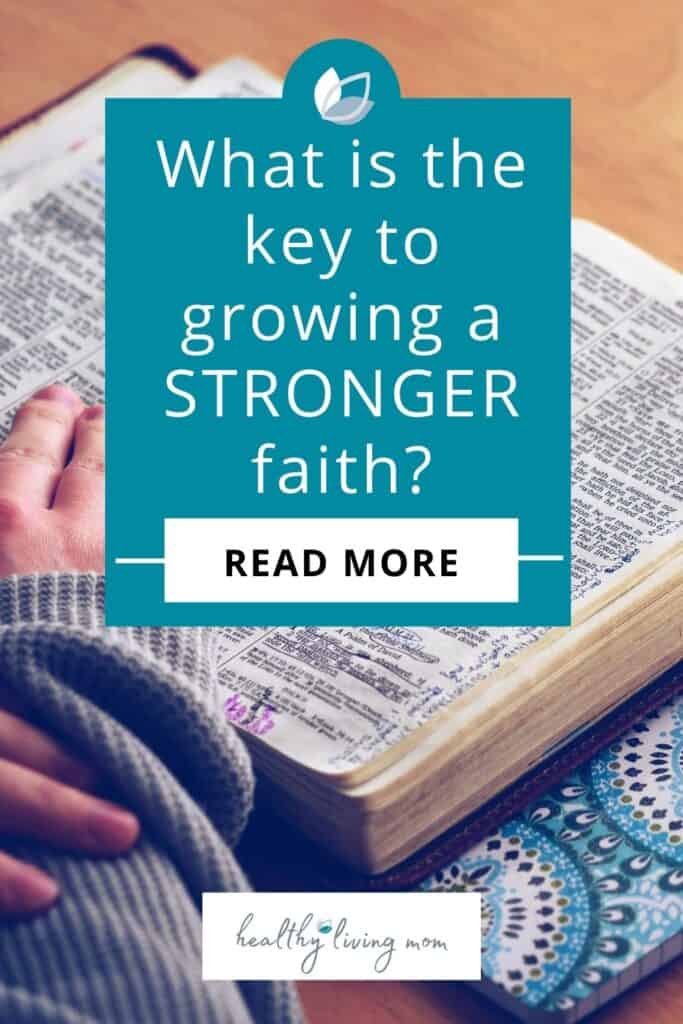 Bible Verses About Strong Faith
To start, let's look at a couple of verses about what supports a strong faith.
"Then he said to them, "Go your way. Eat the fat and drink sweet wine and send portions to anyone who has nothing ready, for this day is holy to our Lord. And do not be grieved, for the joy of the Lord is your strength." – Nehemiah 8:10 (ESV)
This first verse was very powerful to me early on in my faith. I even wrote "the joy of the Lord is your strength" on my softball glove when I played softball in college. It was a subtle reminder to me that with God I could persevere. He is my strength!
"Fear not, for I am with you; be not dismayed, for I am your God; I will strengthen you, I will help you, I will uphold you with my righteous right hand." — Isaiah 41:10 (ESV)
This verse has been encouraging to me especially during those hard times because it is a promise. God will strengthen me. He will help me. You see the secret behind a strong faith really is that He is our strength. We are putting our faith in Him and He is at work in us growing our faith.
But there's also something that scripture tells us to do to grow a stronger faith.
In 1 Peter 2:2-3, Paul instructs us,
"Like newborn infants, long for the pure spiritual milk, that by it you may grow up into salvation—if indeed you have tasted that the Lord is good." (ESV)
Paul instructs us to long for pure spiritual milk, but if you think about, how often do we settle into a habit of a quick faith fix?
Ever catch yourself thinking,
"What can I do for devotions that doesn't take too much time? I know I need to read my Bible, but…"
Ever feel this way? I have. It's in our nature.
In my mid twenties, when I was going through some really difficult times I used to read devotional resources like My Utmost for His Highest, Streams in the Desert, Morning and Evening, and Our Daily Bread.
I knew I needed to read my Bible, but my craving at the time was for something that didn't take much time.
Although, my faith was being encouraged—as I prayed, God kept speaking to my heart about my choices. In my human nature, I wanted something short and simple, but I soon realized that devotional books weren't really growing in me a stronger faith. They were just milk.
He was calling me to know Him more and that was worth the time! You can read more in Why I Make Time to Read the Most Important Book
Just like human nature influences whether or not you have a proactive faith, culture also conditions you as well. You see, God gives us a very clear picture of what it looks like to have a reactive faith versus a proactive faith. And, it's actually a warning to us.
Reactive Faith: A Warning from God
In Matthew 25 verses 1 through 13, we read story of the ten virgins who filled their lamps.
"Then the kingdom of heaven will be like ten virgins who took their lamps and went to meet the bridegroom. Five of them were foolish, and five were wise. For when the foolish took their lamps, they took no oil with them, but the wise took flasks of oil with their lamps. As the bridegroom was delayed, they all became drowsy and slept.
But at midnight there was a cry, 'Here is the bridegroom! Come out to meet him.' Then all those virgins rose and trimmed their lamps. And the foolish said to the wise, 'Give us some of your oil, for our lamps are going out.' But the wise answered, saying, 'Since there will not be enough for us and for you, go rather to the dealers and buy for yourselves.'
And while they were going to buy, the bridegroom came, and those who were ready went in with him to the marriage feast, and the door was shut.
Afterward the other virgins came also, saying, 'Lord, lord, open to us.' But he answered, 'Truly, I say to you, I do not know you.' Watch therefore, for you know neither the day nor the hour."—Matthew 25:1–13 (ESV)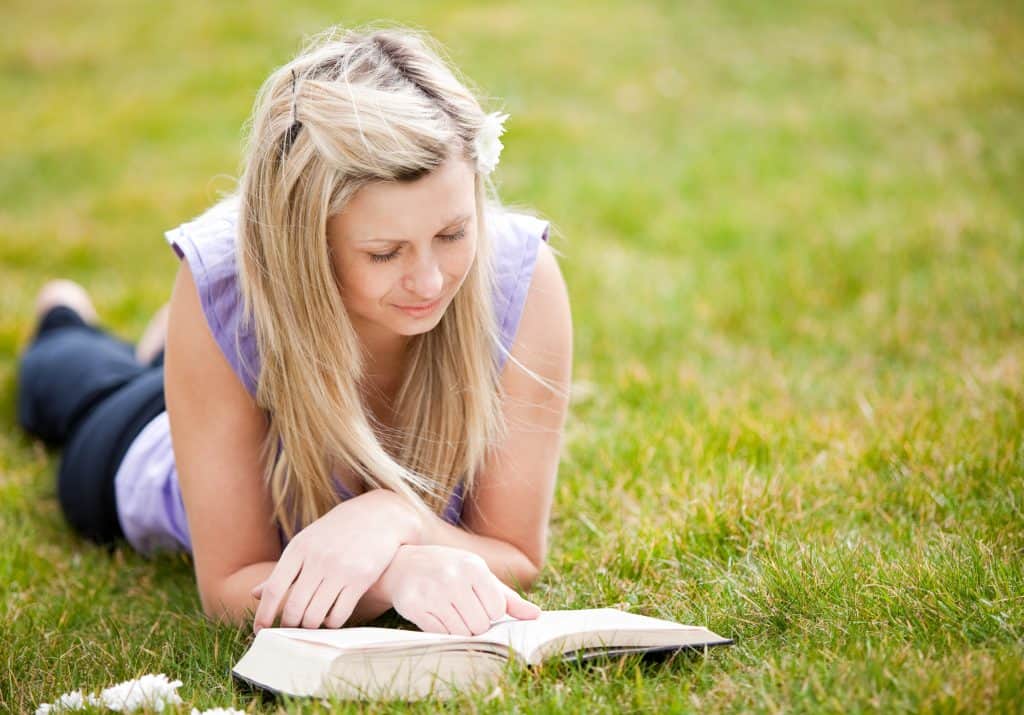 Having a Stronger Faith is Being Prepared
To recap, five virgins were ready for what was to come. While five knew what they needed, but they didn't go get it until the bridegroom came. Unfortunately, the five who were reactive, were NOT prepared and they were unable to enter in with the bridegroom.
I'm not interested in going into the interpretation of this passage. But I want to point out that instead of reacting and waiting for our experiences to dictate our actions, we need to be proactive in growing a stronger faith by being prepared. I also talk about this important aspect of being prepared in 1 Thing to Ask Yourself if You Believe in the Rapture.
Because we are surrounded by that instant–gratifying culture, when looking for ways to build a strong faith, you may feel the pressure to "check things off" or hurry your faith along—like there's a one size fits all "Jesus" answer that is right all the time for everyone. But the benefit to being intentional to growing a stronger faith little by little is that it actually takes this pressure off. It makes growing a stronger faith simple to do. You can trust me on this. I've been doing this well over 20 years. So let's talk about the 5 steps for how you can proactively grow a stronger faith daily.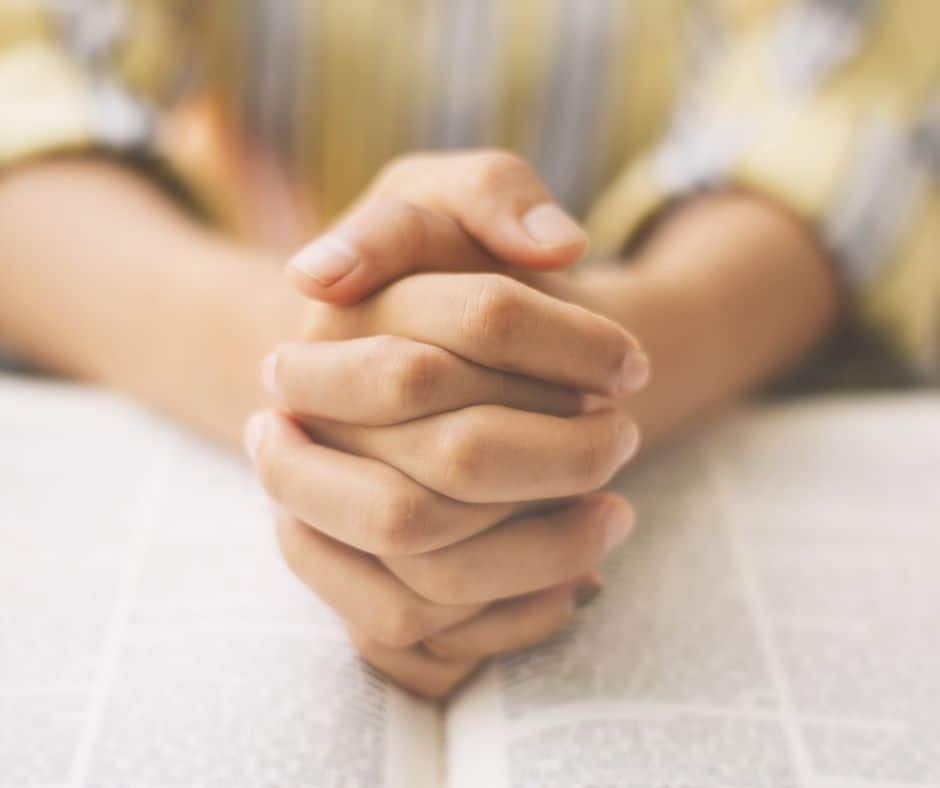 5 Steps to Growing a Stronger Faith
Over the years, I've learned that there are some key essentials that play into daily nurturing a faith that is prepared. A number of these spiritual habits were cultivated through reading scripture, prayer, godly mentors, and books like Practicing His Presence by Brother Lawrence.
These 5 steps are something that I've been intentional to focus on daily and I included in my I call it the SimplyOne Bible Christian Faith Printable Journal. This journal helps me to journal all the ways that God is leading and teaching me throughout my week so that by Saturday when I take time to reflect, I can clearly see one common thread—One Voice—God's voice—in my daily life instead of the noise of this world. It truly is how I intentionally am growing a stronger faith. Instead of a brief checkin or check off your list—I'm walking with God each step of my day—or practicing His Presence.
Be Still (morning) – Take time first thing in the morning to prepare your mind and quiet your heart before the Lord. It could be journaling, listening to worship music or maybe even taking a quiet walk.
Seek First (morning) – Select a passage of scripture to read. Before reading, pray and ask the Lord to speak to your heart through His Word. Ask Him to give you a clear mind and undivided attention. Pay attention to any verses or phrases that catch your attention. Struggling to create a daily habit of reading the Bible? Here's 10 Benefits to Reading the Bible that'll inspire you to read it every day!
As Christians we can seek Him first in a variety of ways:
By praying
Reading scripture or other books
Memorizing or writing down scripture
Listening to Christian music
Participating in worship
Practicing spiritual disciplines.
All of these strengthen our resolve and our personal faith.
Be Renewed (throughout the day) – Write down a verse or phrase that specifically spoke to you as you were reading the Bible. Make a point to meditate on that throughout your day. Pray and ask the Lord to continue to give you insight and wisdom about it.
Pray Continually (throughout the day) – Write down specific prayers that you have for the day. Reference these throughout your day and see how it relates to the passage you read. You may even try praying the scripture you read—as it might be related to your requests.
Give Thanks (evening) – At the end of the day, draw your heart back to God in thanks in gratitude. Write down those things your thankful for that happened that day, including answered prayers. Pray and give thanks to the Lord.
A Prayer for Strong Faith
If I am not intentional to grow my relationship with God in these ways, then my mind is held captive by the noise of this world and the lies of the enemy. I quickly return to living a reactive faith. Nurturing my faith is a daily essential to having a stronger faith and I hope that you will be encouraged to be proactive in having a daily walk with God too.
Here is a prayer that you can pray as you seek to grow your faith:
Lord, I come before you, searching you. God, please help me to grow deeper in my relationship with you, so that when hard times come I will not be shaken. Thank you Lord for how you have been faithful to me in the past, for I know that you will be faithful to complete a good work in and through me for my future. In Jesus Name I pray, amen.
Sometimes when I get discouraged by life, I like to look up scripture that quotes about faith in god in hard times, and the passages that I visit are those that I've read, meditated on, and memorized as I've steadily grown a stronger faith over the years. It's because I've taken the time to grow my faith little by little, I know exactly where to turn in scripture to encourage me. I've prepared myself ahead of time. And I pray that you will be encouraged to do the same. Here is my prayer for you.
Father, I pray for the one who is reading this today. They long to grow a stronger faith. I pray Lord that you would help them to see that the simple act of reading this today is a declaration of their heart's desire to worship you. You alone Father are their strength, their shield. May you guide them, lead them, and encouragement them as they take steps today to intentionally grow a stronger faith in you. Amen.
In closing, to help you along in your journey, grab a copy of my free How to Grow a Proactive Faith Quick List. to have at your fingertips. It lists out what I've shared with you today—the 5 ways to grow a stronger faith.