12 Encouraging Bible Verses for Parents (When Parenting is Hard)
Typically when you become a parent, it seems like everyone has some advice to offer. Some is invited and other times it's just given (smile). But, I don't recall anyone giving me a go to list of encouraging bible verses for parents—for when parenting is hard.
Maybe someone did and I just brushed it off. I don't know.
But what I know now, after going through several seasons of parenting struggles myself, scripture has been the best tool in my parenting toolbox.
When I feel like I just can't handle another episode with poop, again, (you know what I mean)! It's in those moments that I have to remind myself of the truth about being a parent—how God is with me in every struggle and that He offers hope in His Word for every season.
I've pulled together a specific collection of encouraging bible verses for parents—all of which have really helped me to persevere. Along with the verse, I've also included how each one has inspired me personally in different times when parenting has been hard.
12 Bible Verses for Parents
Maybe you've never really thought about looking at what the Bible says about parenting? It's okay, sometimes it's not always the first thing that comes to mind. May these 12 Bible Verses I've specifically selected for parents along with how they've each encouraged me, will more easily come to mind as you seek to parent your kids well.
A Promise I Can Hold Onto For Me and My Family – Scripture equips us for every season!
"All Scripture is breathed out by God and profitable for teaching, for reproof, for correction, and for training in righteousness, that the man of God may be complete, equipped for every good work." (2 Timothy 3:16-17, ESV)
What I Can Trust to God
"Train up a child in the way he should go; even when he is old he will not depart from it." (Proverbs 22:6, ESV)
What I Can Do When I Feel Like I Can't Do Anything
"But seek first the kingdom of God and his righteousness, and all these things will be added to you. "Therefore do not be anxious about tomorrow, for tomorrow will be anxious for itself. Sufficient for the day is its own trouble. (Matthew 6:33–34, ESV)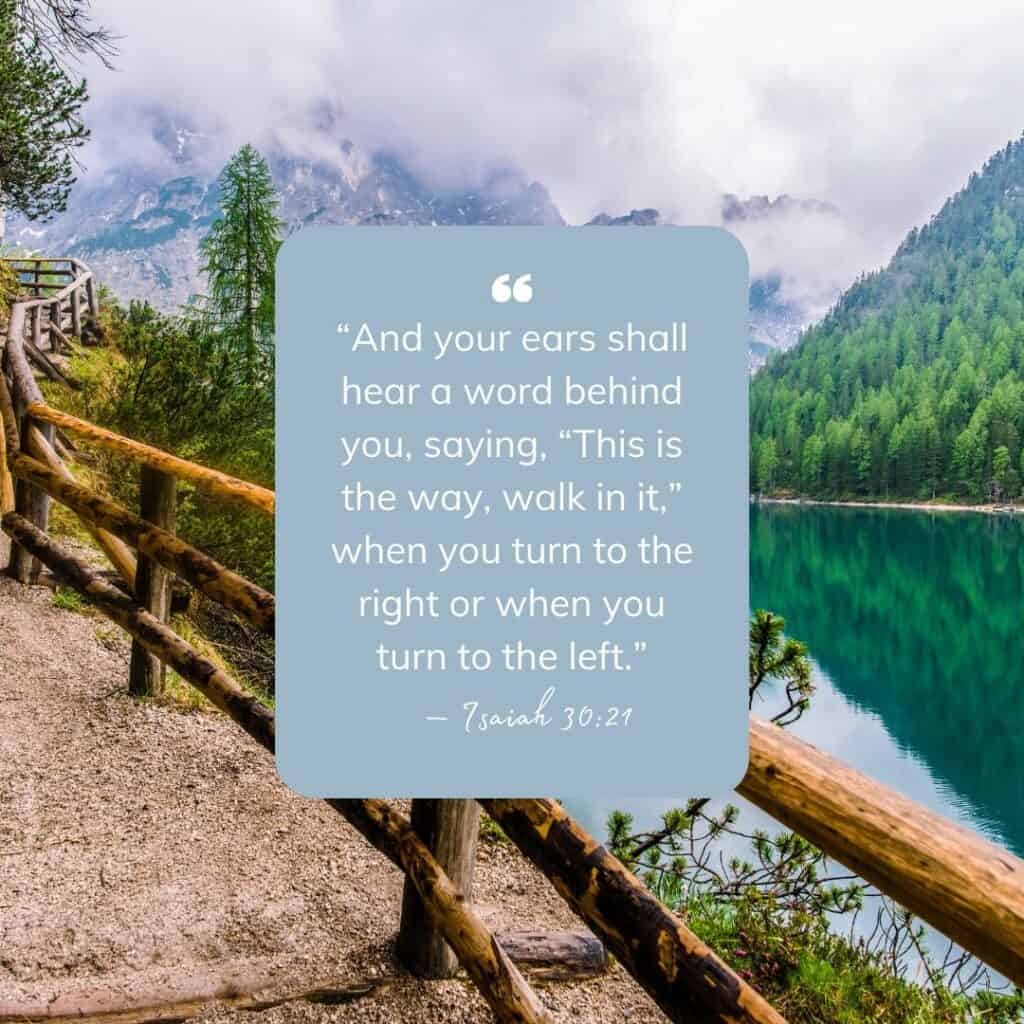 To Help Me Remember Who's Opinion Matters the Most – Don't worry about others. Parent as God leads.
Whatever you do, work heartily, as for the Lord and not for men, (Colossians 3:23, ESV)
Strength To Keep Going In His Strength
"I can do all things through him who strengthens me." (Philippians 4:13, ESV)
For When I Feel Weak
But he said to me, "My grace is sufficient for you, for my power is made perfect in weakness." Therefore I will boast all the more gladly of my weaknesses, so that the power of Christ may rest upon me. (2 Corinthians 12:9, ESV)
When I Need Hope for the Future – Even in hard times, remember He is faithful.
"But this I call to mind, and therefore I have hope: The steadfast love of the Lord never ceases; his mercies never come to an end; they are new every morning; great is your faithfulness. "The Lord is my portion," says my soul, "therefore I will hope in him." The Lord is good to those who wait for him, to the soul who seeks him. It is good that one should wait quietly for the salvation of the Lord. (Lamentations 3:21-26, ESV)
For When I Feel Anxious – He offers peace.
"You keep him in perfect peace whose mind is stayed on you, because he trusts in you." (Isaiah 26:3, ESV)
A Promise For When I Don't Know What To Do – God Will Lead.
"And your ears shall hear a word behind you, saying, "This is the way, walk in it," when you turn to the right or when you turn to the left. (Isaiah 30:21, ESV)
A Prayer of Surrender in Parenting – that He would build your family and guide your parenting.
Unless the Lord builds the house, those who build it labor in vain. Unless the Lord watches over the city, the watchman stays awake in vain. (Psalm 127:1, ESV)
When I Feel Like Nothing Is Working – This verse is a reminder to abide in Him, so that I may "bear fruit".
I am the vine; you are the branches. Whoever abides in me and I in him, he it is that bears much fruit, for apart from me you can do nothing. (John 15:5, ESV)
For When I Feel Like a Failure – This entire chapter in Psalms is an encouragement to share with my kids both my faults—and God's faithfulness. I've shared verse 4 here, but the whole chapter is one of "my psalms"—a psalm I read over and over when I'm in a certain circumstance.
We will not hide them from their children, but tell to the coming generation the glorious deeds of the Lord, and his might, and the wonders that he has done. (Psalm 78:1-72, ESV)
Just as these bible verses for parents have encouraged me, my prayer is that today they will encourage you—especially when you feel worn down with everything that comes with being a parent. But I also want to share with you some more things that scripture has taught me and encouraged me in my own parenting journey. My prayer is that these perspectives will renew your strength and help you to be encouraged even more.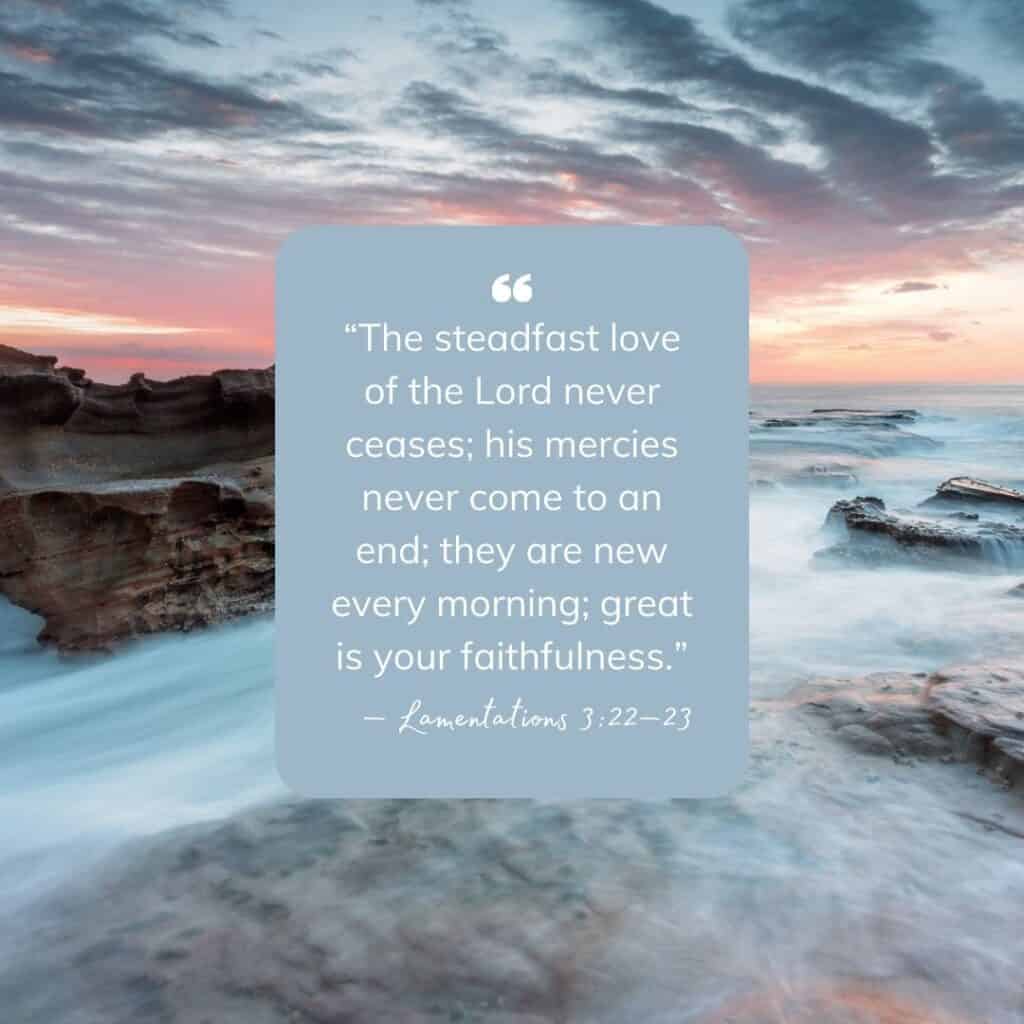 What else does the Bible say about parenting?
Another perspective that has also encouraged me for how to be a better loving parent is to look at scripture that speaks directly to me as a child and how I am to honor my parents. When I look at these scriptures it helps me to know how I can train, counsel, and encourage my child—so that he will want to love and honor us as his parents. And the scripture that specifically talks about honoring your mother and father is found in the 10 Commandments in Exodus.
"Honor your father and your mother, that your days may be long in the land that the Lord your God is giving you." (Exodus 20:12, ESV)
How can I truly help my son to know how to honor me?
First off, I can honor my own parents. Secondly, I can help my son to know how to obey God by making good choices that are guided by biblical principles. In Ephesians, we're reminded that making right choices isn't simply up to us. We can do it because of our faith.

"For by grace you have been saved through faith. And this is not your own doing; it is the gift of God, not a result of works, so that no one may boast. (Ephesians 2:8–9, ESV)
Likewise, Kevin D. Zuber is quoted in the Christianity Today article, What Does the Bible Really Mean by 'Honor Your Father and Mother'? He says that "Rebellion and insubordination to parents, governments, teachers, and others, ultimately is rebellion and insubordination to God…The commandment is not just applicable to minor children but teaches that adult children are to have respect and to care for their aged parents"

These remind me that to be a good parent, often is for me to model what it means to be a good child to my own parents and for me to live godly.
What does Proverbs say about parenting?
Last year, I spent the entire month of January going through the book of Proverbs. The book is jam packed with wisdom for godly living and so often we can just focus on Proverbs as "the wisdom book", but sometimes we can forget that Proverbs is a collection of instructions from a father to a son.
Listen to the Father's heart in these words:

"The proverbs of Solomon…to know wisdom and instruction, to understand words of insight, to receive instruction in wise dealing, in righteousness, justice, and equity; to give prudence to the simple, knowledge and discretion to the youth." (Proverbs 1:1–4, ESV)
Saying this in modern words:
"Son, my heart for you is that my words will help you to know how to have biblical wisdom, to live godly, and to treat others with justice, kindness, and respect. Don't trust everyone! Be cautious and have discernment."
Solomon was equipping and training his son by giving him this book of proverbs—so that he could honor his parents and honor the Lord. He didn't just say, honor us, he also warned his son about what challenges he would face. As parents we're really helping to guide our children for the world before them. All too often we can get caught up in how hard parenting can be that we can just be okay with a "that's one more day my kids survived" mentality.
Reading Proverbs with this perspective—Solomon's heart for his son—this book of wisdom will renew your heart for your children and reawaken that calling and purpose that God has given to you. I never would've considered Proverbs this way, you could say that Proverbs has become like that little book of wisdom for parenting or God's collection of Bible verses for parents! It makes me want to dig in and read it more. Need a Proverbs reading plan? Here's one reading plan that I've used—Embracing Wisdom – 6 Weeks in the Proverbs Reading Plan—you can grab that here.
Like I mentioned in the beginning, I don't recall anyone sharing with me their list of encouraging Bible verses for parents. But I hope as I've shared with you my list and my additional thoughts on parenting in scripture that you'll see and experience like I have, that scripture is one of the greatest tools you can have as a parent.