The Christian Mom's Secret to Being a Great Parent
The secret to being a great parent is actually a simple acronym for the Christian mom to live by, but often there is one thing that stands in your way. Here's a brief story to describe what I mean.
A few months ago I asked some moms, "What kind of mom do you want to be in five years?" I let the words hang a little—then I asked the moms in the Gathering Place to think and write down an answer.
The responses were similar. "I want to be a great mom—a great parent, and to train my children to be followers of Christ."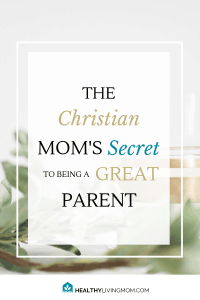 The Christian Mom's Secret to Being a Great Parent
These moms knew what they wanted, yet the pressure of the perfect mom was crouching at their door.
Transitioning with another question I asked, "Looking back over what you just wrote, what are you doing today to make that great parent—you?
That longing in their spirits had just met it's checkmate; the thought of "How am I doing and how do I start making that happen?"
"I'm not perfect." The moms weren't just thinking it. They were feeling it too.
Often the thing that stands in the way of you becoming a great parent—is the pressure to be the perfect mom.
It doesn't have to be that way sweet momma.
That day I spoke with those moms, I shared with them some encouraging words to inspire them and give them hope when they
feel hopeless
. I'm excited to share it with you too. It's the Christian mom's secret to being a great parent.
Today I'm honored to guest post for my friend
Melanie Redd
about how seasoned Christian moms taught me the secret to being a great parent. Here's a preview of this post, and I hope you'll head over to read the rest.
That very thing you dread as a first time parent—it happened to me. I was 8.5 months pregnant and my water broke in public. But not just anywhere—it happened at a wedding.
Learning how to be a good parent—it kind of feels like that. You feel like you're prepared but there's always something that catches you by surprise. As the years pass by, you end up relying on the "you'll figure it out" parenting method.
The "You'll Figure It Out" Parenting Method
We've all heard it said and we've probably said it ourselves at one time or another; "Oh! Don't worry, you'll figure it out."
On the surface, this parenting mantra has some truth to it and is comforting. But the problem is, that while we're leaning heavily on "we'll just figure it out" we inevitably let life just happen.
Meanwhile, the things we value and desire for our children, family, and ourselves gets lost somewhere along the way.
Maybe that's you?
You woke up this morning and wondered, "Where did time go?". You had dreams and things you wanted for your kids to have or know before they left "the nest" so to speak.
I assure you, it's never too late to start, even if your kids are now adults. There is a way to be a good parent using everything that you already have. You just need to know what to do. (p.s. I'll be referring specifically to moms in the rest of the post, but it applies to dads too!)
Keep reading to learn how to be a good parent and bless your relationships at 
Melanie's site.