What To Do When You Are Mentally and Emotionally Exhausted
"You need to go see a counselor." The words stung. I was mentally and emotionally exhausted from everything I had to do and be—and this was the last thing I needed to hear. And honestly, I didn't really know what I needed at that time, but I did know that I really needed support and encouragement. And I didn't get it.
I was a junior in college, a Dorm Resident Director and I was taking a full course load with 18 credit hours. And that wasn't all of it. I was playing college softball and working two part time jobs to help pay for my education. It all came to a breaking point when meeting with my Student Development Mentor. Simply put, I was exhausted. She asked me how I was "really doing" and that's when I started to cry. Then…she said I needed professional help to learn how to handle the stress in my life. It was like she handed me a piece of sandpaper to wipe my tears.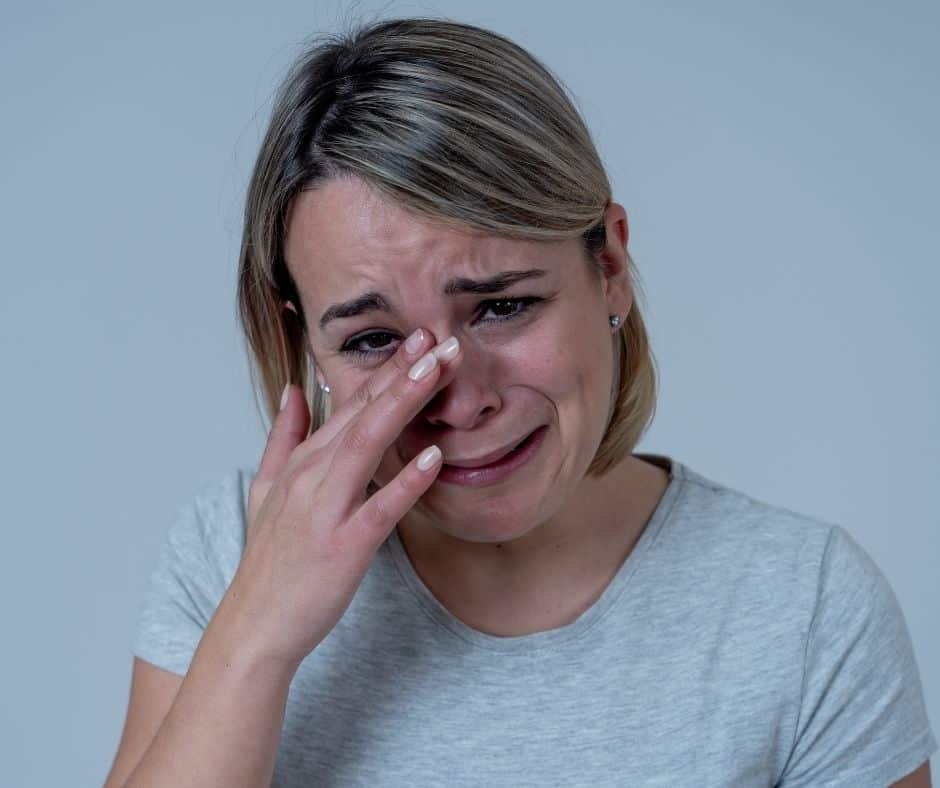 Today I can look back with confidence and say that what I really needed at that time in my life was a compassionate heart and a soft Kleenex.
Sweet friend, if you're struggling today—you're mentally and emotionally exhausted—I want you to know that I understand and I want you to know I'm so sorry that you are experiencing this right now in your life. I pray that what I have to say, will truly encourage you and that it will give you hope when you need it most.
To start, I want you to know that I've experienced mental, emotional and physical exhaustion a number of times in my life. That first example that I shared—when I was in college—gives a little snapshot of one of those times when I was single. But by far the most challenging times of mental and emotional exhaustion for me have been during my early years of motherhood.
But what's even more interesting, is that regardless of my circumstances, there has been a common theme each time: I feel like I have a lot of things that I'm responsible for and I'm struggling to do it all.
If you take a moment to look at your own life right now, is that the same for you too?
Maybe you're just wondering, is it just me or is this that I am really mentally and emotionally exhausted? If that's the case, I've pulled together some symptoms and behaviors that I've personally experienced.  Maybe it'll give you some further insight.
Emotionally Drained Symptoms
Below are some symptoms that I've experienced when I'm feeling emotionally drained and mentally fatigued.
FEELINGS
• anxious
• irritable
• apathetic
• tired all the time

THOUGHTS
• "I'm never going to get this done."
• "I'm a terrible mom."
• "Why do I always screw things up?"

PHYSICAL SYMPTOMS
• rashes like eczema, dermatitis (especially on hands or even head)
• irritable bowel (either constipation or diarrhea)
• headache (possibly migraines)
• upset stomach, ulcers
• hives
• chest can feel heavy at times, or racing heart
• persistent sighing
• difficulty focusing/scattered thoughts

Some of these  symptoms show up when you're drained, but they are more pronounced when you are exhausted. For me I tend to be more emotionally drained when I've spent too much time with the wrong kind of people. What do I mean? Whenever I'm around them, I walk away literally feeling drained rather than energized. If I'm not careful to set healthy boundaries in these relationships—whether they're  friends or family—then it will eventually lead me to experiencing emotional exhaustion.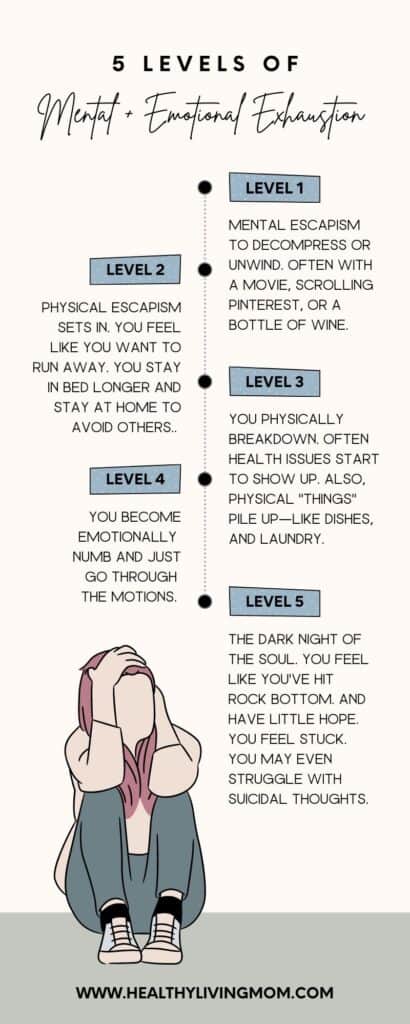 Examples of Exhaustion with Physical Behaviors
In addition to the above symptoms, over the years I have been able to recognize a pattern in my physical behaviors. While these aren't necessarily clinically labeled as physical symptoms—these are physical identifiers that there is something deeper going on emotionally and mentally.
I've listed my behaviors in order of intensity level for how I feel from least (Low level of exhaustion –Level 1) to greatest (High level of exhaustion – Level 4).
Level 1: Mental Escapism
When I'm feeling emotional fatigue in relationships with family or friends, often I will unwind or decompress by watching a movie. For me it's something that makes me feel good but doesn't take much mental strength. Often it will be that I watch Christmas themed or Hallmark movies.
Level 2: Physical Escapism
At times I can feel like I just want to run away—escape from it all. Although, most of the time, I don't have this option, so I just end up staying in bed as long as I can. I will also turn down opportunities to get together with others. Another way I've tried to unwind and "escaped" is through drinking a nightly glass of wine. I may also try to make myself feel "less stressed" by dressing more comfortably—like wearing yoga pants. Or I may schedule a pedicure, manicure, or paint my own nails. Another symptom at this level that starts to rear its head is apathy in the form of daily needs.
Level 3: Physically Breakdown
When I get to my breaking point—and it always comes—it's usually met with tears. This is when I have no energy—emotionally or mentally and it results in me physically breaking down. Often this is the time when physical health symptoms start to show up more consistently and apathy has started to set in. It manifests itself in a struggle to do the dishes, make meals, and doing the laundry. Things start to physically pile up.
Level 4: Emotionally Numb and Just Going Through the Motions
At this point, I've cried tears, probably alone for the most part, and I've started to "numb" myself emotionally. I'm so overwhelmed that I just can't see how it's going to get better. I don't know where to start and I don't have any mental strength to think about it anymore. When anyone asks what's wrong is, I just answer with my common phrase; "I'm just tired." Even when pressed for more of an answer, I can't even process through what is wrong or what I can do to fix it. I'm not even emotionally or mentally present. And if I'm in really bad shape, things can escalate quickly in me raising my voice or becoming impatient even if the person asking is genuinely concerned for me and my well being.
**This is an example of when I've truly become mentally and emotionally exhausted.**
It's like I've physically checked out and am just going through the motions.

Level 5 — The Dark Night of the Soul
This is rock bottom. It feels like you've lost all hope and there's no movement forward. You're stuck and your so numb at this point that there's nothing you can do—except cry out to God. Honestly, it took me getting to this point in my life and God in His loving kindness showed me the way out. I pray you never get to this point. It was literally the most lonely place I've ever felt. I've been in this place 2.5 times in my life. I say 2.5 because that last time—when we lived in our garage—I finally had learned enough to not let myself get "stuck in the more" of this level. It was close though.
These levels I've just thoroughly described for you is a progression of exhaustion for me—an example of what it feels like to be physically, mentally, and emotionally exhausted. Looking at it today, it's a pretty fascinating pattern.
Each time I've experienced it, it has been a very challenging season.
But I want you to notice that there is a direct correlation with my behavior—the things I tend to do or don't do—and with how intensely I feel when I'm mentally and emotionally exhausted.
Levels 1 and 2 can seem pretty harmless at first but somewhere between level 2 and level 3 things start to down spiral. Also with each increasing level, the behaviors in the previous levels become more frequent rather than occasional.
Can you relate to any of these?
If you can, then please know this—there is something that you can do about it! In fact just being able to recognize these things sooner helps you to address them quicker—so that you don't slip into the next level. And…I want to help you. I want to give you some tools to help you find breakthrough, to help you get better at addressing your exhaustion sooner—before it gets overwhelming.
How does that sound? Okay, let's get started.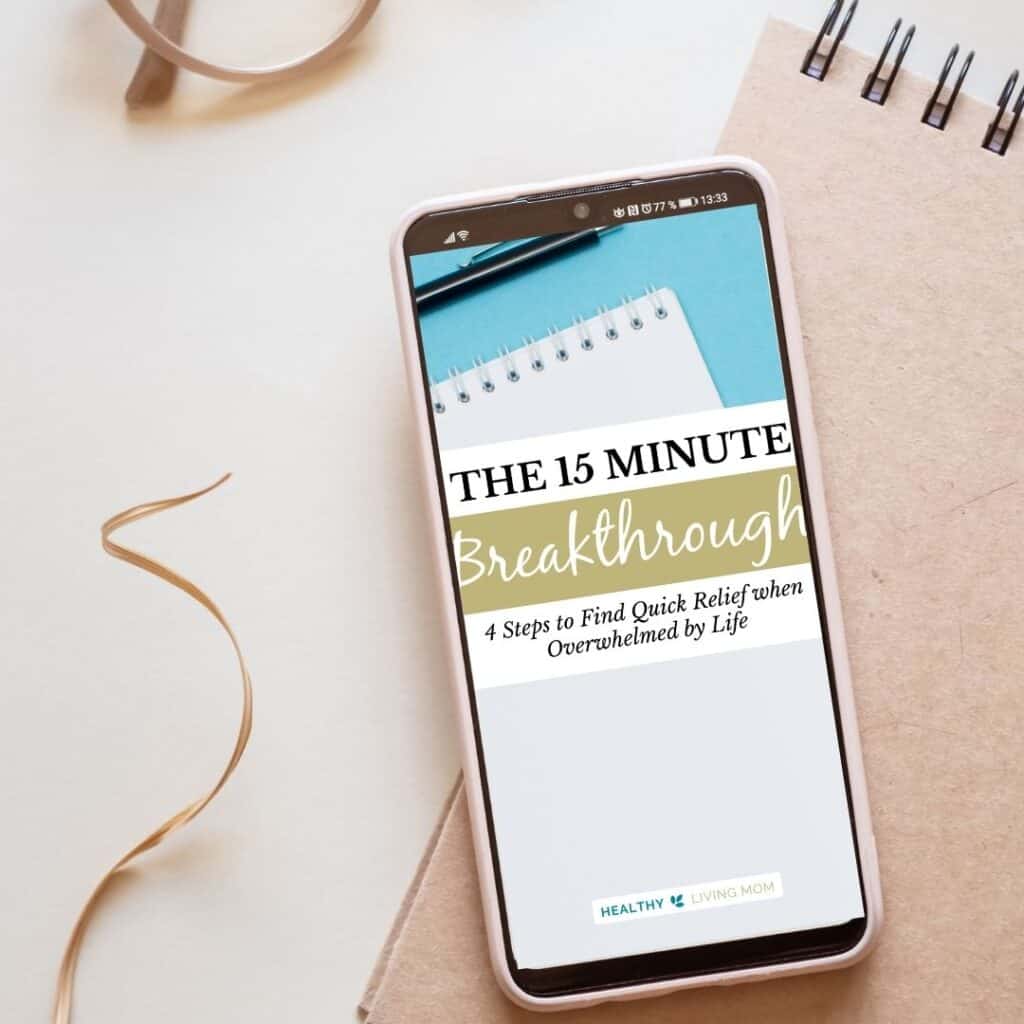 What To Do When You Are Mentally and Emotionally Exhausted
Often when I've felt mentally and emotionally exhausted, I also can start to feel like I'm losing myself in the process. I will say that it took me a long time to figure this out and I want to save you a lot of that same frustration and struggle in life. I think I've already experienced enough of that for the both us.
With that being said, first, look back at the symptoms and behaviors listed above.
How and when do you experience these?
Is there something that triggers this for you?
Sometimes for me it can be that I'm overextending myself without really caring for myself. My grandpa used to say, "You're burning both ends of the candle!"
Other times I can experience mental and emotional exhaustion because it's a season—like having a newborn baby. In this season—you will feel tired a lot of the time. You will feel exhausted. But these times shouldn't last for years. The little years are challenging too, but you shouldn't be so drained that you're completely exhausted.
If you've been experiencing mental, physical, or emotional exhaustion for awhile, the reason why you're experiencing it may not be easy to recognize. But I want to give you some things to consider. Once you have a better picture of why you're mentally and emotionally exhausted—by looking at the above symptoms and scenarios—then you have a starting point to know what you can do about it.
"I am physically, emotionally, and mentally exhausted. Why?"
I've found that you can narrow down the answer to that question with one or a combination of all three of these things:
You literally have too much on your mind
You have too much to do.
You can't physically do everything.
So, which one is it for you?
No matter what your answer is, there is almost always something that is directly causing it to happen in your life. As I've experienced these struggles, most often it is a result of our priorities— our Role, our Identity, and our Purpose—being out of order.
How?
We've mixed up the priorities of our role, our identity, and our purpose.
1. We've let our role (being a wife and mom)…
2. and our purpose (things we're passionate about)…
3. determine our identity (who we really are and our validation of self worth).
When in reality, our identity is found in who God says we are—He created us, gave us roles, and had plans and purposes for us that only we can accomplish. But apart from Him, we can do nothing (John 15:15).
Secondly, we're choosing our own priorities above God's priorities for godly living. What are God's priorities?
Relationship with God
Spouse
Family
Ministry/church
Work
Knowing that most of our mental and emotional exhaustion is caused by this, then we now can know what to do to find relief.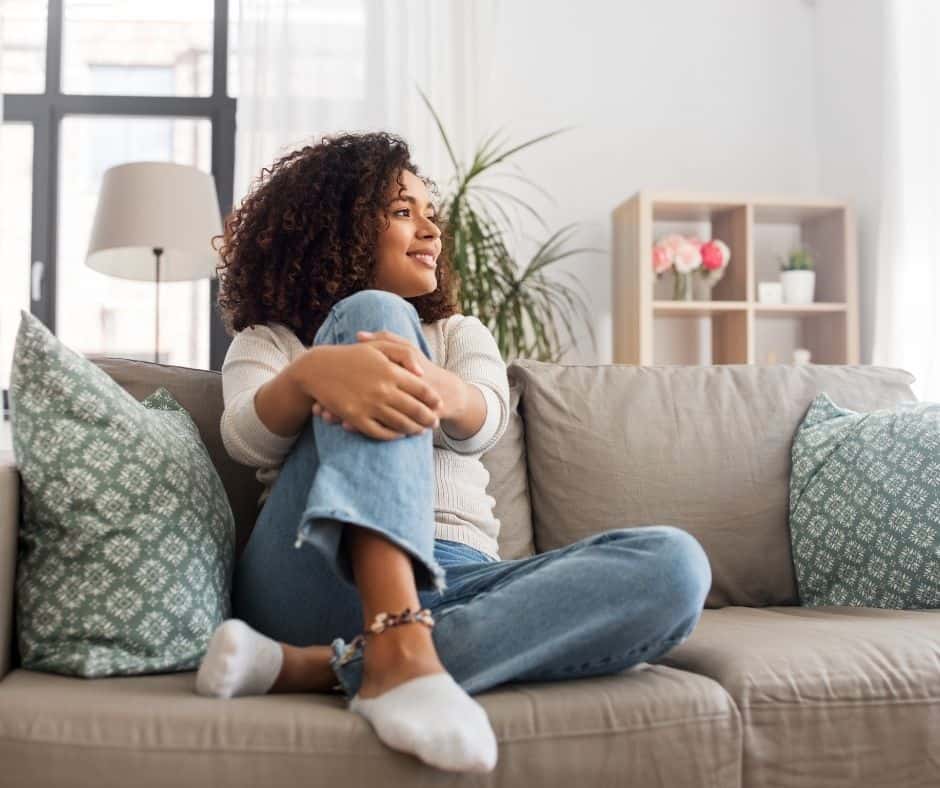 How to Find Relief When You're Mentally and Emotionally Exhausted
You may just need to do a couple simple things to get your priorities back in place. I actually do a few of these things on a regular basis to help me keep things in check. I've included some links to some free resources to help you do them on your own.
In closing, I want to share with you one story from my personal journey with being mentally and emotionally exhausted. This story is one that gave me HUGE breakthrough in my life.
My Breakthrough From Being Mentally and Emotionally Exhausted
I was tired, in desperate need of community, and I yet I wanted to dig my feet in and just stay home. But a friend from church had been persistent in asking me to come meet a group of other moms. So, I left my piles of laundry and dishes to go to my very first moms meeting.

I showed up, not knowing anyone, and quickly took my seat at my assigned table. Holding my three month old son closely to my chest, I nursed my coffee like it was my lifeline. The speaker bounced up to the front of the room with a great big smile on her face. She opened her mouth and slapped my self talk sideways. It was like she was saying to me,
"Sonya, you've got this! God created you—you're beautiful. He chose you specifically to be a wife to your husband and a mom to your son. Only you can do it. And He has given you everything you need. Just ask for His help."
Sweet friend, maybe that last story is all you needed to read today, too. That you can do it, with God's help. That doesn't mean you can do everything! But with Him—you can get this RIGHT!"
His divine power has granted to us all things that pertain to life and godliness, through the knowledge of him who called us by his own glory and virtue." —2 Peter 1:3 (WEB)
And that's why this verse is one of my foundational verses here at Healthy Living Mom—it's personal and it's the Truth we all need to stand on. I needed to hear those words back in college—for encouragement and support. And I pray that you've not only received that today, but maybe you've learned a little from my experiences. Plus! Don't forget to take advantage of some of those free resources that have also helped me in my own journey. Take care!