Easy Summer Dessert Recipe for the Last Minute Planner
Summer is the best time of year for fun, sun, friends—and of course parties! Next comes the overwhelming question—what do we bring—and what is an easy summer dessert recipe I can use? My husband's sweet tooth almost always wins over me every single time. Mostly because in the past I've had a tendency to wait until the last minute to decide what we're going to take.
This time was pretty much the same story. My husband's work team had decided nearly a month earlier to host a cookout—but we had waited until the last minute to figure out what to bring.
It was Thursday and the party was then next day at 6 p.m.
Reality finally was sitting in and after a few minutes of consulting our family cookbooks, we settled on a family recipe that we haven't done in awhile—Ice Cream Sandwich Dessert.
Jump to Recipe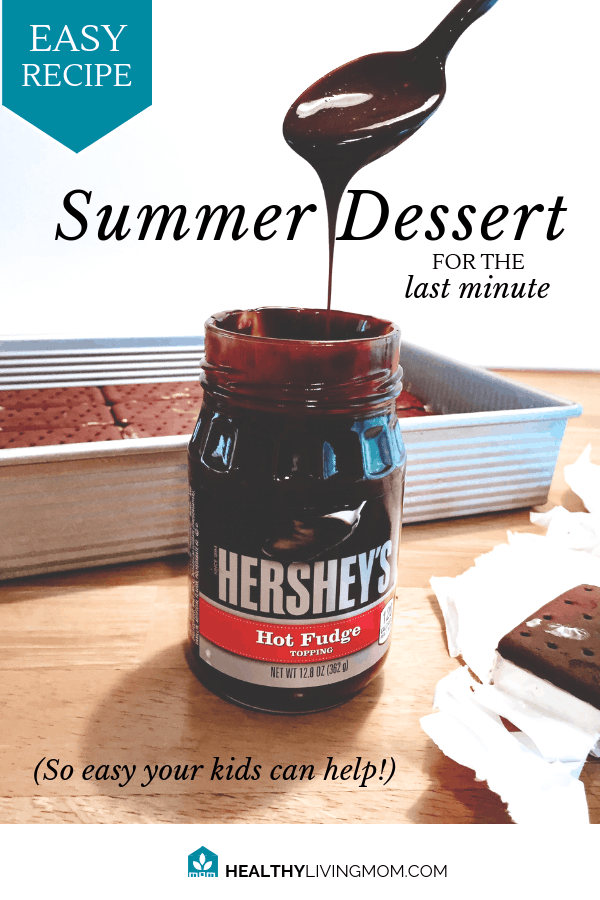 It really is an easy summer dessert! Even the recipe says in parentheses under the title "Fastest, easiest, dessert ever!"
So if you're like us and tend to wait until the last minute, this recipe is totally for you.
Now, before we get any further, if your party is today and you don't have access to a freezer, you'll want to do something different.
Here are 21 Crazy Good Trifle Recipes for Summer from Taste of Home. Trifles are easy, quick, and often can be thrown together even in your car!
This Ice Cream Dessert is so easy that I let my son help me put it together. But, there's more to the story…and spoiler alert…it's kind of a crazy story.
I'll be sharing those details along with step by step pictures of the recipe coming together. Plus 3 lessons I learned along the way to help me to be a healthy living mom.
But, if you'd rather just jump to the recipe…I totally get that too.
Jump to Recipe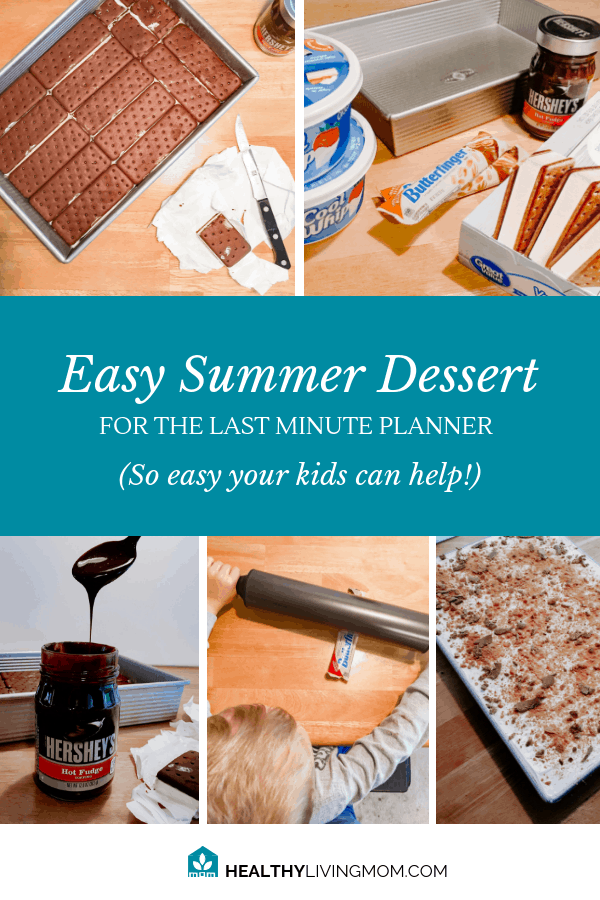 Easy Summer Dessert Recipe for the Last Minute Planner
So the party was scheduled for Friday night and of course it was Thursday and that meant making sure that I picked up all the ingredients so that we had enough time to "freeze until time to serve".
It was totally do–able, but under the circumstances I wouldn't be able to go to the store until after dinner.
Thursdays can kind of be a little crazy for us. It's bath night and it turned out that this particular Thursday my husband also was working late. To top it off, we only had one vehicle at the time. So this recipe was definitely what I needed considering we waited until last minute.
So of course that meant taking my son grocery shopping around bedtime by myself. No worries though I had a couple of tricks up my sleeve to stop a temper tantrum before it started.
The Easy Summer Dessert Defined
Now when I think of something as being easy, little to no effort comes to mind. But as a mom, easy also has to mean 30 minutes or less. Because it always feels like I never have enough time to get everything done.
I've learned that the real secret to an easy summer dessert recipe is to have a plan ahead of time—because it helps to create that little to no effort.
Although, I will totally admit that we tend to be last minute planners.
Lesson 1 for an Easy Summer Dessert
After dropping off my husband back off at his work, Sebastian and I headed to the grocery store.
I used my 3 Proven Steps to Stop a Temper Tantrum—and we got everything on our list in less than 30 minutes.
Yes! This went way better than I anticipated!! Maybe this time last minute planning wouldn't be that bad.
Because it was bath night, I ended up just putting mostly everything away. I knew if I just got things started that I could finish assembling things in the morning. After all, it's an easy summer dessert that pulls together quickly—easy peasy.
Wrong…
It turned out that as I began putting the ice cream sandwiches in the 9 x 13 pan I discovered—they don't make sandwiches the same size that they used to.
Ugh! I knew this, but I had forgotten because I didn't update my recipe.
Lesson 1 for the last minute planner—make sure you read all of the directions to your recipe.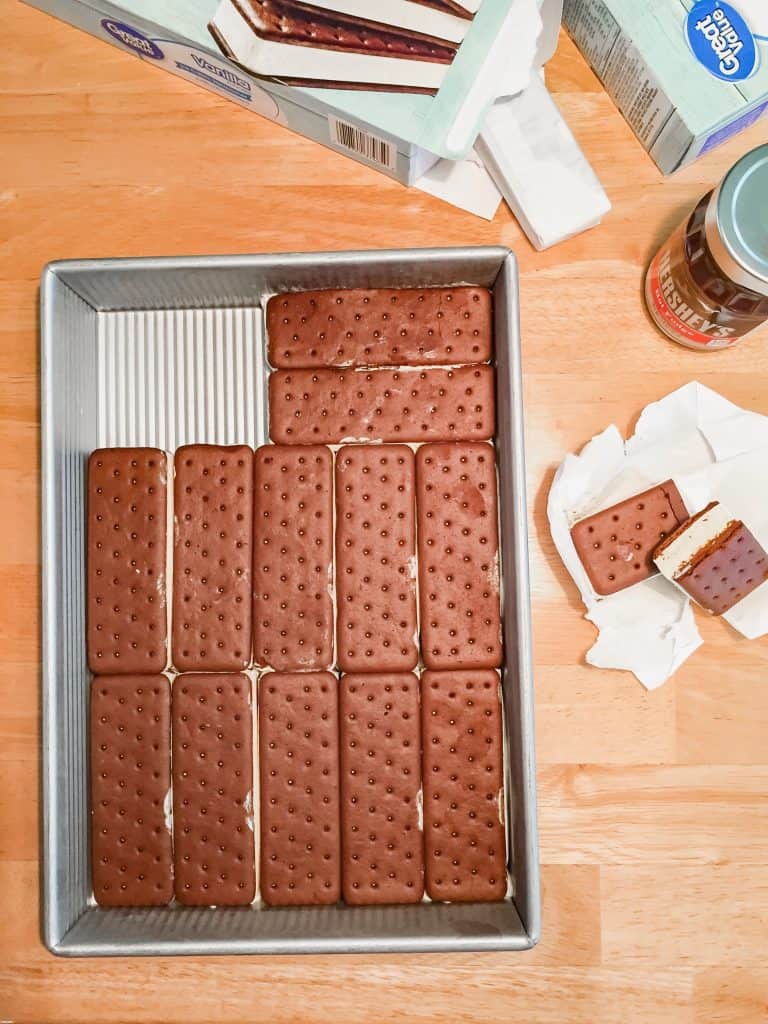 It was now 9:30 at night. Bath time was done, pj's on, but I still needed to pick up my husband from his late night working. At this point, I was exhausted emotionally. I definitely wasn't running back to the store again.
Grocery Store Take Two
Next morning, Sebastian and I took off for the grocery store for round two.
We picked up 2 more packages of Ice Cream Sandwiches after I realized we'd need 28 sandwiches in total.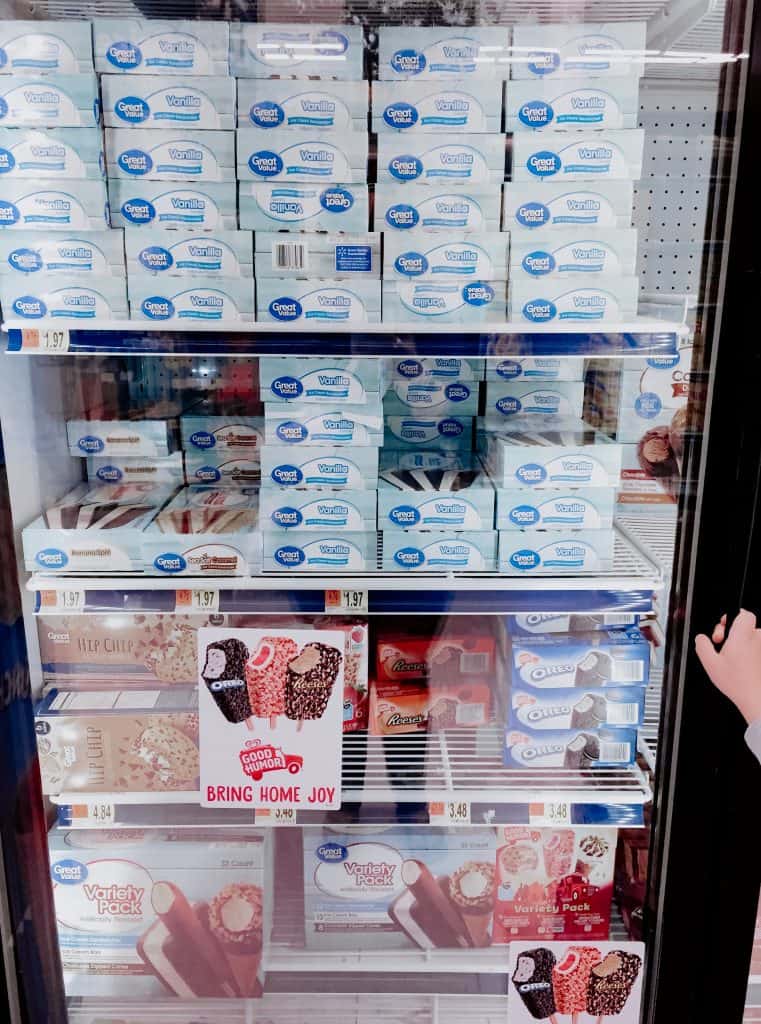 Lesson 2 for an Easy Summer Dessert
Once we got back home, I started to set things up for assembling. Sebastian turned to me, "Mom, can I help?"
These are the moments where honestly I just want to do it all myself. This whole thing was supposed to be an easy throw together recipe and I'm just ready be done with it.
But, I also know the value of including my son in making things—even when it stretches me. So that's what we did. We made this dessert together.
Lesson 2 for the last minute planner—be brave and include your kids in the process. They'll learn some valuable things from making dessert, to learning the value of planning ahead. Plus, it's not easy to admit it, but they'll learn from your mistakes.
Step by Step Instructions
Okay, so now that I've shared with you some very key lessons that I had to learn—again—let's get to actually where I finished making this dessert.
First, I unwrapped 2 ice cream bars and cut them with a knife to finish the first layer of the dessert.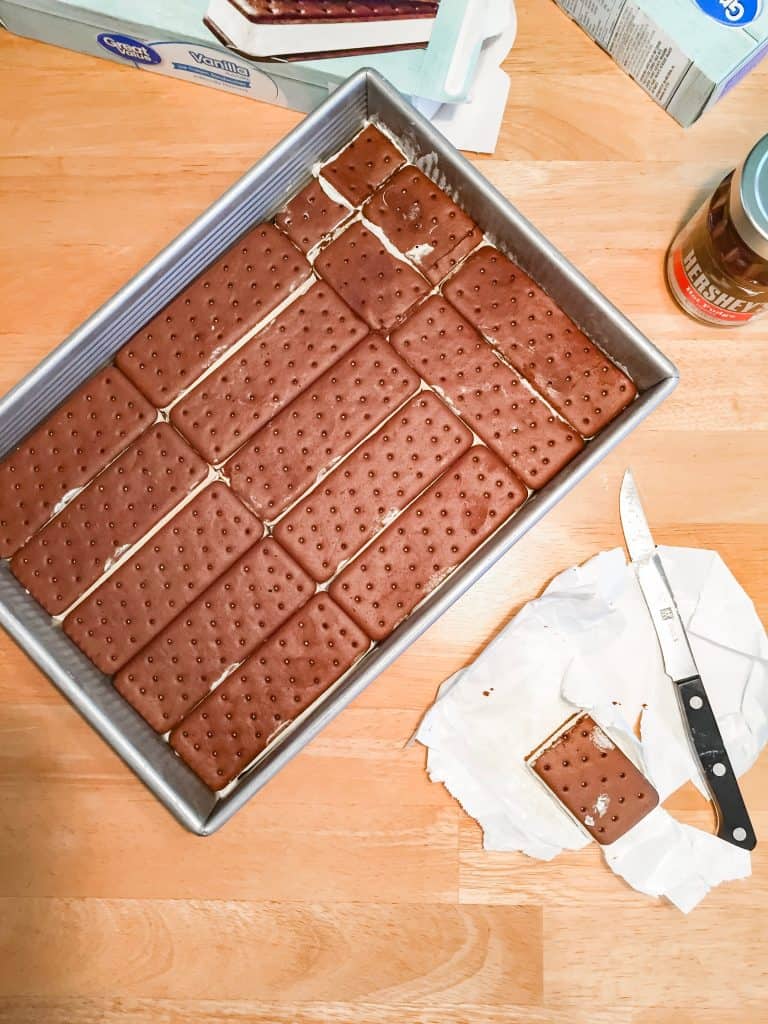 Next, I opened up the jar of Hot Fudge Sauce and stirred it up a bit. I would have loved to use my family's secret Hot Fudge Sauce recipe, but this is supposed to be an easy dessert—not Pinterest worthy! LOL!
Stirring the fudge helps to make the sauce a little creamier consistency that's easier to spread out. Doesn't this just look super yummy?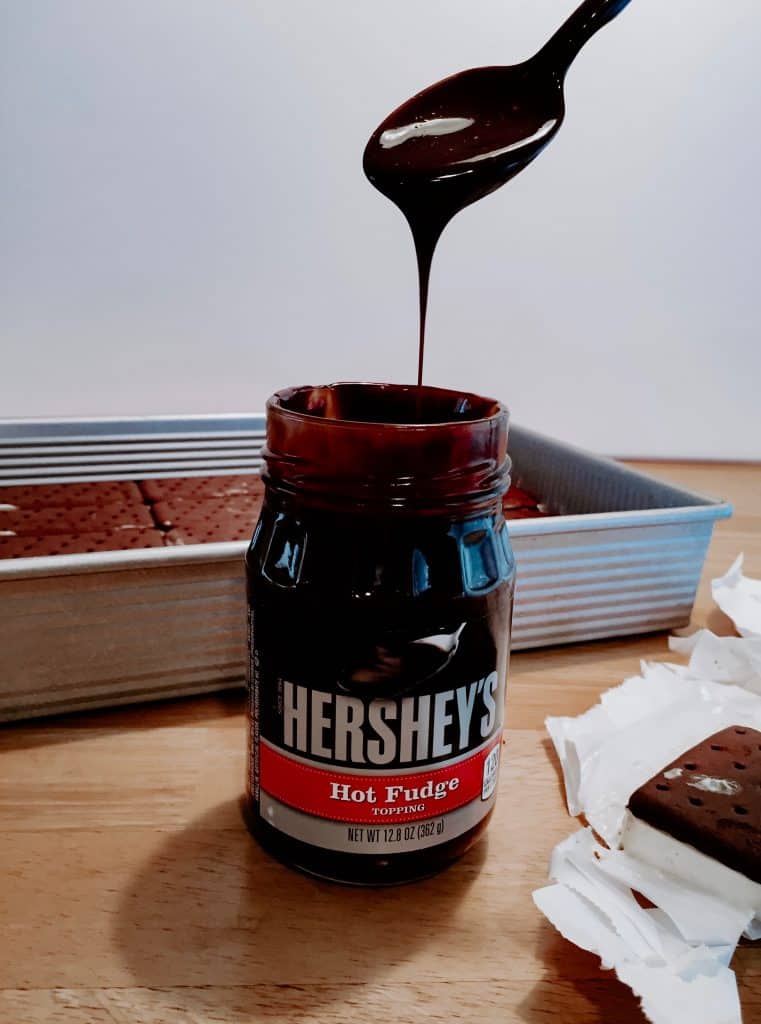 This is where things can start to get a little sticky. It's the part where I let him spread out the hot fudge sauce—all by himself. He was so proud. And he couldn't wait to lick the spoon. Yes, my boy is a chocolate lover at heart.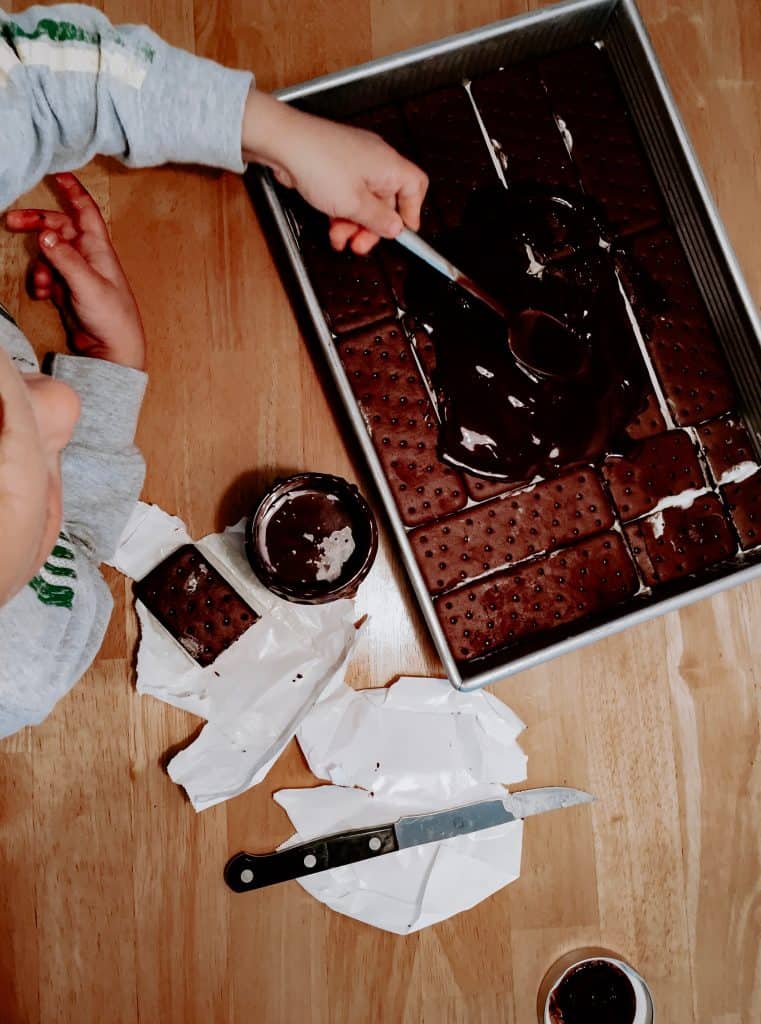 Before moving to the next step, I quick throw it into the freezer to let it "set" a little before topping off the layer with Cool Whip.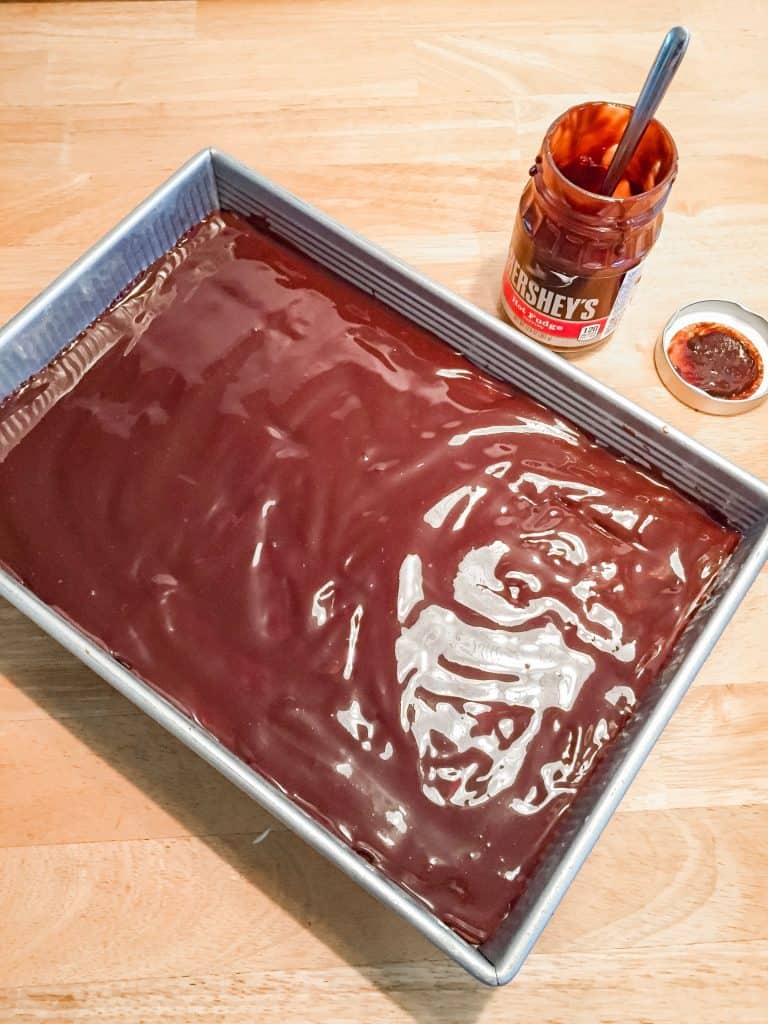 While that is in the freezer, I let Sebastian use the rolling pin to crumble the Butterfinger candy bar for the top layer. It's the perfect task to do while you're waiting for the hot fudge to set.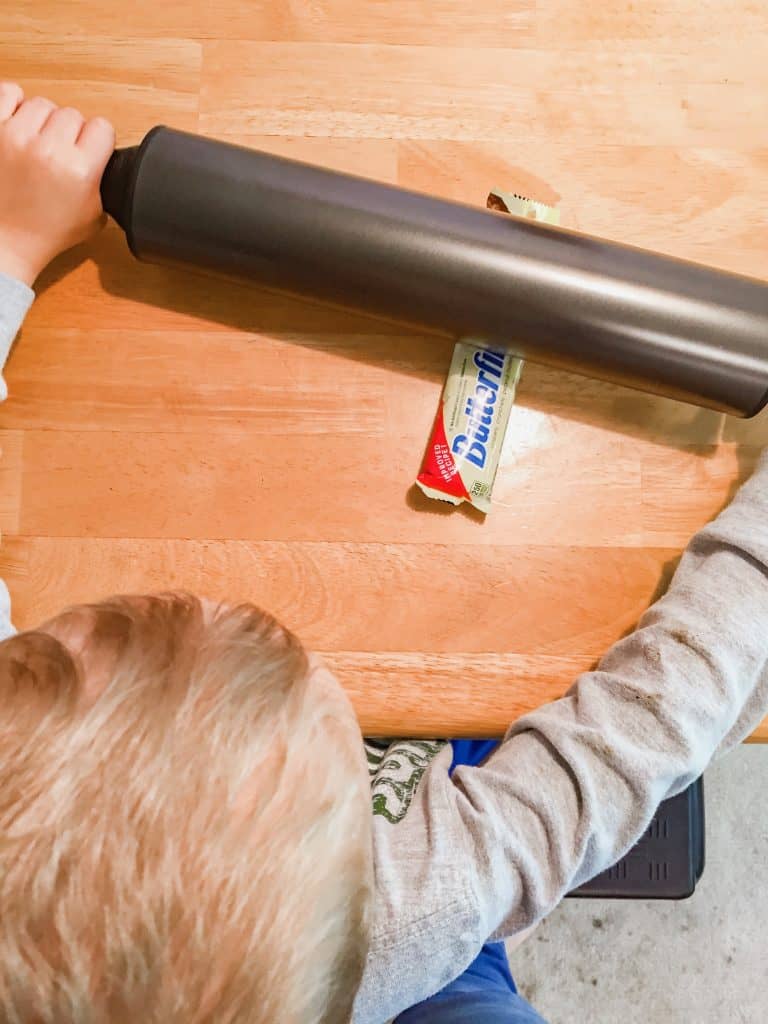 It doesn't take a whole lot of force to crumble the candy bar, but my boy loved to just whack at it.
After about 15 minutes, I pull the pan back out of the freezer and we finish up layer one with Cool Whip.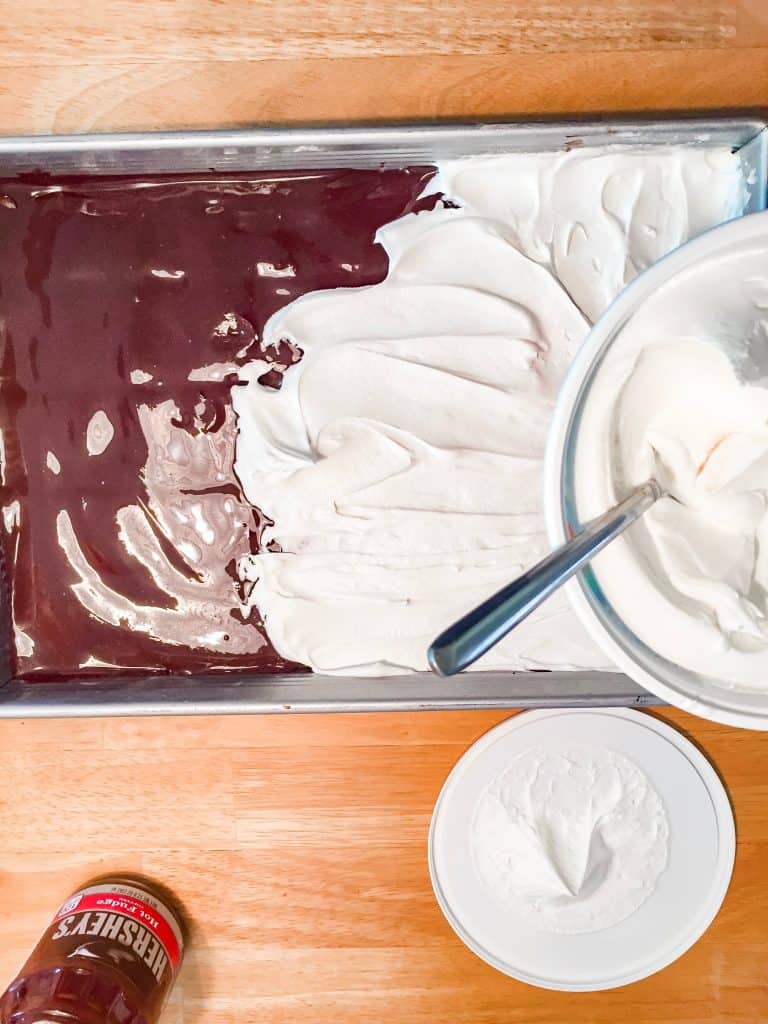 For this layer, I use a little over half the container. You want to be careful not to use too much here because we're going to be repeating these steps to make a second layer.
Assembling the Second Layer
After spreading the Cool Whip you'll want to immediately start your second layer of ice cream sandwiches.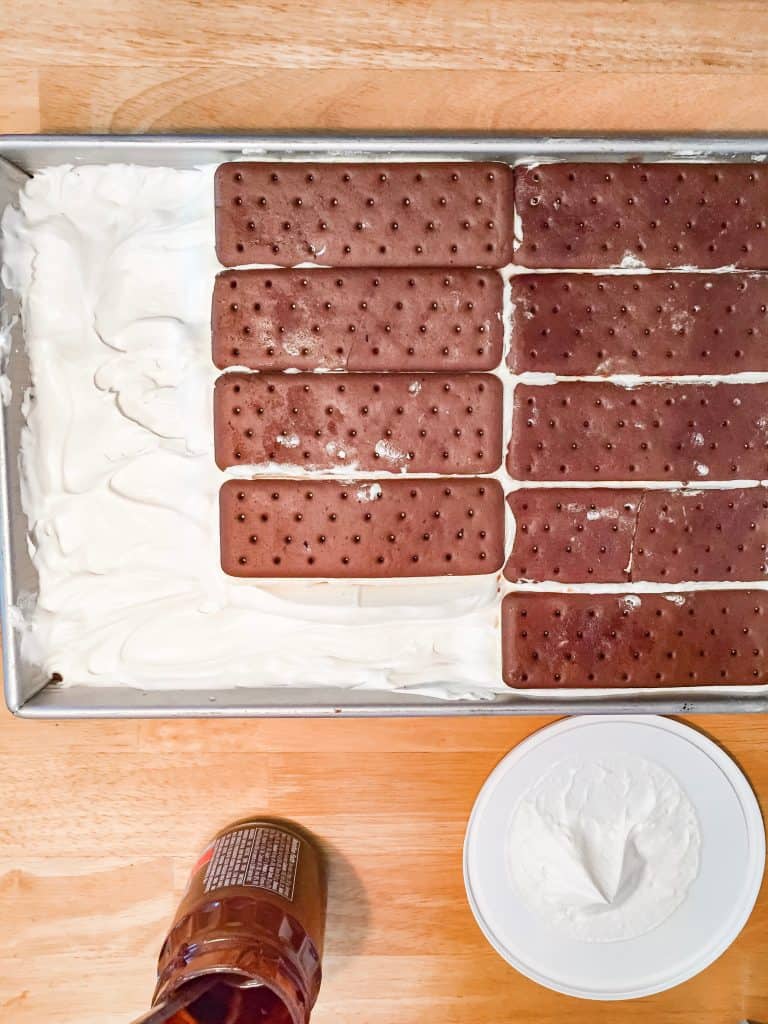 At this point, before you add the hot fudge sauce, I do a little extra step to level out the first layer and beginning of the second layer. I actually cover the layers with Parchment Paper and press down on the layer to even it out. Then I pop it in the freezer again for about 10 minutes.
You're almost done!
This is why I said that typically when I think of something as easy, as a mom, I also am thinking something that doesn't take long either. That's also why I said to do a different recipe if you needed something quick and now!
Next is the hot fudge layer, and then followed by the Cool Whip. I did pop it back in the freezer between these steps but literally only just five minutes to get a glassy look from the fudge. I think that by doing that it makes it easier to spread the Cool Whip.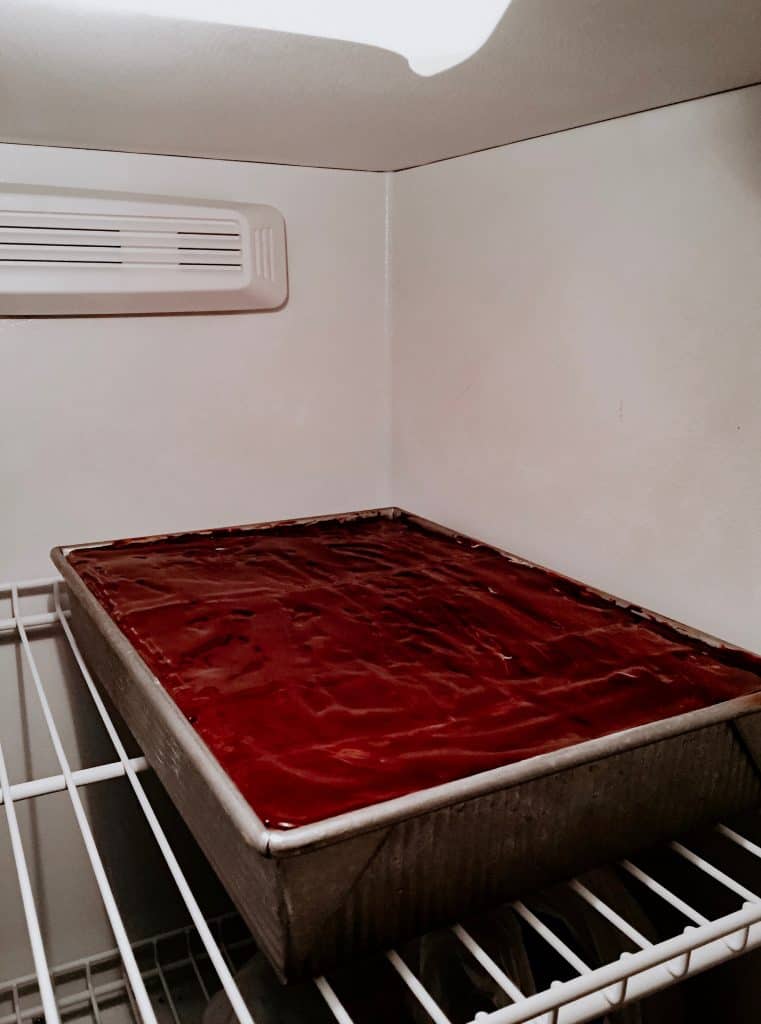 Last step! After adding the remaining Cool Whip, sprinkle the crumbled, or in my case "crushed" Butterfinger candy bar on top. And there you have it—Easy Summer Ice Cream Sandwich dessert recipe.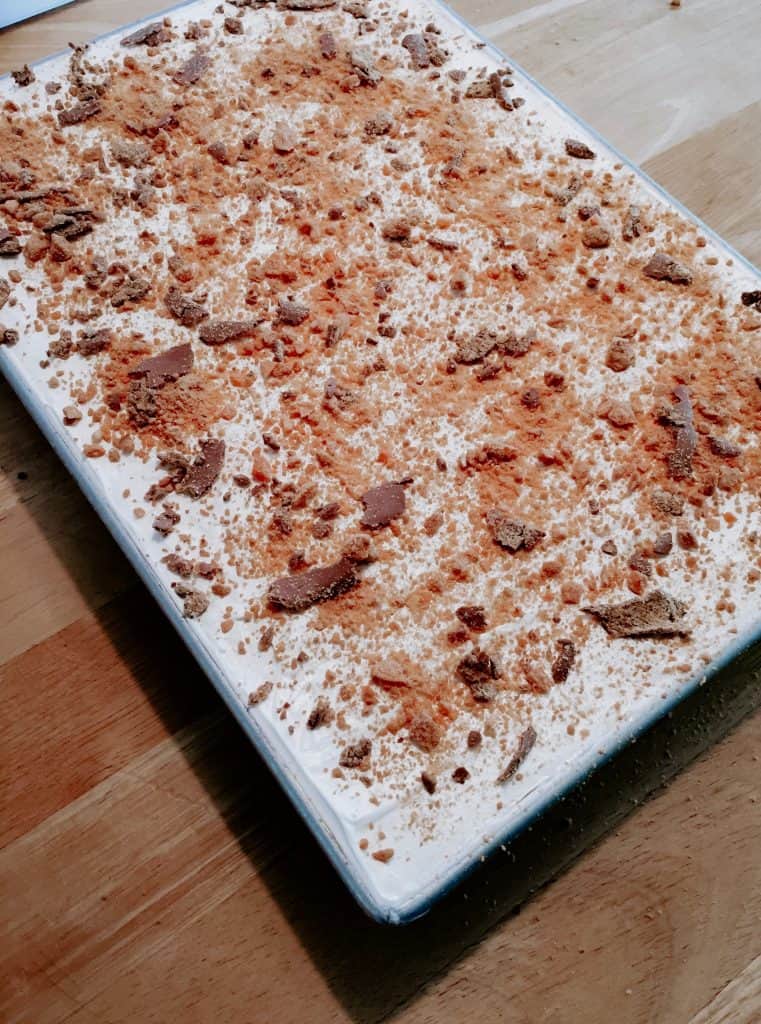 Now, I could've easily just given you the recipe, so why do I share the details of this crazy story? Well because, this happens to us as moms all the time, doesn't it?
Lesson 3 For an Easy Summer Dessert
This was supposed to be an easy summer dessert that I could just throw together—and it quickly became complicated and time consuming.
Now when I think of something as being easy, little to no effort comes to mind. But as a mom, easy also has to mean 30 minutes or less.
Your time is valuable especially when it always feels like you never have enough time to get everything done.
So Lesson 3 that I learned is all about time and because your time is precious as a mom—this one is especially for you.
In order to make an easy summer dessert easy—you have to have a plan ahead of time—because it helps to create that little to no effort.
The truth is, this easy summer dessert recipe didn't change. It's still easy.
If I would've had a plan ahead of time I would have made note that the ice cream sandwich size had changed since the recipe was written.
Girl, for too long I've believed the phrase "You'll just figure it out as you go. You're not the first mom to go through this."
As I've relied heavily on just figuring things out as I go, it has come with a cost. Money, time, health and relationships all suffer.
Are you tired of waiting to do things until the last minute? Do you find that figuring things out as you go puts you on edge—you start yelling at your kids because you're under pressure? Do you feel like you never have enough time to get everything done?
Girl, this doesn't have to be life as you know it. I'm starting to change one step at a time and you can too.
Crush the Overwhelm with a Plan
My trip to the grocery store was another reminder to me. Great moms don't let life happen—they crush the overwhelm by having a plan for life.
Summer will always have parties—that will never change.
After this experience, I started pulling together a plan for the future—a well thought out go–to list of easy summer dessert recipes. That way I'll really have an easy recipe—because I won't be wasting my time last minute trying to figure out what I'm bringing.
If I can do it, you can do it.
Start simple by thinking about what recipes your family really likes then start compiling that go–to list. Look at your year ahead and those re–occuring events and pick out what you will bring today and mark it on your calendar!
You will notice a difference—and so will your family! I can't wait to see the look on my husband's face when our next party comes!!! So long, "What are we going to bring?"!!!
The Reviews Are In!
In the end everything worked out for my husband's party and we got raving reviews from everyone. This one definitely has gone on the short list for Easy Summer Desserts!
I really hope you get to enjoy your party too. Don't worry about if it will go over well. If you show up with this family Ice Cream Sandwich Dessert, I promise it will be no different than our experience. We ALWAYS get raving reviews! Let me know too if you bravely let your son help out too!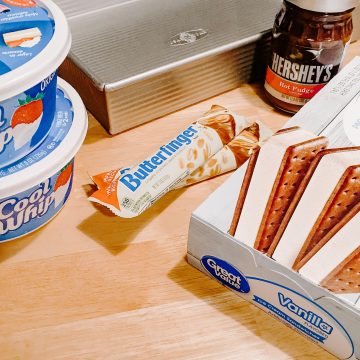 Easy Summer Ice Cream Sandwich Dessert
Fast, easy, yummy ice cream sandwich dessert. Perfect for Summer time potlucks. Layered Ice Cream Sandwiches, hot fudge, whipped cream and topped with crumbled candy bar! Yum!
Print Recipe
Equipment
9 x 13 pan

Rolling Pin

Parchment Paper
Ingredients
2.5

Boxes

Ice Cream Sandwiches

(I used 28 sandwiches of the Great Value Brand)

1

12.8 oz Jar

Hershey's Hot Fudge Topping

1

12 oz.

Cool Whip Original

1

Bar

Butterfinger Candy Bar

(You can also use Heath Bar)
Instructions
Layer bottom of 9 x 13 pan with Ice Cream Sandwiches. Cut some of the sandwiches to get them to fit properly.

Open up Hot Fudge Sauce and stir to make it easier to spread. (Easier for kids too!)

Spread Ice Cream Sandwiches with Hot Fudge Sauce. Next, layer with Cool Whip.

Start a second layer of Ice Cream Sandwiches. Cover layer with parchment paper, pressing on layers to even them out. Put in freezer for 15 minutes—to keep the sandwiches from melting too much.

While pan in in freezer, use the rolling pin to crumble the Butterfinger candy bar.

Take out of freezer then begin spreading second layer of Hot Fudge Sauce. Place pan back in freezer for 5 minutes.

Take out of freezer, then spread second layer of Cool Whip. Top the Cool Whip with the crumbled candy bar. Keep in Freezer at least an hour or until time to serve.
Notes
Variation: Use Mint–Chocolate Chip Ice Cream sandwiches and sprinkle with chocolate–mint candies (such as Andes' Mints) instead of Butterfinger of Heath Bar.