9 Different Meal Planning Ideas to Make Dinner Fast, Delicious and Inexpensive.
For years I struggled with choosing from all the meal planning ideas. There's so many options out there—which one will help to make dinner faster, yummy, and doesn't bust the budget?
When it comes to cooking, the biggest challenge you face is dinner.
As moms we're always pressed for time. We need things simple, fast—and that taste good. Otherwise we end up with a set of tired hungry kiddos, a hangry husband, and a stressed out mom in a pan-try!
Although I can add more time to your day—see my 5 Things Your Daily Routine Must Have post—for this post, I'll give you a list of meal planning ideas to help destroy that dinnertime distress.
And believe me, I've tried everything!
I describe these meal planning ideas into 2 categories—strategies and systems. I talk about why this is important in Meal Planning for Beginners.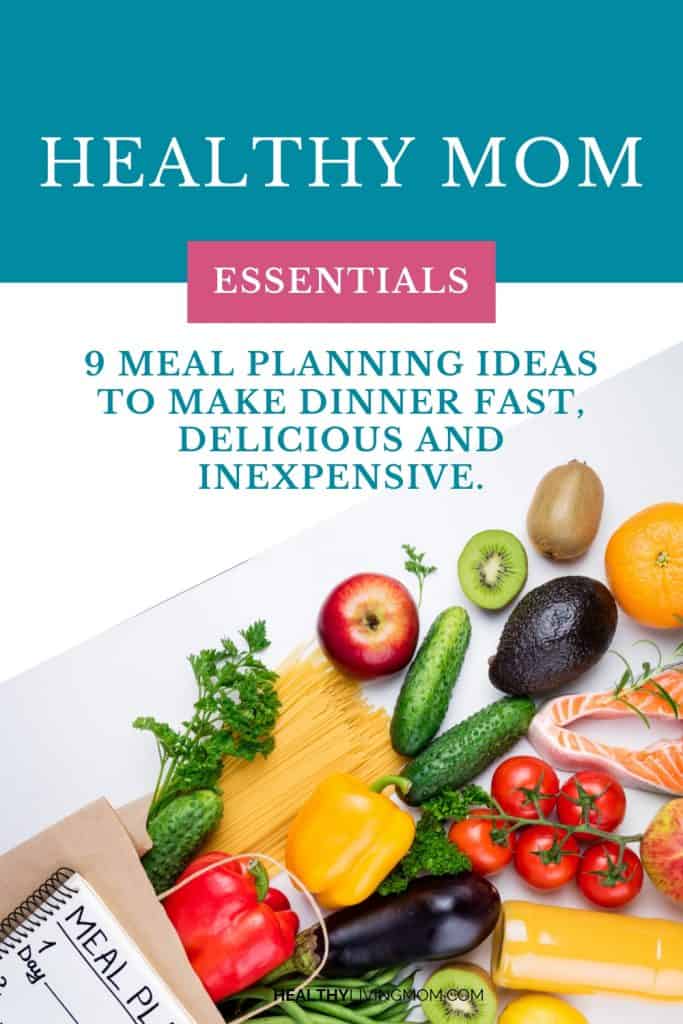 How do you plan a simple meal?
The best advice I would give for how to plan a simple meal is to implement a strategy. Here are 5 meal planning idea strategies to help you make that simple meal happen.
Slow Cooker Meals – dump recipes do all the work for you so it feels like you're gaining time in your day.
Insta Pot One pan meals – this literally halves your time to cook chicken, or bake potatoes, and the rice can't be beat.
Batching – Make multiple servings of the same meal either for a repeat dinner later in the week, for leftover lunch, or throw it in the freezer for a later date to reheat and eat.
Freezer Meals – cook multiple freezer meals at one time for pre–prepped meals.
3 in 1 Meals – Cook 1 time for 3 meals.
How do you make a weekly meal plan?
If you're looking to make a weekly meal plan, then you'll most likely want to look at meal planning ideas as a system. Here's some different ways to create a system that works for you.
Budget Meal Planning – plan your meals around what is on sale
Theme Night Meal Planning – plan your weekly dinners around themed nights, like Taco Tuesday.
Simple Weekly List Making – just start writing down what you make for dinner each night. After you've put together 2 to 4 weeks, just rotate those meals for your month. Plan your grocery list around that and write down what's for dinner on a menu board before the week begins.
Now, before you go ahead and just pick something—a strategy or a system that you think will work for you—be sure to read what you should do first in my post about meal planning for beginners.
I say this because, no matter what I would do, I used to always feel overwhelmed by meal planning. Until, one day it all changed.
I finally realized that I needed to make things simple in a way that worked for me—not that worked for others.
Other systems that people suggested took way too much time and it took the fun of cooking and baking away from me. Plus, these types of meals tended to be…well…not so healthy.
So what changed the game in meal planning for me?
First, I had to figure out the real reason why meal planning was so overwhelming for me.
What did I do? I had to change my mind.
I know that sounds simple, but it's really true. In the past I would always dread meal planning and this type of thinking was adding to my overwhelm. So I had to change how I thought about meal planning. I had to think through what would really help me with meal planning.
What was missing or didn't quite make sense for me with those other methods?
It needed to be more simple, and a quick and easy recipe.
For me, I love to cook and bake so, I had to make meal planning fun again.
We have some dietary restrictions and some specific health goals.
Being good stewards of money is a goal of ours, but we also don't want to save money to sacrifice our health in the long run.
Out of this process of figuring out why I was struggling with meal planning and what it really needed to look like for me—then I determined how to make meal planning simple and healthy.
So this brings us to the last meal planning idea, which is actually the thing that works best for me.
Make Meal Planning a Game
I'm competitive by nature, my husband totally is not, lol. But I had to draw this strength of mine out and use it to my advantage. To do that, I started to create a meal planning idea challenge that I had to complete 3 days before the plan actually started. And because a big goal of ours is to make a healthy meal plan, here's how I would put that together for us.
How to Make a Healthy Meal Plan
I put together these requirements for my plan:
Select only healthy, clean eating recipes for meals that were low or no sodium. Here's my Pinterest board where I've pinned some of those clean eating recipes.
My budget needed to be under or near $450/month for a family of 4. Some people may think this is outrageous—I actually know some people who have large families of 7+ people and they feed their whole family for that amount per month. But, keep in mind, clean eating is mostly organic or farm fresh in season fruits and vegetables, frozen vegetables, lean meats, and fish. The prices of these items are higher in general, but you also tend to eat less because you are eating a nutrient dense diet.
Each meal must take only 30 to 45 minutes, but I allowed for a total time including prep time of 1 hour to complete.
After compiling a list of meals that fit this criteria, then I looked at our schedule, sales, habits and tendencies, then I began to plan out days for meals. Some days are theme days—like Asian Inspired.
While other days I'd always make "chicken"—so Monday night became chicken night. Using both strategies and systems allowed for me to be flexible in what recipes to make.
We hit our goals with finances and health—and I started to have fun by making it into a challenging game for myself.
So this rounds up my list of 9 different meal planning ideas to make dinner fast, delicious and inexpensive. If you're looking to find recipes for your meal planning ideas, I've pinned a number of recipes, main dishes, side dishes, and salads recipes in my Pinterest account.
Out of the 9 different meal planning ideas, what do you think fits you best?