Mary Did You Know? An Advent Reflection
Mary Did You Know? These words are more famously known from the popular song, Mary Did You Know. But, there's actually a lot that we can learn about what Mary did know—if we look at Mary's Song in Luke 1:46–55.
It's perfect for a simple Advent reflection.
And…no matter the time of year that you're reading this…if today is the night before Christmas…or if it's Christmas in July, then you are not behind!
Because anytime we turn our hearts to God to grow a deeper faith, it's always the right time.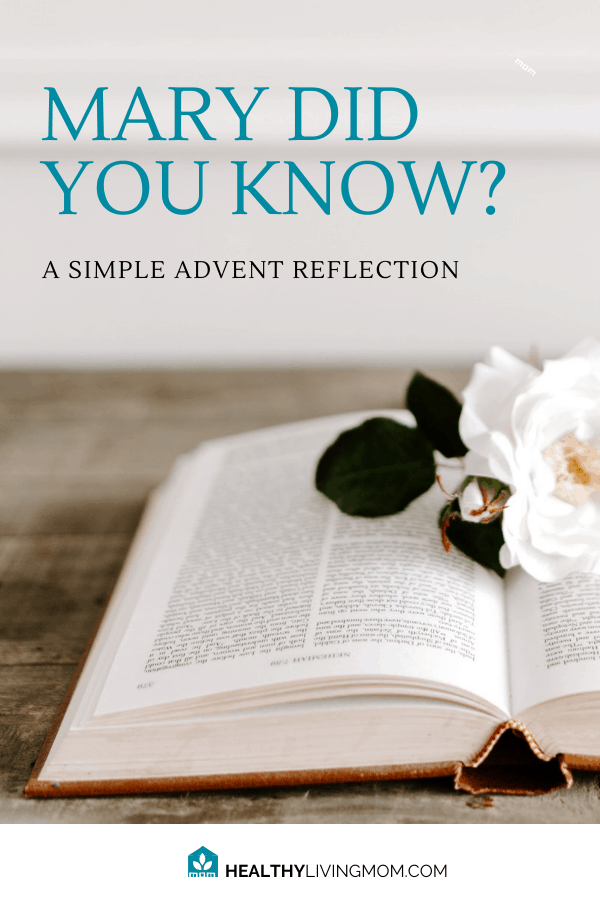 This year, during the first week of Advent, my friend Sara, shared an advent reflection with me and a few other mom friends. And…I have to tell you..it was such a fresh breath of air!!!
I asked Sara if I could share it with you too—and she graciously said, yes!
Making Advent A Simple Reflection
One thing to know about my friend Sara is that she absolutely LOVES Advent.
This year…she pulled together "all things Advent" and then tried to do each and every one of them. Then…after about two weeks, Sara felt behind.
Yep, even when we try to do things right, sometimes we can turn ourselves into that overwhelmed mom. But Sara knows the RIGHT way to crush that overwhelm. And that's just what she did.
Sara sat before the Lord and prayed.
She got the sense that God was leading her to make Advent simple. So she focused on studying, observing and meditating on the Christmas story through the eyes of Mary.
So here's what Sara shared with us!
Mary Did You Know?
To start, let's take a closer look at Mary's Song in Luke 1:46–55.
And Mary said,"My soul magnifies the Lord,

and my spirit rejoices in God my Savior,

for he has looked on the humble estate of his servant.

For behold, from now on all generations will call me blessed;

for he who is mighty has done great things for me,

and holy is his name.

AND HIS MERCY IS FOR THOSE WHO FEAR HIM

FROM GENERATION TO GENERATION.

He has shown strength with his arm;

he has scattered the proud in the thoughts of their hearts;

he has brought down the mighty from their thrones

and exalted those of humble estate;

HE HAS FILLED THE HUNGRY WITH GOOD THINGS,

and the rich he has sent away empty.

He has helped his servant Israel,

in remembrance of his mercy,

as he spoke to our fathers,

to Abraham and to his offspring forever." (ESV)

(All caps are where Mary uses direct quotes from other scripture passages)
What did Mary know?
Mary knew the Hebrew Scriptures.
There are at least 12 Old Testament references in Mary's song! Not all of them are direct quotes, but her words echo Old Testament themes and ideas. Truly, Mary treasured God's Word in her heart.
She knew that God deserved worship for His wonderful deeds.
Mary responded in humble worship when God called her to bear His Son. Her very soul and spirit magnified the Lord for the great things He had accomplished on her behalf.
She knew that God is both sovereign and immanent.
Mary worshipped God for His mighty deeds on behalf of Israel (sovereignty) while also acknowledging His regard for her humble state (immanence). She understood that God was both the Savior of Israel and her personal Savior as well.
Mary knew the ways in which God had "given help to Israel His servant" in the past.
She trusted God's character as demonstrated by His actions. Because of God's faithfulness to Israel in the past, Mary was able to trust Him with her future.
Mary knew that God sees (vs. 48 — "has had regard"), acts (vs. 49), and speaks (vs. 55) on behalf of His people.
She saw God as powerful and present, at work in nations and in individual lives. Though she could not see the whole picture, Mary seemed to understand that the angel's announcement of God's soon–coming Son was part of His redemptive story.
Reflecting Upon What Mary Knew
Looking over these observations, we can ask a few questions for personal reflection.

How can you treasure God's Word in your heart during the season of Advent? Consider memorizing Scripture, doing daily devotions, pondering single passages, etc. If you need some ideas of where to start, get the free PDF download of 10 Ways to Start Reading Your Bible Every Day.
Is God inviting you to obey a calling He has placed on your life? What truths about His character can you cling to as you obey?
How have you seen God at work in your life? When has the Mighty One done great things for you? How might God's past faithfulness enable you to trust Him your future?
In what ways can your soul exalt the Lord? Consider spending time worshipping God in prayer, art, or song. The piece of art The Consolation of Eve by Sister Grace Remington is excellent for reflecting on the past and present imagery of the work accomplished through the coming of Jesu. Another great idea for reflection and contemplation is the poem, Mary's Song, by Luci Shaw.
God certainly had a plan when He chose Mary to be the mother of Jesus, His Beloved Son. And, as I've personally been blessed by this reflection from my friend Sara, it reminds me again that God always has a plan.
And…you sweet mom…did you know? God also chose you to be the sweet momma to your kids.
He has a plan, and it is a good one.
Did this Advent Reflection – Mary Did You Know? speak to your heart today?