4 Ways to Find Relief as an Overwhelmed Mom
Being an overwhelmed mom was the last thing I ever thought I would be.
There were times in my single life when I would feel overwhelmed. But it was NOTHING like what I experienced after becoming a mom. I just felt paralyzed, frustrated, and defeated. And…I felt that way ALL THE TIME. It never stopped.
In my worst moments, I would blow up and yell at my husband, "I just need a break!"
After the initial shock, he asked me what was wrong, and what did I mean by "I just need a break." Which only made me feel worse because I didn't really know how to answer him. My sweet husband just wanted to help me, but the only thing I could say was, "I'm just so tired."
I didn't have words to describe what was wrong—I just felt this intense pressure and I knew something needed to change. But I didn't know how to find relief from being an overwhelmed mom—until nearly three years later.
What changed?
It took us living in our garage—having a lot of nice things being stripping away—like a tv, an oven, and windows.
That time was so hard but purposeful. I found relief and now I'm here helping you as an overwhelmed mom. These will work for you too—no matter your circumstances. Keep reading or learn how to get relief right now by downloading the Finding Relief PDF.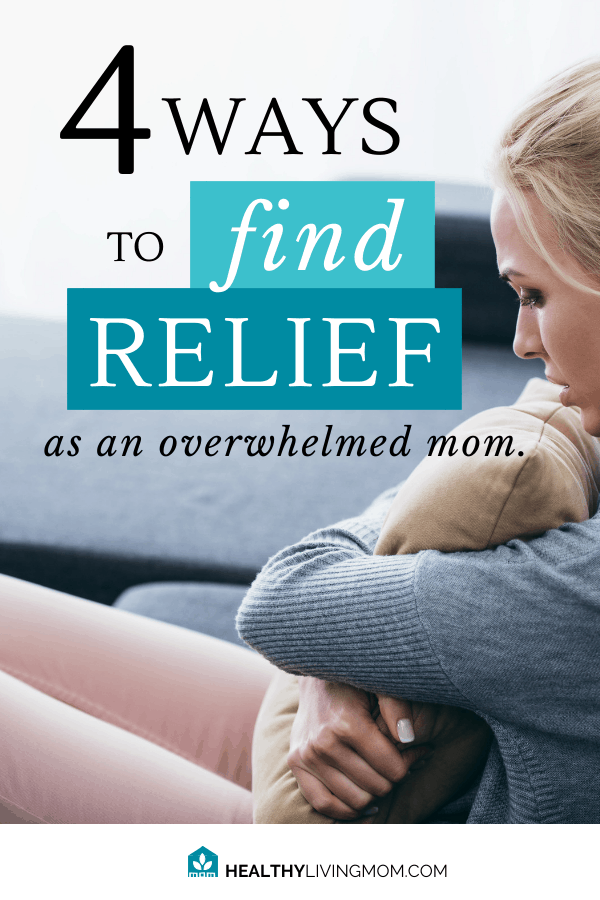 Finding Relief as an Overwhelmed Mom
1. Find yourself.
Part of the reason why you feel like you're overwhelmed as mom is because deep down you're actually questioning yourself.
If your honest, do you feel like a failure, as a mom? I did.
It's so easy to compare yourself with others. And when you do, you start feeling inadequate and confused about who you really are and who you need to be. Finding yourself really comes down to this simple question: what or who is determining your identity?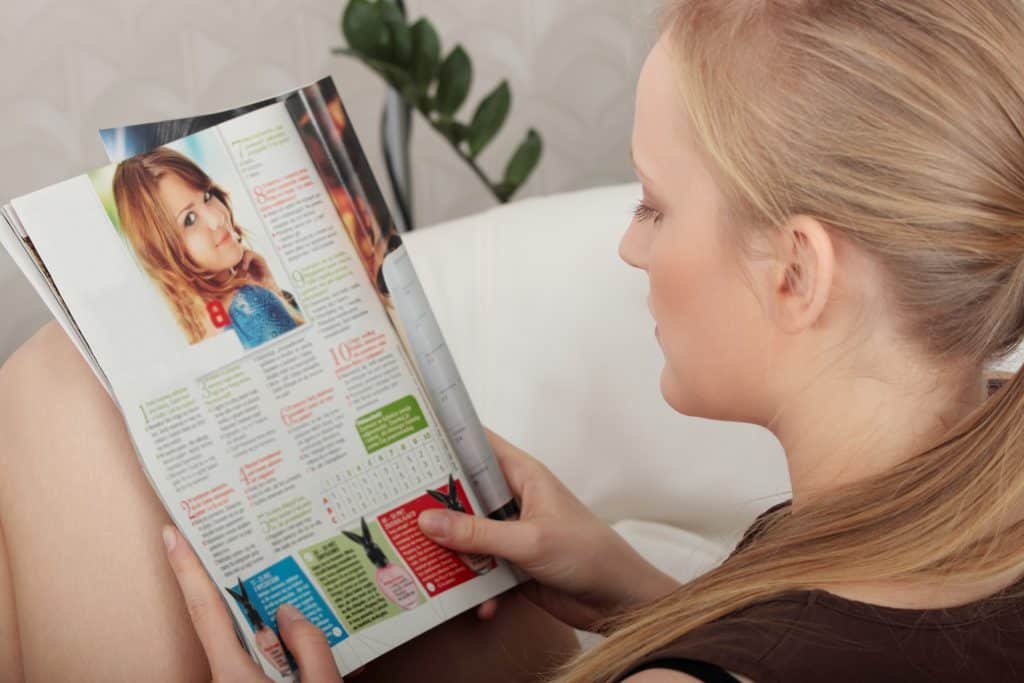 What I really needed as an overwhelmed mom.
In the past, any time I would feel like I was losing myself, I would shop for clothes, watch a romantic comedy, or I'd just sleep more. But that all changed when we lived in our garage.
The nearest mall was an hour away, we didn't have a television, and I couldn't just stay in bed. My husband worked long hours and had a long commute—so I was alone with our son on most days 12 to 14 hours.
It was exhausting.
Because of our circumstances, I often felt disconnected from friends, family, church, and even my husband. The ways I used to find relief—didn't work anymore.
As a result, really the only person I could turn to was God. My prayer life and my faith became a necessity for me when I felt overwhelmed as a mom. Even when I felt discouraged or angry—I'd talk to God about it.
Every time I did this, I would come away feeling peace and a true sense of relief. It's in this place that I began to feel confident and secure. With God's help, I no longer felt like I was losing myself—I found myself. And I learned what I really needed to be a healthy mom.
2. Check your thoughts.
With all the intense feelings of overwhelm, it was hard for me to imagine life could get better, let alone be any different. And maybe that's how you feel too.
When you're overwhelmed—how you feel—is what you focus on. You know you need to change, but you don't even think about your thought life because your feelings are front and center. It's such a paralyzing cycle. And you know what? Those thoughts—are really the key to finding relief. They totally influence how you feel and determine what you do.
We know this from research that was first introduced in the 1990's by Richard Thaler, the father of behavioral economics. Thaler's work and the rise of behavioral economics has influenced organizations like GE and McDonald's to make changes both with regard to employees and customers.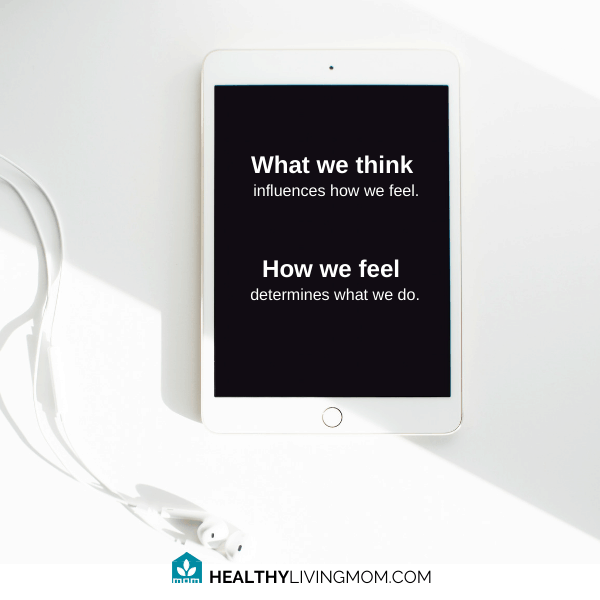 Simply put, these companies know that what you think influences how you feel, and how you feel determines what you do. So if these companies are investing loads of money into paying attention to the way people think because it eventually determines what people do—girl, you're thoughts are worth paying attention to also.
Even Psychology Today says that if we know how to manage our thoughts, feelings and behaviors—we can "take charge of our life".
3. Take a break when you're overwhelmed as a mom.
Another way I like to say it is—take an MNO before you P!! Ha!
Sometimes being overwhelmed as a mom is just a symptom that you need a mom night out (MNO) otherwise you may pop (P) your lid and yell at your husband. Can we say, "I just need a break!!" For reals.
I still struggle with finding a consistent rhythm for this in my life. I'm getting better, although most of the time I wrestle with feeling like I'm being selfish. Just being honest.
But, one thing I know, is that if I wait too long to take a break, those same feelings I used to feel start to well up in me again. I become like a bottle of pop that has been dropped on the floor. You definitely don't want to turn that cap or you might have a mess on your hands!
I'm constantly reminding myself that just like I notice when my son is getting tired and ready for bed…being overwhelmed as a mom is a symptom for when I need an MNO. And..my husband is always open to me getting out.
So the struggle—do I stay overwhelmed as a mom or take a break—is really my issue with my own thought life. Wait a minute, didn't I just tell you about that? Yes, I'm still learning and figuring things out.
4. Do an Intentional Reset.
If you've invested in finding yourself by prayer and faith, taken control of your thoughts, took an MNO and you still feel overwhelmed as a mom—you may need to do an intentional reset.
I started doing this the first year we lived in our garage. Definitely not on purpose. It was actually because I was so exhausted after the holidays that I finally said, "Enough. I need a real break."
So what is it?
Most people would consider a beach vacation to the Caribbean to be an intentional reset, but that's not really what I mean. Although it's a nice goal for the future!
Actually, an intentional reset is a conscious decision to take a break—saying no to the busyness of life—for an extended period of time.
You don't quit everything but you operate on a schedule that is at the minimum level. Stay engaged with any commitments you've made. Instead of doing all the extras, take that time to specifically focus on 4 things—rest, reflect, reorganize, and reload.
Think you might like to try an Intentional Reset to stop feeling overwhelmed as a mom? Get more details in my post The Best Resolution for the New Year that You Must Try.
From Overwhelmed Mom to Confident Mom
Life as an overwhelmed mom wasn't fun for me. I'm so glad that I'm now at a point where I can say, "I remember when things used to be that way."
Living in our garage was one of the most challenging times in my life, but I wouldn't trade it for anything. It made me into a better mom—not a mom who has it altogether. No, I'm getting things…just right. And you can too!
Get relief today and learn how I do it using the How to Find Relief PDF.
I'm joyful, calm, and look forward to life with great expectation. I'm no longer overwhelmed as a mom.
And you don't have to continue being an overwhelmed mom either. You can take action today and find relief using what I've shared with you. What is one thing I mentioned that you might try?