Did I Hear God Wrong? My Personal Story
For three years we had been planning to build our forever home in my husband's hometown. It all changed in a matter of about a week. Did I hear God wrong?
It's only natural to ask this question. In fact even as we've shared our story with friends and family over the past few months, I'm sure this question has crossed their minds; "Did they hear God wrong for all of those years?"
The last time I blogged about this, we had made that final decision to really press into our plans. You can read my actual words in my post, "How to Overcome When You Feel Hopeless".
After three years of hitting what felt like setback after setback, my husband and I made a strong decision. We were going to build. That was it. No more excuses or delays. We had made up our mind.
So what happened? And, if we didn't build, what did we do?
A week after I wrote about feeling hopeless , both my husband and I independently of one another sensed God leading us to buy a home. Wait? What?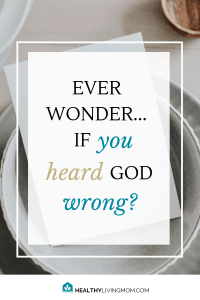 Did I Hear God Wrong?
Maybe we were wrong for all three years? I'm certain we were right where God wanted us to be.
When I make comments like this, often I get stern questions like, "How did you come to that conclusion?" Followed shortly by, "And how do you know you didn't hear God wrong?"
How did we know it was God's voice?
There are a number of ways that individuals describe how they hear from God. For me and my husband we have grown a lot over the years in how we sense and know God's leading. In some ways we hear God similarly—and in other ways God's leading shows up very differently.
We both regularly practice seeking God and hearing God's voice. Our habits are very similar to the ways I found in an article from Crosswalk.com that talks about how to hear from God regularly.
How did we know God's leading this time?
Very clearly.
We both sensed hearing God's voice leading us in the same direction even when it was contrary to our strong decision the previous week.
In more tangible ways, both of us had experiences that reiterated this leading.
For my husband, he immediately felt increased pressure at his work demanding that he spend more time at the workplace.
Likewise, I experienced increased stress at home. It quickly became apparent to me that I simply could not handle the long hours of being mom. The idea of having my husband absent from our family most of the time was unsettling.
We were not at peace.
Some may respond to this and say, "That was just a testing of your decision." And that could be true, but there was something else that we did a couple weeks before our decision that might give greater insight that this wasn't a test.
A Different Way to Hear God's Voice
At the prompting of our church leadership, a few weeks prior to our decision we decided to try a different way to hear God's voice. We decided to cast lots. It's a practice that our church actually does in selecting deacons and elders.
Casting lots is a biblical way to make a decision when you have prayed about the situation and have come to a place where you literally are stuck because you have some very good options. It's a great option to do in prayer and faith by placing all options before the Lord simply because it isn't clear what you should do.
For three years we had been praying and laboring over building a home. Casting lots wasn't something that we just decided to do because it sounded like a good idea. It was something we chose to do because we had been seeking the Lord for a long time and we felt stuck.
Did I Hear God Wrong, Casting Lots?
The day we decided to cast lots was very intentional and we had been prayerful several days leading up to it. There were four options for us.
Build

Buy and Sell
Buy and Keep
Renovate Our Garage
We had never really sensed that we should sell our current property because it was family property. Yet, it was an option that we felt like we needed to include.
After my husband got home from work and we had eaten dinner together, we sat down and cast lots.
Casting Lots and Hearing God's Voice
Here's what happened when we cast lots to hear God's voice.
The first lot we drew was Buy and Keep.
We were surprised. Honestly, we didn't even think it was possible for us to do it as an option. In our disbelief we both looked at each other and said, "Best out of 5?" This was our first time casting lots, so we thought doing best of of 5 would confirm things for us more.
Next we drew Build, then we drew Renovate Garage.
Did I hear God wrong when we cast lots?
At this point we were confused again but it didn't really cross our minds if we heard God wrong or not. We were just confused.
A few days later, we stepped out in faith and decided to just build. All along knowing with certainty that God would direct us or redirect us.
How Do I Know If I Heard God's Voice Wrong or Not?
When you're making a decision it can often be challenging to know if you heard God's voice clearly. These things were tangible ways we knew God was leading us and we didn't question if we heard God wrong or not.
Peace. Always when you make a decision or sense God's leading, you will feel peace about it.
Unity.As a married couple, my husband and I were in agreement in how God was leading. It was even more confirmed when we both sensed God's leading independently of one another. What if you're not married? This is where #3 definitely is something that you'll find helpful.
Godly Counsel.Seek out godly wisdom from other believers you know and trust that seek God in prayer and in His Word. If these believers are seeking the Lord, they will speak into your life with encouragement—and if they sense that you are making decisions that are contrary to God's leading based on His Word and the work of the Holy Spirit.
During our three years of waiting, several godly individuals were praying for us. Our church was a huge support during this time and so was the teaching from our pastor.
If you are interested in reading more about the voice of God, buy a copy of the book God Told Me. This book written by our pastor, was one that I read, highlighted, and re-read during our time of waiting.
Did I Hear God Wrong? Not If I Do This.
In closing, I have two more things of encouragement to you so you don't have to question if you heard God wrong.
First, I can tell you that there are circumstances where God will lead you and it won't make sense at the time. In fact when we decided to Buy and Keep we had no idea how that was going to work. We simply could not financially afford it—and today I'm sitting in our new house and we still own our second property. When God leads, follow in faith. He will do it.
Additionally, when God leads you, sometimes it won't make sense to others. Even some believers will question you and your motives. I've had this happen countless times in my life. Like the time I was single and I left a job without having a job. Yep, I did that.
Lastly, and most importantly, I don't have to question if I heard God wrong and you don't have to either! If you are seeking God first, you can be confident that God will direct your steps. He says so in His Word.
Trust in the Lord with all of your heart. Don't trust in your own understanding and He will lead you. (Proverbs 3:5-6)