4 Easy Ways to Give Thanks Every Day Plus 1 That'll Stretch Your Faith
Why give thanks? Thanksgiving is going to die.
That's what my husband announced to me yesterday when he came home from work. And it actually didn't surprise me that he said that.
Even his own family has shot down the traditional family gathering to instead go bowling and have pizza for dinner. I get it, life is busy, kids can be energetic and homes can feel too small and overwhelming.
But, what is the most disappointing thing about this?
Traditionally, the celebration of Thanksgiving is a set time for us as families to give thanks for everything that God has given us. And we have done that by eating and gathering together to celebrate.
The disappointing part is…
It feels like the most important part about Thanksgiving—where we give thanks—is being replaced with what works for how we feel.
Why Is Thanksgiving Dying?
Is this something that just happened because stores are starting to put Christmas stuff out even before Halloween—or because many people start putting up their Christmas decorations so early?
No, actually Thanksgiving is something that is dying in the every day moments. And I'd even say that it's a possible contributor to declining public health.
In fact a recent study from Berkely has actually described why gratitude is good. To sum it up, people that have nurtured contentment, thankfulness and gratitude, are actually more cheerful or happy, and healthy.
And to give thanks in the every day moments—it takes practice and intentionality and choosing to live differently than others.
To help you keep Thanksgiving alive—here's 4 simple ways to cultivate a habit to give thanks. And I'll also give you another way to give thinks that might just stretch your faith.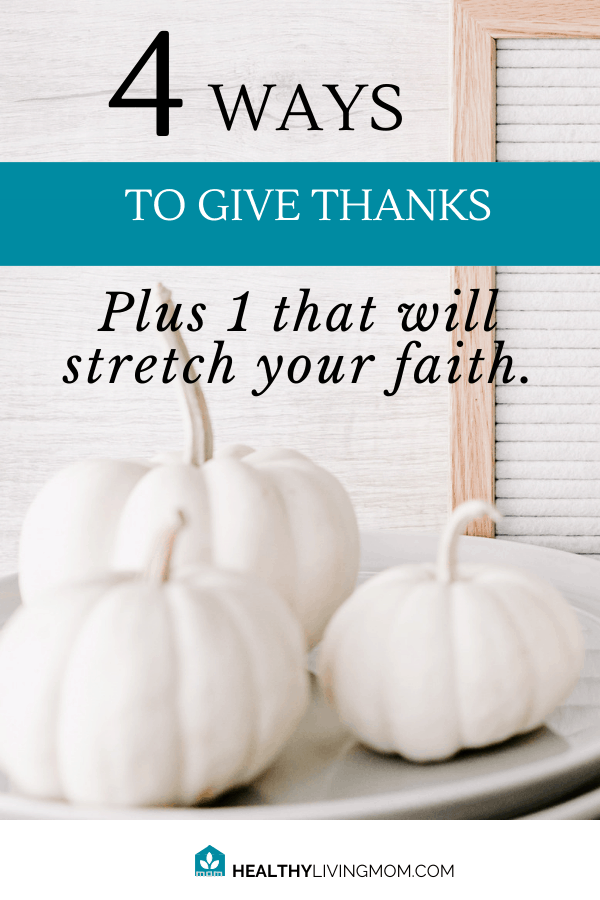 4 Easy Ways to Give Thanks in the Every Day
Give thanks face to face.

Thank the person who makes your coffee, or is the cashier at the grocery store by acknowledging them as a person. Use their name— genuinely say thank you. Don't miss the key point here—there's something pretty amazing that happens inside all of us when we build relationship face to face.

Write a note of encouragement to your people.

Put a sticky note in your husband's car window thanking him for all he is doing for your family. Or send a thank you note—and drop in a gift card too—to your pastor and his wife for spiritually leading your church and your family. Not sure who your people are? Read more about who your people are in 10 Things you need to be a healthy mom.


Say thank you when it's not expected or anticipated.

If you're sending a check to someone because you need to pay for something—drop in a little note of thanks along with your check for the job that they are doing. Another idea is to drop off a thank you note at your post office for your mail carrier.


Give thanks for ALL things.

There are times when life happens and it's just hard—like when your car breaks down.

What would you do if it all was up to you?

Thank God, that there's someone who can take care of that for you.

Even though our circumstances may be difficult, we can be thankful for those people who help us. Send a thank you note to your mechanic in the mail—even if it's months later or drop off some thank you treats for the whole shop.
Give Thanks and Stretch Your Faith
This next one is definitely a way to give thanks that might just stretch your faith. It's been stretching mine.
Give thanks by actually giving.
My husband and I just finished up the Dave Ramsey Financial Peace University class. We've had the material for years, but it wasn't until recently that we were actually able to take the class.
There was one thing that really stuck out to me during the time we were completing the last session. I honestly don't remember if it was Dave who said it, if I was just reading my Bible around that same time, or if my pastor even mentioned it.
Often I find that God speaks to me in different ways—but the same message often in groups of 3. So…it totally could have been all three! Either way…Matthew 5:42 gripped my heart.
It says, When someone asks of you, give to him.
I began to think about that…
How many times do people ask me to give them something? Now, for me, at the time, I was thinking primarily about money asks because we were focusing on on money.
And..honestly…I don't have many people that ask me for money. It's mostly my time. But, either way, this definitely is something to consider.
How often do you say no before you even ask the Lord about it. Or do you just assume that He's going to say no?
If I truly believe that the Lord owns everything…then when the ask comes…I will be ready to give an answer. Not based on my comfort, but based on His leading.
Then, I can truly give by faith in faith, knowing He will meet me and provide even when I think I can't do it.
Rethinking Thanksgiving
Getting back to my husband's family Thanksgiving…
I had to take my own advice—I had to check my thoughts. Because like I always say, your thoughts influence your feelings and your feelings determine what you do.
So, facing my feeling of disappointment head on, I started to conquer it with truth. Just like I shared with you—these 4 ways to give thanks—can easily be a part of every day life. Here's how it showed up in how I began processing our Thanksgiving.
Give thanks face to face. It is a good thing the family still wants to get together—face to face.

Tell your people your thankful. If I feel like the important part about Thanksgiving is for us to give thanks—then we can make sure that happens still. Either by writing thank you notes to different family members—or telling them in person how thankful we are for them.

Say thank you when it's not expected. Not everyone will expect notes or thanks—because like we felt initially—everyone else probably thinks "it's just bowling and pizza". So we can take advantage of that too.

Give thanks in ALL things. I can be grateful we're still making an effort to get together—even when it might be a challenge.
Lastly, the big stretch to my faith in giving thanks.
When we were asked about bowling and pizza, we didn't really say anything at first. Because honestly, we didn't want to do it.
But, thats the part about all of this giving thanks thing that is really stretching me. Maybe it seems simple to you, but it's been a challenge for me to be okay with this possibly being our new family Thanksgiving tradition.
And to me, that has been a BIG give of our hearts that is teaching me how to truly give thanks in everything.
Is God stretching you in ways you can give thanks?