70+ Christmas Gift Ideas for 2021 [for everyone on your list]
Christmas gift ideas for 2021…and go! When people ask me what are you going to buy this year? My answer sometimes can be a little surprising. It almost never has to do with what gifts are trending. Because for me when I think about what should I get for Christmas, it's not about gifts that are trending. It's really that I want to give something meaningful.
Sometimes it's something that is fun or something that I know the person would really like and enjoy. So for me when I scour the internet for ideas, in the past I've always really been disappointed because I never find what I am really looking for in the first place.
I don't really want someone to tell me what gift to purchase. I just want some really good Christmas gift ideas! And who knows maybe those ideas will inspire me with a good idea of my own. Hopefully what I've pulled together helps you out with finding some good ideas. So here goes…
What should you get….Christmas gift ideas for 2021…unveiled! I've got a pretty good list compiled, but I've put it all together in a PDF, too.
You can quick grab that PDF here.
There's some great ideas for everyone on your list—and for every budget!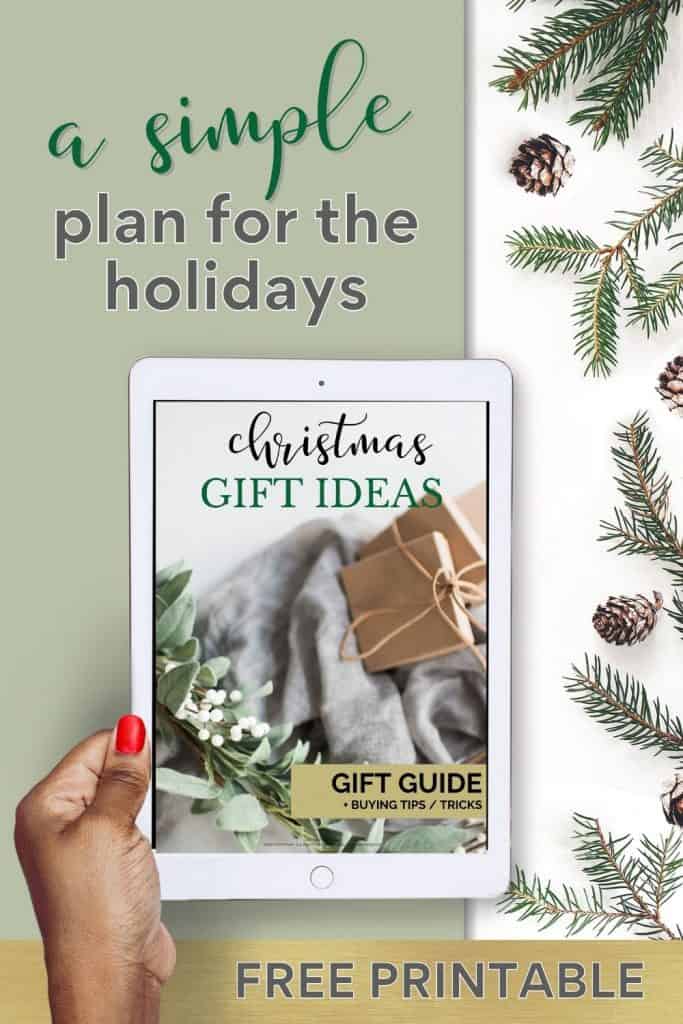 Christmas Basket Gift Ideas
Christmas basket gifts ideas are some of my favorite Christmas gifts to give. They're creative, festive, personal, or practical, and there's so many fun options. I've put together quite a list of ideas here for just about anyone on your Christmas list!
BREAKFAST BASKET – fill a basket or a large juice pitcher with gourmet pancake mixes (or make your own), gourmet coffees, jam, spatula, syrup and your favorite breakfast recipes.
SICK FRIEND – large soup cup, can of chicken noodle soup, crackers, spoon, cough drops, tea bags, chap stick, Kleenex.
GARDENER'S BASKET – packets of seeds, gardening tools, gloves, plant markers.
COFFEE LOVER'S – small packets of flavored coffees and creams (make your own coffee creamers), chocolate–dipped spoons, cookies or biscotti, mug.
PAMPER ME BASKET – homemade sugar scrub, lotions, etc., along with a loofah or sponge, and a scented candle.
BABY BASKET – baby's first Christmas ornament, baby lotion, diaper rash cream, baby wipes, washcloths, bibs, night light.
BAKER'S BASKET – a recipe with all of the ingredients.
ITALIAN BASKET – pasta, tongs, sun–dried tomatoes, olive oil, spices such as oregano, basil, garlic powder, and pasta recipes.
GOLF LOVER'S BASKET – golf tees, golf balls, a baseball hat, sunscreen, score cards, a small towel.
WRITER – note cards, envelopes, note paper, letter opener, pen, stamps, personalized return address stamp/labels.
KID'S COLORING KIT – fill a plastic storage box or lunch box with crayons, markers, paper, stickers, a paint box and brushes.
SUNDAE BASKET – ice cream scoop, sauces, sprinkles, cones, maraschino cherries, nuts, coupons for ice cream.
SALON SPREE – shampoo, conditioner, bobby pins, barettes, scrunchies, hair accessories, book on hair styles, Sally Beauty or Ulta gift card.
KID'S BEACH PACK– fill a plastic pail with a plastic shovel, sand molds, beach ball (deflated), sunglasses, sunscreen.
FISHERMAN – fill a tackle box with lures, pliers, gloves, and a guide to local fishing.
SPA DAY – fill a foot soak tub with Epson salts, a towel, pumice stone, foot lotion, homemade lemon sugar scrub, slippers, nail clippers.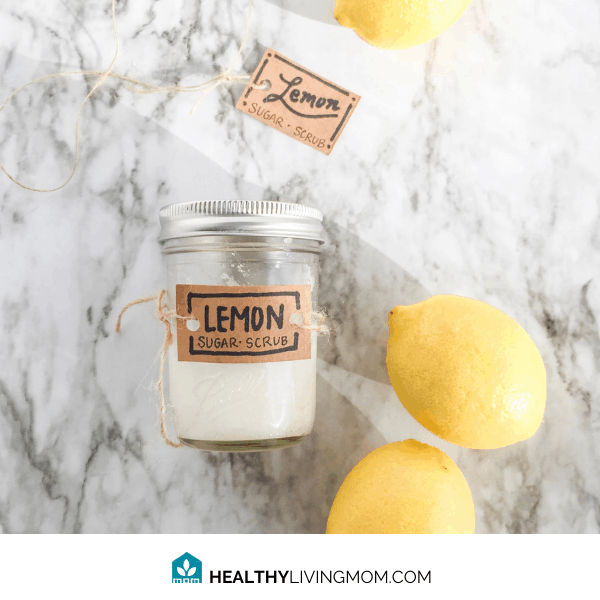 BROWNIE BAKERY – make a batch of brownies, wrap them individually, put them in a new brownie pan, and add an index card with the recipe.
SOUTHWEST BASKET – salsa, chips, taco spices, fry bread mix, dried chilies.
APPLE BASKET – red and green apples, caramel dip, apple corer.
MOVIE NIGHT – popcorn bowl with a Redbox/amazon rental gift certificate, microwave popcorn, movie size candies, cozy socks.
Cheap Christmas Gifts Ideas
Sometimes you just don't have enough money set aside for EVERYONE on your list—but you'd still like to give something. Here's a couple of really cheap Christmas ideas but they don't scream cheap at all. They actually can make the person on the receiving end feel really loved and cared for—without breaking your budget.
SWEET TREAT – make cookies, brownies, caramel corn, etc. (whatever your specialty is) presented in a special plate, reusable container, tin or wrapped in a plastic baggy and tied with a ribbon.
DINNER ON US NIGHT– create a coupon offer to make a meal, or pay for a meal.
12 BREADS OF CHRISTMAS – on a homemade card write a pledge to bake a different loaf of brad each month. This can be used with nearly any food concept: soup, desserts, pies, muffins, cookies, casseroles.
Christmas Gift Ideas for Him
My husband has said that there's basically 4 categories of Christmas Gift Ideas for him and then of course there's clothes. I love sharing this category idea because for so long I struggled with buying gifts for the men in my life. So if you're anything like me and you're having a hard time figuring out what to get for your husband, your dad, your father in law, or just that hard to buy for guy—here's a few ideas to get you started.
TOOLS – the best multi tool set I bought for my husband was this WERA tool kit. My husband will often say to me, "anything from HOME Depot or Lowes!"
CLOTHES– when we buy clothes, especially for Christmas we invest in good quality. Our favorite go to brands are North Face, Duluth Trading Company (note sizes run a little larger than normal), Eddie Bauer, and LL Bean. For jeans, we tend to stick with Levi's. Sometimes you can find some good options at Sam's or Costco—but you'll also notice a step down in quality.
FISHERMAN – A new filet knife, an all weather coat or zip hoodie, a fish finder.
CAR GUY – a subscription to Car and Driver Magazine, car wash kit including wash, wax, tire detail, shammy towels.
SPORTS – a double walled cup to keep drinks cool, favorite sports team gear, tickets to a game.
Christmas Gift Ideas for Her
Okay, what do you get for the women in your life? When buying gifts for women, it really is a lot easier if you can know ahead of time her likes and dislikes. This is where "paying attention throughout the year" is really helpful to know what Christmas gift ideas will really fit "for her" specifically. Here's some things to consider.
WARDROBE MAKEOVER– My friend Holly runs an image consulting business called BeYOUtiful Image Consulting. She helps you look at fashion from a biblical perspective. Because fashion goes hand in hand with your faith and your identity as a woman. She reinforces the biblical truths of I Peter 3:3-4
"Your beauty should not come from outward adornment, such as elaborate hairstyles and the wearing of gold jewelry or fine clothes. Rather, it should be that of your inner self, the unfading beauty of a gentle and quiet spirit, which is of great worth in God's sight." and then she helps you to understand what clothes look good on you, what colors, and what accessories will work best for you. Then she will help you to makeover your closet! It's awesome! My husband got me this gift in 2020 and by far it was my ultimate favorite. It has literally changed my life.
LOOK YOUNGER – gift her with a new skincare collection and a lighted bathroom mirror. My favorite is YOUTH from Shaklee.
AT HOME FACIAL KIT – a hydrating gel mask, face moisturizer, and a soft robe.
12 MONTHS OF FLOWERS – if she likes flowers, this is a great gift! Pledge to give her a bouquet of flowers each month for 12 months.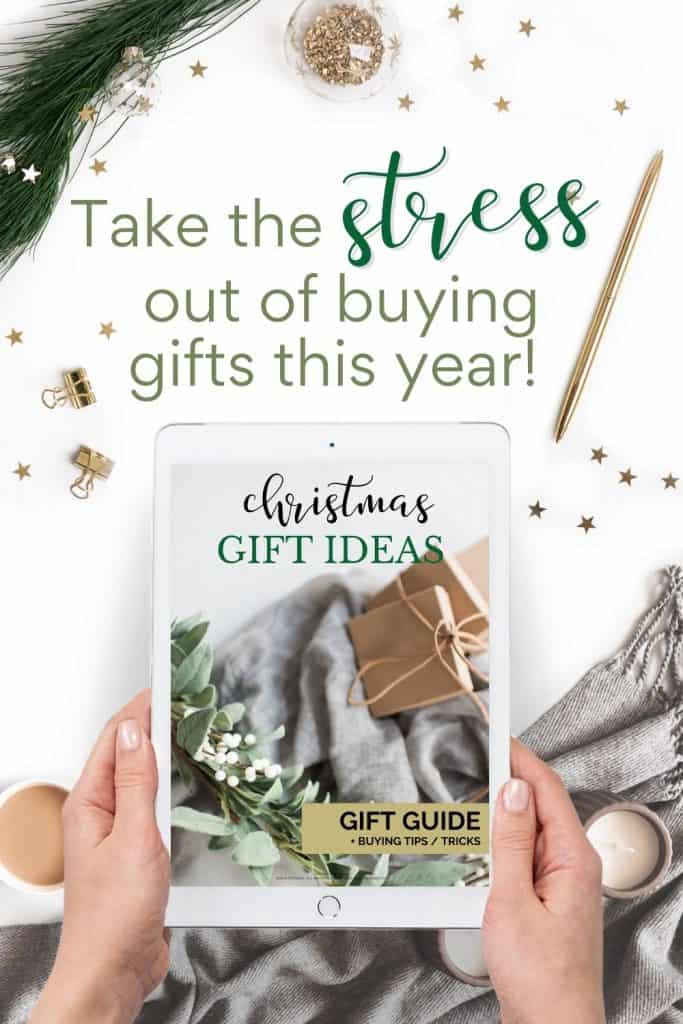 Grab your FREE Christmas Gift Ideas for 2021 Printable Here!
Christmas Gift Ideas for Kids
With kids, I really try to keep the gifts simple. We actually limit their gifts to four types. We have good ideas, but we make it easier to not go overboard.
SOMETHING THEY WANT
SOMETHING THEY NEED
SOMETHING TO WEAR
SOMETHING TO READ
Best Stocking Stuffer Ideas
Orange or apple
charging cords
chapstick
Starbucks gift cards
Matchbox cars
mini flashlight
gum
chocolate coins
comfy socks
hot chocolate packs
candy canes
batteries
hair accessories (barrettes, bobby pins)
microwave popcorn
playdough
chocolate covered raisins
granola bars
glow in the dark sticks
card games (go fish, slap jack, etc.)
stickers
crayons or markers
loofahs
lotion
nail polish
jewelry
bouncy balls
mini notebook
mini cereal boxes
hand sanitizer
germ off wipes
Employee Christmas Gift Ideas
Here's some practical and fun Employee Christmas Gift Ideas for those workplace gift exchanges.
A stack of sticky notes
Pretty pens and pencils
Starbucks gift card
Homemade goodies
Candles
Comfort & Joy Basket – (see "for someone who has everything" ideas)
Comfy socks, Coffee mug, chocolate dipped spoons.
Hand lotion
Christmas Gift Ideas for Someone Who Is Hard to Buy For
What is a good Christmas gift for someone who has everything?
Typically I put in this category the Aunt, Uncle, Grandparent—because more than once I've been told, "I don't need anything". Even last year we joked with my in–laws when they said they just wanted hugs. So my sister–in–law was smart and bought them a gift basket of "hug" gifts—like a mug hug and some Hershey's hugs! (This is a fun idea too!)
COMFORT & JOY –joint and muscle pain cream, microwave neck wrap, nice slippers, and some dark chocolate.
TRAVEL THE WORLD – pick a place they'd like to travel to, buy a calendar featuring that place, a travel book, and a pedometer.
PAMPERED KIT – luxurious towels, a new soft robe, slippers.
TREASURE THE MOMENTS – a customized calendar with kids pictures, dates of birthdays and anniversaries. Make a list of "fun things" to do throughout the year together and write it on the calendar!
So that about wraps things up for my Christmas Gift Ideas for 2021. And in case you missed it earlier—you can grab this list in a easy PDF. Plus! I also included a buying tricks and tips guide to help you know how you can save money.
45 Best Family Gifts
In case you're looking for some more ideas and you have a lot of nieces and nephews…I really like this curated best family gifts list from Better Homes and Gardens that shares 45 thoughtful gift ideas. This list was something I came across and thought—ooh! These are great options for some of my siblings and their families as 1 gift for each family! Every other year we've started to do "family gifts" because I now have 20 nieces and nephews and that's a lot of gifts. I really like the ideas for family portrait decor and the fun playful sports mugs. Enjoy!