Lemon Sugar Scrub DIY (non toxic 3 ingredients)
Recently I was whipping up a Sugar Scrub DIY…
When all of the sudden my son grabbed my lemon sugar scrub jar off my counter. He dipped his hand in it, put it in his mouth, smiled and said,
"Yum!" Can I eat more mom? It's suuuuuggggarrr!!!!
Now I know as a mom, you're constantly washing your hands. Especially when we're dealing with—you know, wiping butts all the time. And… I'm thinking that pretty much everyone who is trying not to get sick right now—has all got dry hands.
What better solution then my all time favorite Sugar Scrub DIY.
The best part about this Sugar Scrub DIY recipe is that you might already have everything on hand to make this stuff. No going to the store! All ingredients are non–toxic—and no essential oils!
You can't say that about the sugar scrubs you get in the store these days.
And…while I'm not in favor of my son having a sugar rush…the sugar is a great combination with the lemon for exfoliating your hands. Plus the coconut oil is perfect for sealing, creating a barrier, and moisturizing your skin. According to a 2014 study on the effects of virgin topical coconut oil related to dry skin and other skin issues, virgin topical coconut oil was found to be superior to mineral oil in treatment.
While a 2016 study about moisturizers—what works and which have little scientific proof—highlighted that coconut oil contains fatty acids that actually help to increase hydration in the skin.
And this is why I have come to love my sugar scrub diy recipe—because it works. It's scientifically proven that you don't have to buy those expensive creams and lotions.
Also, if you're like me—washing your hands all the time—this lemon sugar scrub is your best option. (Some people suggest salt scrubs but my hands—and I'm guessing your hands—are a little more sensitive. This lemon sugar scrub comes to the rescue every single time!)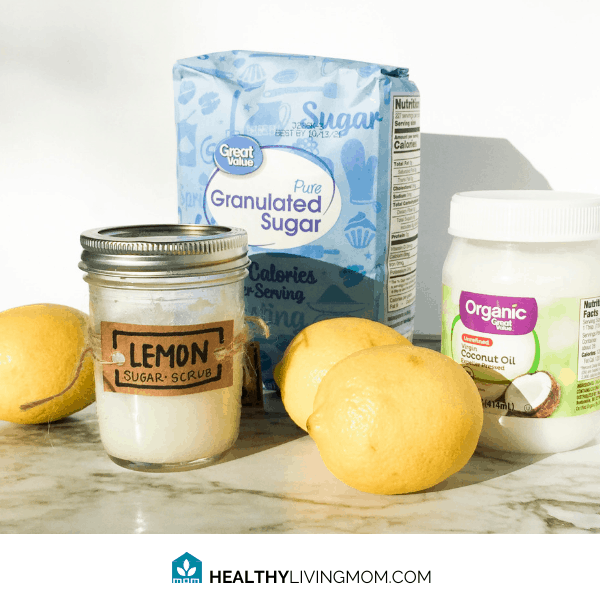 The best part about this Sugar Scrub DIY is that you can make small batches or big batches with it. In fact, I just did a big batch for myself just before Christmas—12 half pint jars—for extra gifts to have on hand for any occasion.
Sugar Scrub DIYs make great hostess gifts—especially for parties and family get–togethers. And…if family get togethers aren't something you look forward to…
This just might be one way that you could help to ease some of that tension.
For my own stash—I always have a single batch of this lemon sugar scrub right next to my sink. But, I've also made single batches of it with large groups as a craft by mixing it up right in the Ball Mason Jar.
It's a super easy lemon sugar scrub—and like I said, it's totally non–toxic. There's no essential oils in this…just 3 ingredients.
Jump to Recipe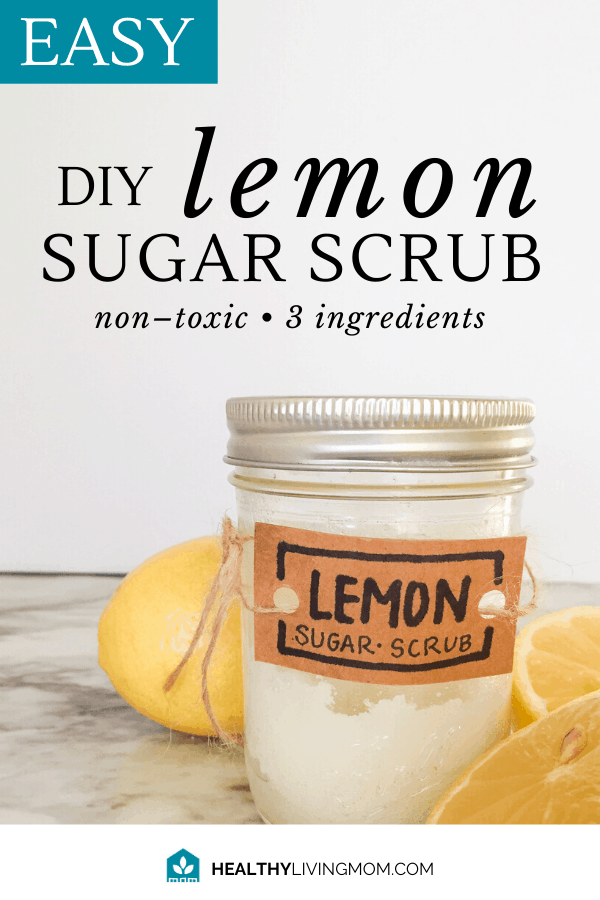 Sugar Scrub How to Use
Okay, for those of you who haven't tried a sugar scrub and you're wondering—sugar scrub…how to use…it? You are in for a treat…here's a few pointers on how to use a sugar scrub.
Sugar scrubs are great for exfoliating that dry skin and sealing it so that it stops skin from drying and cracking. It's perfect for the winter season—high heat, low humidity. And especially during sickness season—when you're washing your hands a lot to kill those nasty germs.
How I Use My Sugar Scrub Video
First, like I mentioned, I leave a jar by my sink. Whenever my hands feel dry or they are starting to crack, I just wet my hands a little.
Second, I open up my jar, dip my finger in and grab a quarter size dab of the mixture.
Third, I take that mixture and rub it on my hands. First on top of my hands then I rub my hands together—one on top of the other. Then I gently rub the mixture in between my fingers using both hands—interlocking my fingers.
Lastly, I rinse the mixture off with warm water. My hands are pointed down so the mixture runs off from my hands into the sink. I finish rinsing my hands with cold water, again to seal my skin.
Now this is generally how I use it on my hands…but you could totally use it in multiple ways.
for callous elbows
rough heels
all over skin exfoliant in the shower ( I like to do this in the winter especially)
Okay, so generally, for this sugar scrub diy, I go through my pint jars pretty quickly. But since it's just natural ingredients, it tends to keep fairly long, like up to two months. The only thing you'll want to check for—is to keep an eye on the ingredients separating. If you see that it's separating, no problem. You'll just want to give it a good stir.
Now for the good stuff!
Here's my step–by–step instructions—in pictures—for creating this Easy Lemon Sugar Scrub that makes 1 Half Pint Ball Mason Jar. (Just a heads up—these images are when I batched the recipe. The recipe instructions however, are for a single serving.)
Jump to Recipe
Sugar Scrub DIY Step by Step Instructions
First, you'll pour your granulated sugar and scoop your coconut oil into a mixing bowl. Optional: you could use Turbinado Cane Sugar for a little more grit—or exfoliation.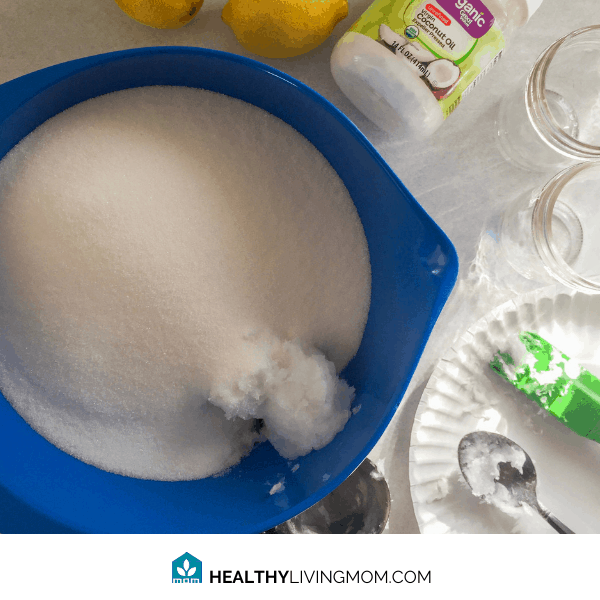 Next, you'll cut the lemon in half then squeeze your juice into a container that makes it easy to pour.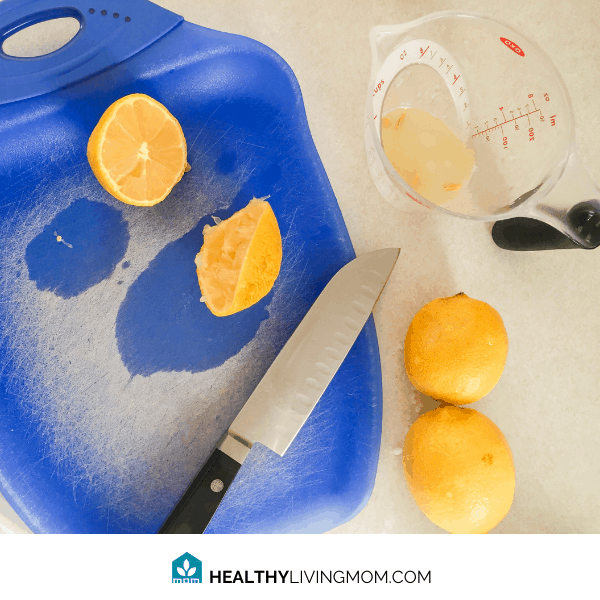 Third, take the lemon juice and pour it through a strainer into the mixing bowl that has the sugar and coconut oil. Here's a fine mesh food strainer like the one we have and it works really well for this type of thing. The strainer will keep those seeds out of your scrub!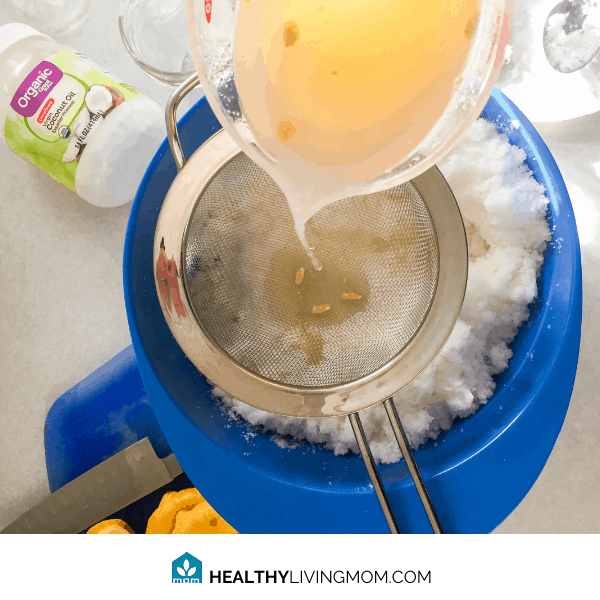 Fourth, mix together all those ingredients using a spatula.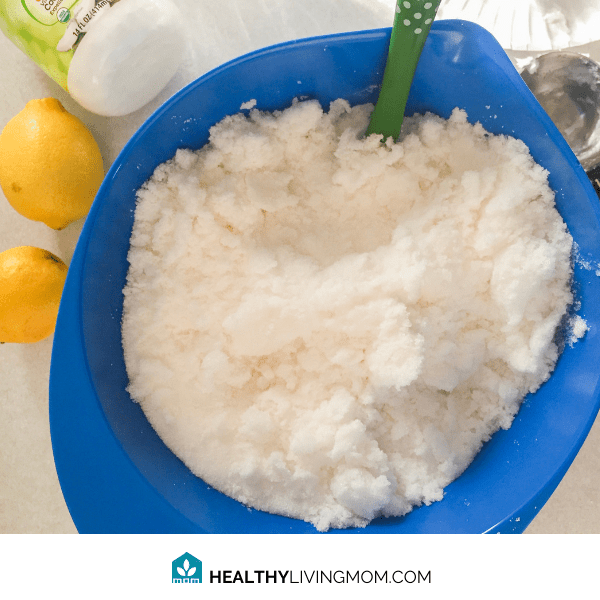 After a little mixing, you'll notice that the mixture starts to stick together more—like a paste. It'll also pull away from the edges of the mixing bowl.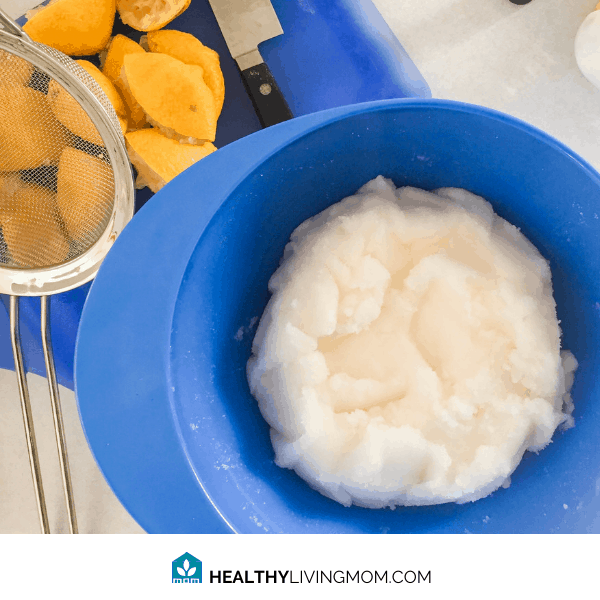 Fifth, you're about ready to start scooping the mixture into your Ball Mason Jar.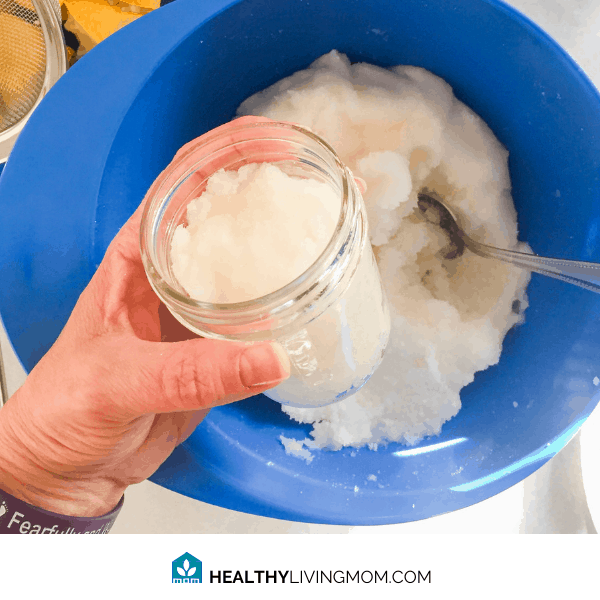 At this point, you can also do a couple optional things. Either add some lemon zest to the top using a zester—or mix it into the scrub! We have an OXO zester and I like it a lot better than other zesters because it has a nice grip to it.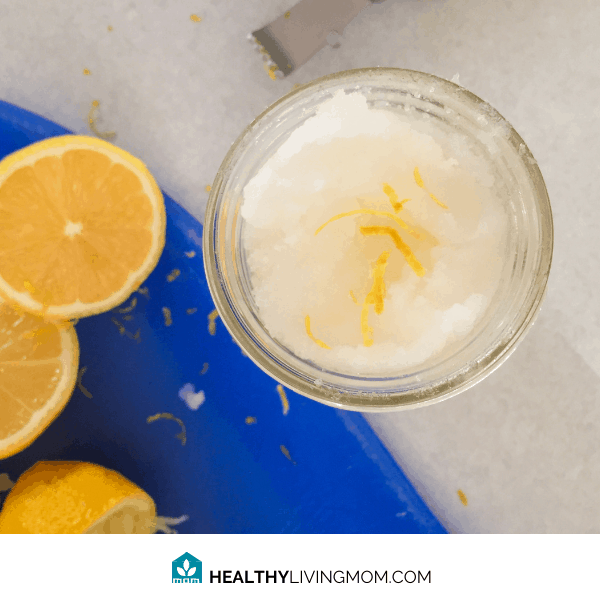 Or you could simply add a sliced lemon to the top of the mixture. This is the perfect touch for if you decide to give the Lemon Sugar Scrub as a gift.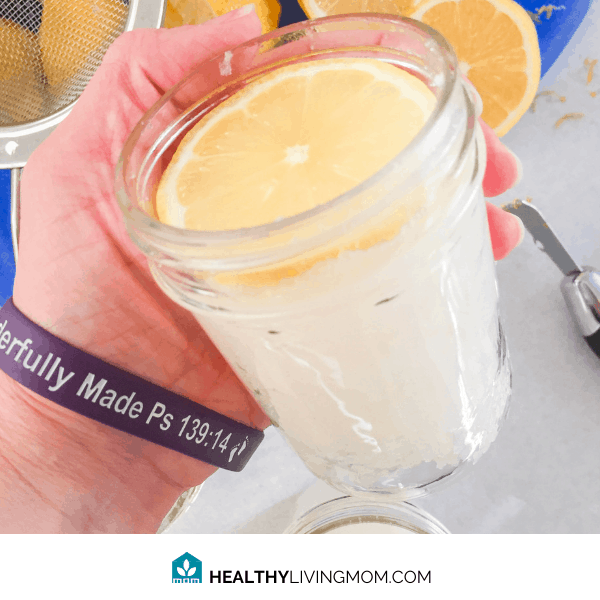 Lastly, my favorite part about creating this easy Lemon Sugar Scrub DIY is that I get to make it look fancy. I do this just by adding a simple tag as a label.
Now there's several ways to do this—but the easiest way to do it—is to download printable tags that are already designed for you.
These tags are the exact size needed for a half pint jar. You can choose your own card stock color or just print on white. I included 4 different options—single hole, double hole, black and white, and craft paper design.
Or if DIY truly brings you joy…you can do what I did the first time I made this lemon sugar scrub.
You can buy pre–made tags and cut them down to size. And if you don't have tags on hand—you can use card stock or even stickers.
Here's the materials I used to make my simple Lemon Sugar Scrub DIY tags.
I purchased from Wal-mart these Deco Tags with twine—here's some gift tags that are similar from Amazon.
Next, I just cut the tag down to fit my half pint Ball Smooth Sided Mason Jars. Yes, they are smooth sided—perfect for gifts! You can then use a whole punch to cut an additional hole in the tag—like this tag I created.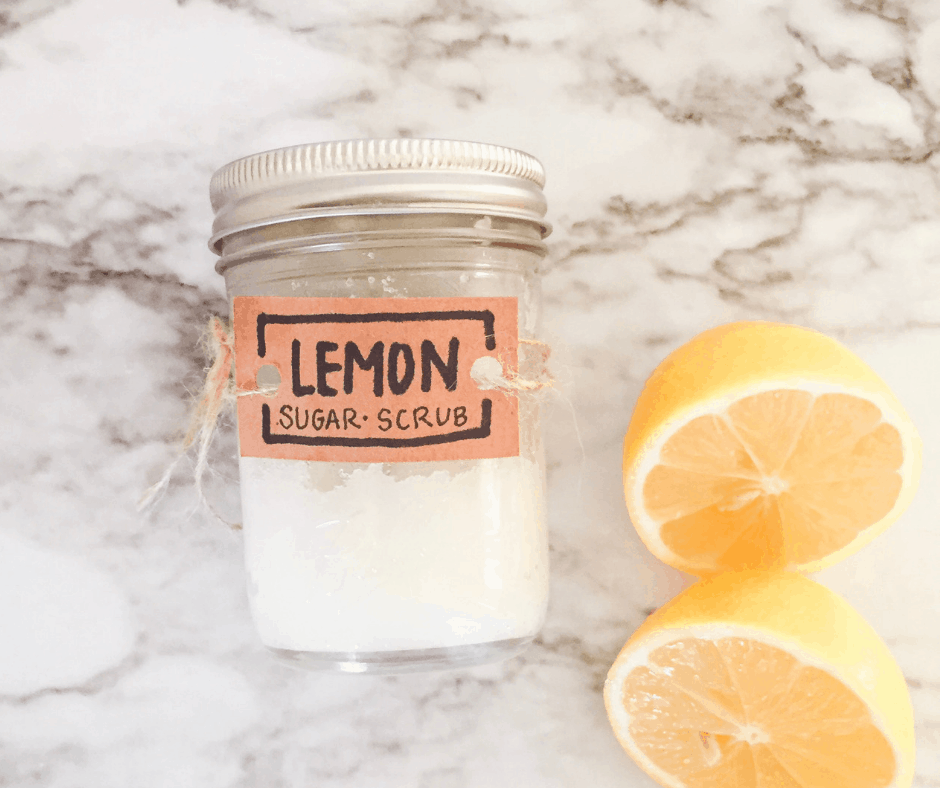 Or just use 1 hole like the tag in this picture.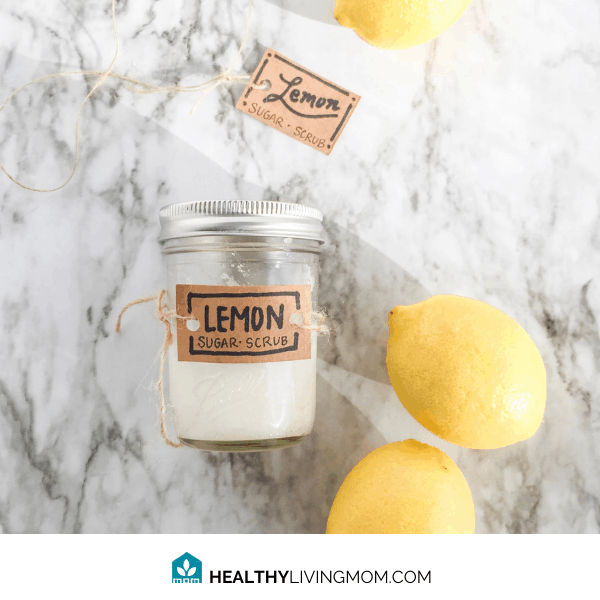 Doesn't that just look fancy! And…it's so easy to do!
So that's all the step–by–step instructions for this Easy Lemon Sugar Scrub DIY. Don't forget—you can bypass making your own tags—just use the ones that I already created for you.
Below you'll find the recipe for how to make one serving—1 Half Pint Mason Jar (approx. 8 oz.).
However, just a quick note, if you do want to batch this out for 12 servings here are the quick reference ingredient amounts for what I used:
6 cups of sugar
1 1/2 cups of coconut oil
6 lemons
If you try this recipe, let me know what you think! This Lemon sugar scrub has definitely helped me to keep a handle on my dry skin this winter—especially with increased hand washing!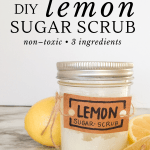 Print
Easy Lemon Sugar Scrub DIY
Create this simple, 3 ingredient, Lemon Sugar Scrub DIY Recipe using items you might already have on hand. Non–toxic and no essential oils. This is perfect for tackling that dry skin from washing hands a lot—or from dry winter skin. Makes a great gift too!
Equipment
Mixing bowl

1/2 Measuring Cup

1/8 Measuring Cup

Sharp knife

Cutting board

Small strainer

Small container (to hold and pour lemon juice)

Spatula

Table Spoon

Zester (optional)

Paper plate / paper towel for cleaning off utensils (optional)
Materials
1/2

Cup

Granulated Sugar

You may use a heavy sugar, like Demerara Cane Sugar, for a heavier grit.

1/2

Lemon

1/8

Cup

Organic Cold Pressed Coconut Oil
Instructions
Pour sugar and scoop coconut oil into mixing bowl. Set aside.

Cut lemon in half – using knife and cutting board.

Squeeze lemon juice into a small container.

Pour lemon juice through a strainer, into the mixing bowl.

Mix all ingredients together using a spatula until mixture is pasty.

(Optional) Place a slice of lemon on the top or lemon zest to add more fragrance to the scrub.
Notes
That's it!
This Easy Lemon Sugar Scrub DIY because it's all natural, will keep for awhile. Although it doesn't last long for me, because I use it so much. Keep an eye on separation of the ingredients. If you see separation, just give it a good stir and you should be all set.
(Optional: You can use lemon juice if that's what you have on hand.)