The Best Resolution for the New Year That You Must Try
The best resolution for the new year is actually something that nobody's talking about.
The New Year symbolizes a time of reflection and a fresh start. It's understood that what you do is make resolutions and add things to your bucket list.
Then you start doing them on January 1.
We do it that way, because it's what we've always done. But the real reason why I think most resolutions fail…
Is because everyone is making them at the wrong time.
And this is where the best resolution for the new year comes into the picture.
Think about it.
You're finishing up the most busiest month of the year—and probably the month where you've spent the most money. You just made it through the holidays. And as a mom, the parties, presents, and plays have drained the life out of you.
So—right now you're physically tired, emotionally partied out, and financially stretched.
Then, to top it off, you're crammed for time to make the best resolution for the new year. Because you're a mom, you never have enough time.
Sweet mom, you deserve better. The best resolution for the new year is to take the whole month of January off.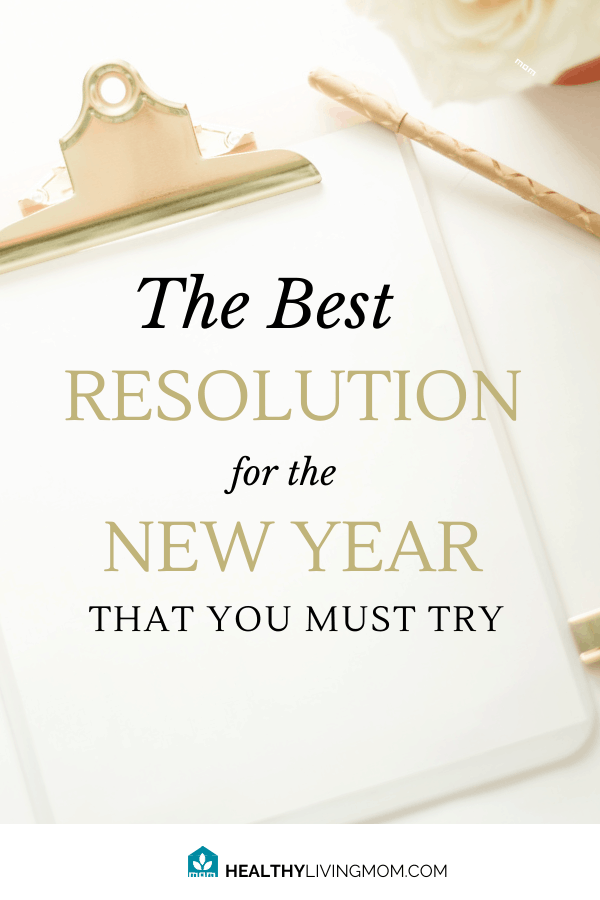 The Best New Year Resolution Idea
Yep, you read that right!
The best resolution for the new year is to take the whole month of January off.
Okay, so when I say take the whole month of January off—I don't really mean literally take it off. You've got responsibilities and your family needs to eat and wear clothes.
What I really mean is to take the whole month of January to consider what you want this next year to look like for you and your family.
The Best Resolution New Year
A few years ago I started to recognize something that was consistently happening in my own life. Life was so busy and full in the months of November and December that by the time New Year's hit, I was ready for a break.
And we all should be, right?!!
So, when it came to resolutions, settings goals, and planning for the new year, I didn't do anything for the whole month of January.
I didn't have the strength—emotionally, mentally, or physically to do it!
And by the time February came around, I started filling out my planner and setting goals for the new year. Because I took January off, I finally felt like I had a good plan and was working on what really mattered to me.
But, it was the best resolution new year I've ever had!
If you're ready for the best resolution new year—I've put together a little more structure for you to try it out. I call it the 4 R's to the best resolution year.
For the month of January this is what I do. It's simple to remember and easy to do.
4 R's of The Best Resolution New Year
1. Rest.
Take some time to rest and recover from the most busiest time of the year. Say no to any extra commitments. Take some time to refill by doing some things that you really enjoy. Get up early and take a brisk winter morning walk.
2. Reflect.
Think about, journal, and remember the highlights from the past year. what things worked well, what things didn't go well, and what things would you like to change, what things you'd like to try.
3. Reorganize.
Look over goals, systems, methods you have for doing things, planners, and clean things out! Take those things you reflected on and get rid of what didn't work.
4. Reload.
Pull together a master plan for your year. This doesn't have to be too complicated, I promise!
Start simple by looking at how you naturally do things.
Are you a visual learner? Do you like to check things off a list? Are you driven by goals?
Use the answer to these questions to help determine what a master plan could look like for you.
For me, I set SMART goals related to the seven areas of life—spiritual, emotional, cognitive, family, marriage, financial, physical. I keep track of my goal progress using a daily planner.
I'm visual, so I also use a command center that highlights the month at a glance, the weekly/daily to do's and the weekly menu. It also helps my husband to know what's going on too.
In the past I've used PowerSheets, an intentional goal planner to keep my goal progress. And I absolutely loved using them!
If you're drawn to setting goals, naturally fill out a planner, and follow your planner religiously—PowerSheets is a great tool for you. If you have a bunch of half used planners that are stuck in a pile in your basement, you might want to start with something a little more simple.
This year, I'm not going to be using PowerSheets, but not because they don't work! Because we went through Financial Peace University, I'm going to use some different tools that specifically target our financial goals.
What You Do Does Matter
As moms, often we get caught up in just living life as it happens. I get it. You and I have so much that we juggle as moms. So, it can feel like what we're doing doesn't really matter.
But, what you do does really matter.
Imagine this, God in His Word gives us hope and peace in the words I have a plan for you found in Jeremiah 29:11;
"For I know the plans I have for you," says the Lord. "They are plans for good and not for disaster, to give you a future and a hope." (NLT)
God chose you to be the mom to your kids.
It was His plan—for good, not disaster, for a hope and a future.
If God modeled that for us in His Word—what we do as a mom gives our family hope and peace too.
When you choose to take the month of January off—you're doing one of the most important things you can do as a mom. You're starting the new year by setting a tone of hope and peace in your home.
Likewise, if you don't do this, chances are you'll be frazzled and overwhelmed for the beginning of the new year and your family will be too.
I know both sides to that story and trust me, the best resolution for the new year is to take January off.
How will you start your new year?
I recently read this quote from Plato in a new years quotes list—and it really sums this all up for me.
"The beginning is the most important part of the work." —Plato
This couldn't be more true about taking the month of January to rest, reflect, reorganize, and reload.
If you're an overwhelmed mom—this really is the best resolution for the new year. It will totally give you the fresh start for the new year—the fresh start that you're craving.
What do you think?
Are you going to start the beginning of your year this way? Does taking January off sound like the best resolution for the new year to you?